Aliko Dangote's net worth in 2021
Aliko Dangote's net worth in 2021, his source of income and his business expansion in Nigeria and around Africa.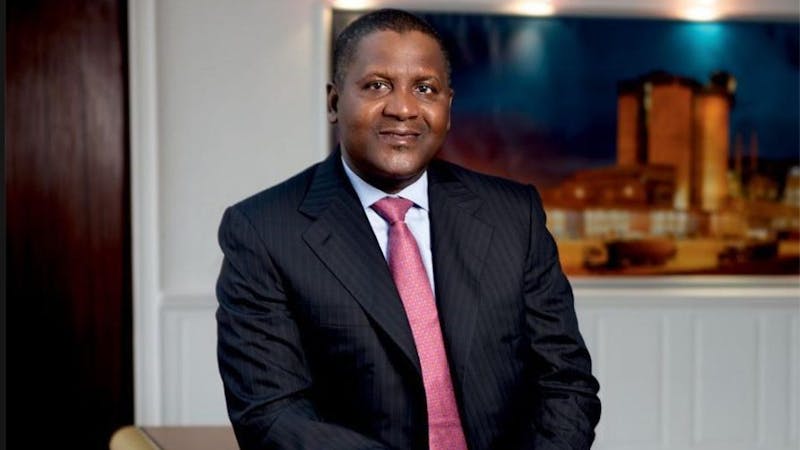 This article contains the details of everything you need to know about famous Nigerian businessman Aliko Dangote, his net worth in 2021, income source, and business expansion in Nigeria and around Africa.
Aliko Dangote has an estimated net worth of $12.1 billion in 2021; thus, in Forbes, Aliko Dangote has been listed as Africa's richest man.
He is also listed in "Forbes Billionaires List: Africa's Richest People 2021" as Africa's richest person for the 10th consecutive year with a net worth of $12.1 billion.
According to Forbes Africa's Richest People report, Aliko Dangote's net worth went up by 2 billion dollars from last year's list due to about a 30% increase in Dangote cement shares.
Aliko Dangote's brief biography
Aliko Dangote is a Nigerian billionaire businessman, born 10 April 1957 in Kano State, Northern Nigeria. He was born by Mohammed Dangote and Mariya Sanusi Dantata.
Aliko Dangote's mother, Mariya Sanusi Dantata, is the daughter of the late Sanusi Dantata, the West African richest man before it was taking over by Aliko Dangote after his death.
Even though Aliko Dangote has such excellent net worth, the successful businessman currently lives in Lagos, Nigeria.
Dangote is popularly known for its cement business. Dangote's high net worth is not surprising as he owns the largest cement industry in Africa, which has increased his net worth to become the richest man in Africa.
Due to his vast net worth, Aliko Dangote has been one of the world's richest men and the richest man in Nigerian and Africa for over ten years, thanks to his business ideas, especially his cement industry.
Dangote's company was previously located in his home town Kano State before moving to Lagos in 1977 to expand his business.
Aliko Dangote is said to have one adopted son
Aliko Dangote married twice during his youth age; the first was Zainab that was chosen for him to marry by his parents at the age of 20, which he divorced after some time together.
Aliko Dangote later married Mariya A D Muhammad Rufai, his second wife, the Commissioner for Women Affairs and Human Services, Bauchi state's daughter. He also got separated from Mariya.
Aliko Dangote, who is currently single, has three daughters: Fatima Dangote, Halima Dangote, and Mariya Dangote.
Aliko Dangote's Net Worth
Currently, Aliko Dangote has a net worth of $12.1 billion, making him the 176th richest man globally at 63 years. Dangote's major income source that increased his net worth is mainly from his cement industry which is part of Dangote Company Group.
The famous richest man in Africa owns over 85% of the publicly-traded Dangote's Cement in Dangote Group of Company. The Dangote Cement produces up to 45.6 million metric tons annually that operate in over 10 African counties.
His other sources of income that have helped increase his net worth are his oil refinery, sugar refinery, salt refinery, and fertilizer company, all under the Dangote group of company.
Dangote group has expanded its company in other parts of Africa, including Benin, Ghana, Zambia, and Togo, where it supplies cement, sugar, salt and Dangote flour which also increased Aliko Dangote's net worth to such huge amount.
Dangote sugar industry is the largest in Africa and the third-largest in the world, producing over 800,000 tons of sugar every year. A huge value that contributed to his vast net worth.
Aliko Dangote's cement industry is the highest cement industry in Africa
Aliko Dangote's individual awards
Aliko Dangote has contributed immensely to the life of Nigerian's and African countries supplying them with most of their important needs.
Aliko Dangote was among the billionaires with a great net worth that helped fight the COVID-19 pandemic in Nigeria through his massive donation.
He has been given many awards in Nigeria and all other African countries due to his contribution by supplying industrial goods, including some food items in Nigeria and other African countries.
Aliko Dangote's awards include:
The Grand Commander of the Order of the Niger (GCON) by the former president, Goodluck Jonathan
The Forbes Africa Person of the Year 2014
Six consecutive Most Powerful Man in Africa by Forbes.
One of the 100 Most Influential People in the World by Time Magazine
One of the 50 Most Influential Individuals in the World by Bloomberg Markets
The Guardian Man of the Year 2015
African Business Leader Award 2016
one of the Top 100 most influential Africans by New African magazine in four consecutive time