Cryptocurrency: How to store Bitcoin with a hardware wallet
Hardware wallets are used for offline storage of bitcoin and other cryptocurrency assets. Learn about the advantages, disadvantages and how to use the hardware wallet.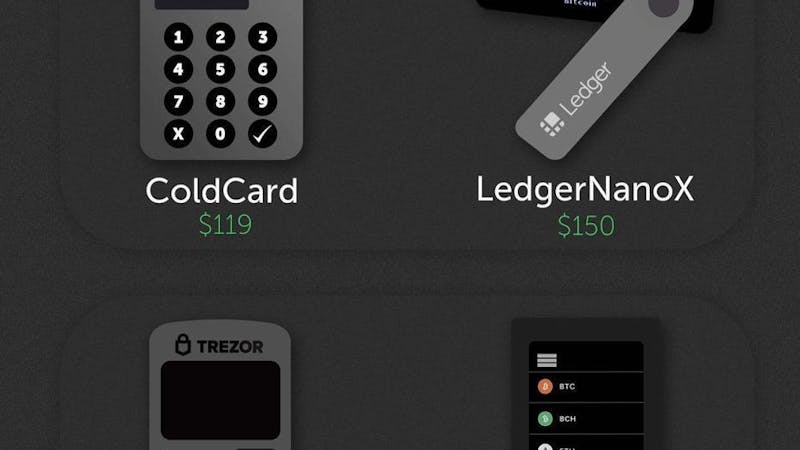 A hardware wallet is a physical device where you can store crypto, they come in few forms, but most are in the form of a USB stick style.
Therefore, it is cold and offline, free from hackers, but it can still be compromised; firstly, you trust that the company that produced the hardware device has not logged the private keys with plans to raid wallets in the future.
Bitcoin holders can use the restoration details of the Hardware wallet to access the funds, so keep it off anyone's eye to avoid apparent theft.
You can access, store, receive and send your cryptocurrency assets either through paper, hardware or software wallet.
You can find images and examples of the Hardware wallet below.
Hardware wallet for storing cryptocurrency assets
How to use hardware cryptocurrency wallets
To use a hardware cryptocurrency wallet, you must buy, then configure it for personal use. The two major companies that deal with cryptocurrency hardware wallets are:
After buying your hardware wallet (Ledger and Trezor), you can follow the procedure below to send or receive bitcoin or any other cryptocurrency assets.
First, you plug your Crypto hardware wallet into the computer through a USB port.
Open the company's specific app or software installed in the system
Input the amount of crypto you want to send and click "send."
The software will send a copy of the transaction to the hardware for user verification.
The hardware receives this and returns a signal to the computer, ensuring that your private key is never exposed.
How a Ledger app looks like
There are many advantages and disadvantages linked to using hardware wallets, even with the demerits, hardware wallets are considered one of the safest means of storing crypto assets.
Some of the advantages and distages of using hardware wallets are listed below.
Advantages of hardware wallet
You can enjoy the following benefits while using the hardware wallet:
Private keys to your cryptocurrency wallet are never exposed.
Your hardware Wallet requires you to confirm an order on your device before the hardware sends out any cryptocurrency.
Most Cryptocurrency hardware is encrypted with a pin - another security measure.
Cryptocurrency hardware wallets can store different types of cryptocurrencies.
Disadvantages of hardware wallet
Before you opt into using hardware wallet to store your bitcoin or any other cryptocurrency asset, examine some of the disadvantages as tabulated below:
Loss and damage can occur, so it is important you back up the wallet
Most hardware wallets are expensive; the price tag for a single hardware wallet range from $60 to $200
Conclusion
The major downsides of using the hardware wallet are loss and cost, which means that the hardware wallet is the safest means of storing your crypto assets.
Inventors took safety measures to limit hackers' ability to assess the hardware wallets, unlike the hot wallet that is always prone to attack.
Clacified advises that you keep your hardware wallet safe to avoid theft and physical damage.