Jeff Bezos to step down as CEO Amazon after 25 years of leadership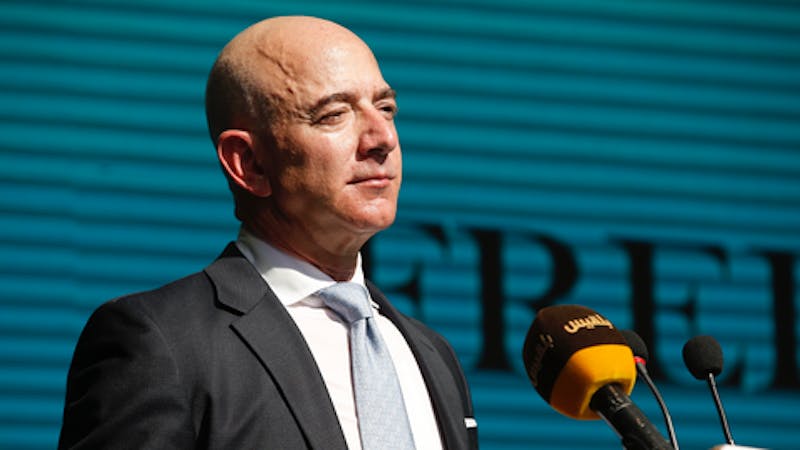 Billionaire and Chief Executive Officer of Amazon, Jeff Bezos, announced his decision to resign as CEO of the company later this year.
Jeff Bezos would resign from the CEO position and become the executive chairman instead. He is to hand over the control to Andy Jassy who has served the company as the head of Amazon Web Services (AWS) for a long time now.
The news came as a surprise when Amazon released its most recent financial reports, where it announced that the CEO Jeff Bezos who has led the company for 25 years would be stepping down, though would remain the executive chairman.
Jeff Bezos journey through building Amazon
57-year-old Jeff Bezos founded Amazon far back in 1994 and has successfully built the company into one of the world's largest.
Amazon, over the years, has amassed a fortune worth as much as $185bn. Initially, the company started as an online bookseller platform after which it dominated in areas of cloud computing, electronics and entertainment and even groceries.
Jeff Bezos speaking about his company, Amazon said, "Amazon is what it is because of the invention. If you do it right, a few years after a surprising invention, the new thing has become normal.
"People yawn. That yawn is the greatest compliment an inventor can receive. When you look at our financial results, what you are actually seeing are the long-run cumulative results of invention.
"Right now, I see Amazon at the most inventive ever, making it an optimal time for this transition".
Not many companies thrived like Amazon during the COVID-19 pandemic. In fact, during the last quarter of 2020, Amazon had recorded sales of more than $100bn- its first time of hitting such records.
The leadership change in Amazon
Jeff Bezos would be handing over to Andy Jassy the tech wizard who has been the head of Amazon Web Services
In recent years, Jeff Bezos had gradually stepped back from the daily running of Amazon. He had started paying attention to other areas of interest, such as his ownership of the Washington Post and space exploration.
However, his resignation as chief executive officer of Amazon was not expected. 52-year-old Andy Jassy would be taking over from him.
Jassy has been seen as Jeff Bezos's heir apparent even though he seems to be vying with Jeff Wilke, who ran the company's retail business until he announced his retirement plans last year.
Andy Jassy is the head of Amazon Web Services which offers governments and companies cloud computing and storage services.
In fact, AWS has become one of Amazon's most important businesses and has accounted for up to 10% of sales in the last quarter and 52% of its profits.
The leadership change at Amazon seems to have come at a strange time for the company even as it is being pressurized by some workers who have complained of being mistreated during the pandemic.
However, some people believe the leadership transition is a good one. Tim Hubbard, assistant professor of management at the University of Notre Dame's Mendoza College of Business said;
"Andy Jassy stepping into the CEO role at Amazon is a natural fit. Amazon Web Services is a powerhouse within the company, driving a lot of profitability.
"This transition may free up Bezos to focus on other ideas that he's been accumulating over the years. In one way, I think it might be freeing for him to have space to personally innovate again, without having to manage the rest of the company".