Online buying and selling: How to sell on Jumia market
Everything nowadays has gone 'E' (electronic). Jumia, which has played a central role in the economy of Africa, has offered a broad market for business owners and sellers of products to display and sell their goods. Have you thought of e-business? Do you know asides buying, you can sell on Jumia?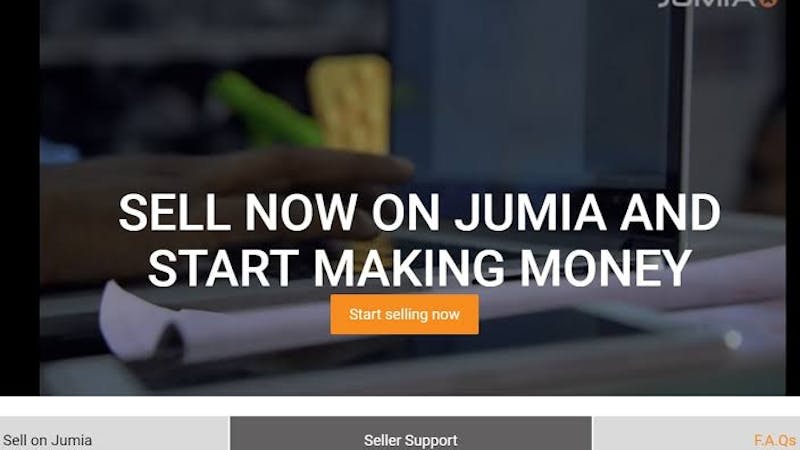 Everything nowadays has gone 'E' (electronic). Talk of eBanking, eBook, eCommerce etc. Jumia, which has played a central role in the economy of Africa, has offered a broad market for business owners and sellers of products to display and sell their goods.
Have you thought of e-business? Jumia just might be the right place for you. There are lots of eCommerce platforms in the online market, but you have to look out for a lot of things mostly starting with security.
You wouldn't want to have your delicate business information entered into an insecure website, thus leaving them vulnerable to hackers and fraudsters. We would still talk about the benefits of selling your products via Jumia platform.
A brief overview of the Jumia eCommerce platform
Jumia has almost turned to a household name as people's interest are gradually shifting more and more to online shopping.
Jumia platform offers vendors in different parts of Africa the opportunity to advertise, display and sell their products or brand to the millions of online users.
Jumia started up in Africa in 2012 and since then have served up to 14 African countries. You'd be amazed to learn that Jumia owns only about 15% of those products you see on their websites. Obviously, lots of business owners are leveraging on the opportunity offered by the platform.
Jumia won the World Online Retail Award in 2013 and in 2015, it reportedly registered up to $234 million in revenue. As of 2016, Jumia has already been the major contributor of African GDP as it serves millions of people and can boast of up to 126 operations across the African continent.
Jumia, as of 2018, is the only African country to have made it to the top 50 in the Massachusetts Institute of Technology (MIT) list.
Benefits of becoming a seller on the Jumia market
An entrepreneur would want to know what he or she stands to gain by selling on this e-commerce platform. Why should you set up an account with them and have your products displayed there?
Brand trust
We mentioned something about security earlier. It's all part of brand trust. The fact that Jumia has been around for years and have been serving people right with excellent services make their brand a trusted one.
Instead of buying products from unknown online markets, people would rather put in their card details into a site like Jumia, which is trusted.
Registering as a seller on the platform offers you the opportunity to use Jumia's brand name as a label for your products.
Broader reach
Jumia is open to millions of users. A country such as Nigeria records up to 4 million users every month who visit the platform to shop.
Again, Jumia does not have its presence restricted to just one country; it serves different countries in the continent of Africa. See this as a huge chance to advertise and display your products to millions of potential buyers.
Stress-free means of selling your products
Jumia makes it easier for you to sell your products without much hassle. You don't have to go through complicated processes. All that is needed is that you register, complete the training session, and then you go ahead and list your products.
No limit to the number of products you can list
With Jumia, you can list as many products as you wish; there is no limit to the number of uploads you can make. The platform also takes care of other minor expenses such as listing fee, maintenance fee etc.
How to set up a store in Jumia
If you are new to the Jumia e-commerce platform as an aspiring seller, you have to go through three processes before you can start selling. First is to complete a registration stage, undergo vendor training and then list your products in readiness for sales.
Stage 1- How do you register?
Visit the Jumia website. Scroll down to the footer on the bottom of the page and click on the "Sell on Jumia" button.
You will be taken to a page with a button that says "Start selling Now" which will request that you register.
Fill into the registration form details regarding your company. Details to be entered include:
Company Location
Your first and last name
Mobile phone number
Email
Preferred Jumia store name
Business entity (is it individual or registered?)
Address
Postal code
There is also the "Product Information" section which will ask you to verify information like the main product category, e.g. electronics, automobiles etc. (each product category has a commission structure). It will ask if you sell on other platforms as well and the number of products you wish to list on Jumia.
When you are through with filling up then details, you go ahead and check the terms and conditions box showing that you agree to their terms and conditions. Also, click on "Register Now" and that is all.
A link will be sent to your email which will redirect you to the "Seller Centre" where you simply set up your password and account. After this, you confirm your store by filling in the following:
Personal information
Bank account
Business information
Stage 2- Training
Also in the email that was sent to you, you will find a second link which would redirect you to the "Vendor Hub" page. Click on it to start up your training session. The training can either be online or offline. A link to a YouTube video will be provided for online. If you are opting for offline training, then you have to book for the training which is done every weekday.
Stage 3- Product listing and content creation
You list products via the Seller Centre platform, and the process varies depending on whether the product already exists on Jumia platform or not. If you are creating a new offer that doesn't exist before, you have to enter the following information:
Product name
A detailed description and product specification
HD- images of the product
Price
Available stock
However, if the product already exists, you simply use the "Sell Yours" feature. This is what you do:
Enter into the search bar the exact name of the product you want to upload. Click on "Sell Yours" which appears on the top right corner after the product name.
Click on the "More Product Details" tab. Here, you change the product line to your store's name.
Click on the "Product Pricing" tab where you enter the seller SKU, quantity and price per item.
Since the product is already on the platform, you do not need to upload images. Once done with these, you click on "Submit and Finish".
Are there things you can't sell on Jumia?
For a start, you should know that Jumia doesn't accept the selling of used or refurbished products on their platform. This means you have to ensure the products you are listing are new. Next, you have to check to be sure they are not among the products listed in Jumia's list of banned and restricted brands.
Some of the things you can't sell on Jumia include:
Medical products
Weapons
Tobacco and Cigarettes
Adult toys
Fireworks and EXPLOSIVES
Media publications
Pirated publications
Seditious materials
Plants and animals etc.
Pricing of products and making sales
Jumia permits sellers to price their products and control them through the Seller Centre. You can always make updates to your product information at intervals. Potential buyers who like your products may order for them.
When an order is placed in your store, Jumia will have to confirm its availability, and if available, they would notify you to drop it off at the nearest Jumia drop off station. From there, it would be shipped or delivered to your buyer.
If you signed up for the Jumia Expres Service, then, you will be required to get the products to the Jumia warehouse where it would be stored for later shipping.
From the warehouse, Jumia takes charge of delivering your product to your customer. They also handle customer care services in many cases and would attend to your customers on your behalf.
Jumia seller fees
If you are just looking to build your business on the platform, Jumia won't charge you. But you will be charged when you make a sale. Jumia makes their earning from sellers as per the Revenue Share Agreement.
The turnover share is not the same for all products; it varies depending on the category of the product sold. Jumia has been doing many business owners lots of goods.
Are you ready to sell on the platform? You should visit their Seller Centre to get a comprehensive list of there seller's Terms and Conditions. There, you will find the conditions required to sell on the platform.