SEC: Bitcoin's ETF offers new hope to Bitcoin trading
While Investors are waiting for the SEC to approve Bitcoin's ETF, here is an analysis of how the new exchange-traded fund can affect the cryptocurrency market.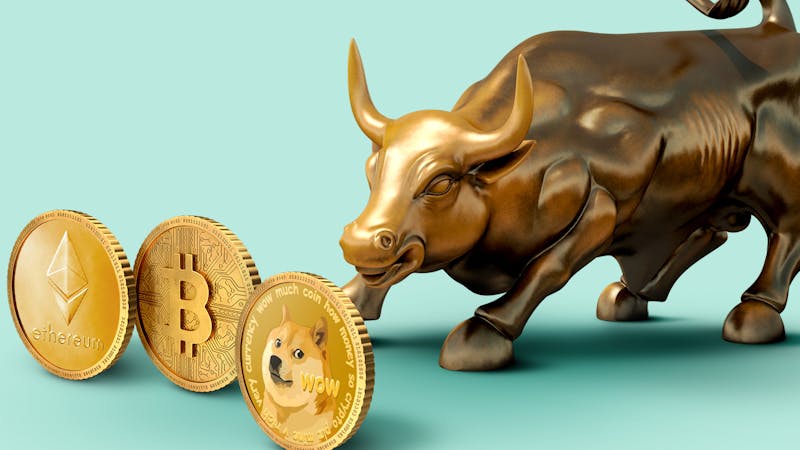 The recent bullish moves from Bitcoin have been thrilling to cryptocurrency investors. Bitcoin spiked to 60,000 USD on 15th October 2021 after a cryptic tweet from the SEC's Investor Education and Advocacy office.
On late Thursday, the SEC's Office of Investor Education and Advocacy had tweeted, "before investing in a fund that holds Bitcoin futures contracts, make sure you carefully weigh the potential risks and benefits."
The above statement sent positive signals to crypto traders. Bitcoin investors believe that the SEC is set to approve a fund that holds bitcoin's future contracts.
ETF means 'Exchange Traded Funds. In reality, Bitcoin's ETF will offer an avenue to buy, sell and trade bitcoin assets without cryptocurrency exchange platforms.
Bitcoin's ETF is one way investors can access bitcoin without engaging in complex bitcoin mining.
The approval of BItcoin's ETF will ring bells in the crypto market, where investors are patiently waiting to read a positive declaration from SEC.
There are hopes that the SEC will approve the first Bitcoin's ETF.
Bitcoin seeks legitimacy
There has been back and forth on the approval of Bitcoin's ETF. Major firms, including ProShares, Invesco, VanEck, Valkyrie and Galaxy Digital, have since filed for approval of a Bitcoin's ETF from the SEC.
However, on 15th October 2021, Nasdaq revealed that they were ready to list Valkyrie pending approval from SEC.
Bitcoin's ETF opens more doors for investors to buy and sell bitcoin. It also offers lesser hassle when compared to third-party bitcoin exchanges.
The noise about Bitcoin's ETF has little or nothing to do with more rooms for bitcoin trading or any other obvious advantage. It has everything to do with legitimacy and a broader acceptance.
The bitcoin market has gained considerable traction in the past years; however, it has faced intense crackdowns from the government and different institutions on a broader level.
The Chinese government has been unwavering in its infamous crackdown on the cryptocurrency market. The country has never hidden its disdain for the new financial infrastructure.
On 24th September 2021, The peoples' Bank of China declared that all cryptocurrency-related business activities are illegal and vowed a crackdown on unlawful activities bordering cryptocurrencies.
China has also insisted that they will clamp down on Bitcoin mining and other trading activities.
However, some U.S financial experts and government officials have recognised that Bitcoin is gaining traction amid perceived clampdown from other countries.
The U.S Federal Reserve chair Jerome Powell and SEC chief Gary Gensler revealed that the U.S has no plans to ban cryptocurrency.
Simple logic requires that if the U.S has no plans to ban cryptocurrency, they must have plans to regulate it.
Hence it is expected that the SEC will approve Bitcoin's ETF to offer more security and control over what many describe as a very volatile market.
Chris Kline, COO of Bitcoin IRA, noted that SEC could approve some version of crypto ETF soon. He also claimed that the SEC seems to be dissecting how crypto assets are stored and secured to become compatible with traditional finance.
The battle to get SEC approval has been ongoing for a while now. Recall that the SEC rejected the first and second attempts by Cameron and Tyler Winklevoss, founders of crypto exchange Gemini to list Bitcoin's ETF in 2017 and 2018.
Crypto Investors hopes that the SEC will approve Bitcoin's ETF and take a measured approach towards Crypto regulation. After all, the fight for Bitcoin's ETF is for a long-lasting stable cryptocurrency market.
Chinese Vice Premier Liu He indicated that the Chinese government plans ro clamp down on bitcoin mining activities in the country.
The price of the ETF won't match Bitcoin's
Bitcoin's ETF is not a direct investment in Bitcoin; instead, it tracks Bitcoin's futures contracts. Thus the ETF won't match Bitcoin's price.
The founder of Delancey Wealth, Ivory Johnson, told CNBC that during a bearish market, the ETF might sell at a discount and a premium during a bullish market.
While Todd Rosenbluth, director of ETF and mutual fund research at CFRA, warned that the difference in value makes the ETF a likely short-term venture rather than a long-term investment.
Bitcoin to reach a new ATH
Following a long bearish season, Bitcoin has also witnessed month-long bullish trends.
The digital currency topped 50,000 USD on 5th October 2021. It also raged past 55,000 USD after the Soros' family office revealed they were investing in bitcoin.
Bitcoin also rose to 62,000 USD on 15th October (the same day the SEC hinted on approving a bitcoin's ETF), a few points below its ATH of 65,000 USD. There are hopes that if the SEC approves Bitcoin's ETF, it could surge past the ATH.
Last note
Bitcoin's recent positive outcomes have been impervious to some bitcoin sceptics like Jamie Dimon (JPMorgan Chase CEO), who believes that Bitcoin has no intrinsic value but rather a 'fool's gold.
The CEO also moved against the cryptocurrency by tagging it 'worthless' and predicting that "regulators are going to regulate the hell out of it". However, Bitcoin has refused to dip amid this criticism.
On the last note, Bitcoin's ETF may be an option for investors who are unsure of the most secure means of buying and selling bitcoin. It is also the solution for investors that do not want to deal with the responsibility of securing their crypto wallets.
Cryptocurrency traders should also note that Bitcoin and other cryptocurrencies are volatile markets. Therefore they should mitigate risk by investing the amount they can afford to lose.