​Top graduate trainee jobs in Nigeria

Are you looking for a job as a graduate? Take a look at most of the top Nigerian companies that provide graduate trainee jobs for Nigerians.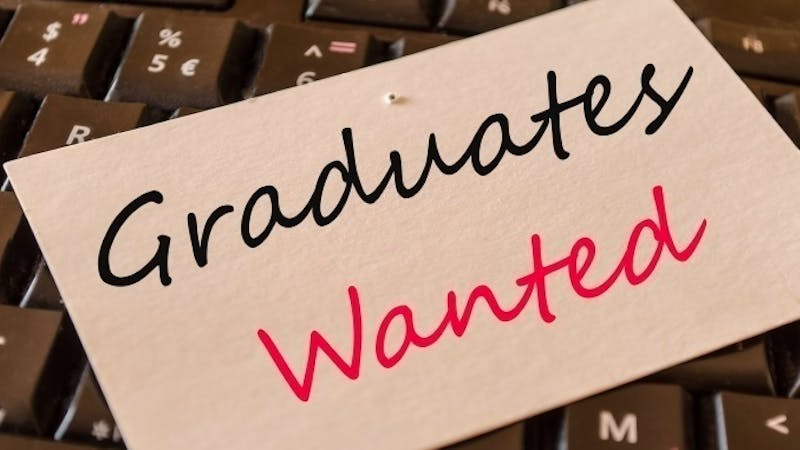 Are you looking for a job as a graduate? There are many companies where you can get top graduate trainee jobs in Nigeria. Let us look at most of the top companies in Nigeria to keep in mind when in search of a job.
Engineering at Holdent International Limited
Holdent International Limited was incorporated as a limited liability company on October 5, 1999. The business was opened as a manufacturing concern with a vision to fill the gap created by the ban on the importation of certain groceries.
Holdent is recruiting to fill the position of Graduate Trainee in Engineering at Ikorodu, Lagos.
Requirements for the job
First Degree in Electrical, Electronics, Mechanical or Chemical Engineering from an accredited university.
Minimum of second class upper (2.1) grade
Energetic
Basic knowledge of Microsoft Office programs (Word, Excel, Powerpoint)
Ability to learn new processes
Drive for results
Recent graduate with no more than 2 years post-graduation date
Minimum of 1-year work experience.
To apply, follow the link here.
Uptimax Incorporated Limited Graduate Business Trainee
Uptimax Incorporated Limited has the ability to develop good relationships with current and potential clients, excellent leadership and communication skills.
Requirements for Job
Applicant must have the business knowledge and have an Entrepreneurship mindset.
He/she should be ready to partner with other business associates and companies.
Applicant must also be able to create, build and organize a business team towards achieving success.
He/she must have acquired a Higher National Diploma.
Job Types:
Full-time, New-Grad, Permanent
Salary:
₦80,000.00 - ₦150,000.00 per month
Work experience:
Business, Marketing or Sales: 1 year (Preferred)
Interested applicants should follow the link to apply.
Aircon Energy Graduate Trainee Lagos
Aircon Energy is one of the most expanding power stations in Nigeria that owns 38,200 megawatts of base-load and peak generation, which it distributes far and wide.
It also has assets both in Abuja and Port Harcourt.
Job Responsibilities
The Graduate Trainee Scheme is designed to equip fresh Graduate with requisite skills necessary to assume leadership roles and be exposed to activities in all the Units within our organization.
Learning on the job and accumulating as much experience and practical knowledge as possible.• Help the managers and heads of the divisions in various functions.
Full involvement in the sales process.
Contacting, meeting and following up on customer/clients
Interacting with the public, private institutions such as Oil and Gas, Manufacturing, Construction, Food processing and other major dealers of industrial goods.
Contributing to the achievement of the company's yearly/quarterly/monthly target.
Exposure to various business functional areas.
Cross-Business Units exposure/marketing.
Human Resources Consulting.
Clients outsourcing
Candidate Requirements
Minimum of HND in any field.
Must be able to learn with little supervision.
Must have basic computer knowledge.
Having good written and verbal communication skills.
Be persuasive, persistent and patient.
Look smart, be able to cope with the pressure.
Be flexible and adaptable.
Have a mature personality
Have good organisational and administrative skills• Have the ability to prioritize.
Good administrative and IT skills
Skills
Having organizational skills.
Being able to articulate concepts and ideas, both contextually and visually.
Having good technical skills.
Being able to work alone or with a team.
Critical Thinking, Judgment and Decision Making.
Being able to travel for meetings.
Having a strong work ethic.
Being able to perform various tasks at the same time.
Time Management.
For application follow the link here
FHON Consulting
Account Graduate Trainee Recruitment at FHON Consulting
FHON works with clients who are ambitious and want to set defined goals and objectives. It believes that putting the right things in place such as people, processes, and systems with exceptional customers' expectation in mind, will get one to the right place.
FHON is recruiting to fill the position of Account Graduate Trainee in Job Lekki, Lagos
Qualifications and Skills Requirements
The requirement needed for an applicant to qualify for the job as listed by FHON are as follows:
Minimum of a B.Sc / HND in any course, with either NYSC Certificate or Exception.
Applicant should have 2 - 10 years of work experience.
Ability to demonstrate the accuracy of excellent organizational skills.
Ability to work as a team, handle various projects at one time, lead others, delegate.
Ability to follow-up and make accurate decisions.
Ability to demonstrate a positive attitude at all times.
Ability to keep an open and objective view and maintain confidentiality
Ability to listen empathetically and be respectful at all times.
Ability to communicates assertively.
Ability to maintain composure and stay focused.
Ability to handle a fast-paced, busy, and somewhat stressful environment, and work under pressure and meet deadlines.
Must know various GDS and IATA.
Proficient computer skills, including Microsoft Office Suite (Word, PowerPoint, and Excel); scheduling appointments/updating calendars is a must.
Organization and attention to detail analytical and problem-solving skills.
Applicant must have the ability to manage time, do Systems analysis, mathematical and deductive reasoning.
Applicant must also be good in critical thinking, active learning, clerical knowledge and must be Proficient with Microsoft Office Suite.
Job Description / Responsibilities
An accountant is responsible for preparing and checking invoices, requisitions, and other documents for processing encodes and obtains approval where necessary.
Provide detailed qualitative information on financial position, liquidity and cash flows of business while ensuring we are compliant with all tax regulations.
Compiling and presenting reports, budgets, business plans, commentaries and financial statements.
Preparing accounts and tax returns.
Administering payrolls and controlling income and expenditure.
Auditing financial information.
Analyzing accounts and business plans.
Providing tax planning services regarding current legislation.
Financial forecasting and risk analysis.
Dealing with insolvency cases.
Verify amounts and codes on various forms for accuracy.
Balance entries and makes necessary corrections.
Verify statement items and total with departmental records.
Prepare asset liability and capital account entries by compiling and analyzing account information.
Controlling the income and expenditure of clients and company.
Creation and presentation of reports, business plans and financial statement.
Answer inquiries regarding work being performed.
Prepares forms for encodes materials for data input.
Prepares and check invoices, requisitions, and other documents for processing encodes and obtains necessary approvals.
Handle monthly quarterly and annual closings.
Ensure timely bank payments.
Generating financial reports that display the company's profits, equity and cash flow.
Examining expenses submitted by employees.
Keeping an eye on incoming payments from accounts receivable and outgoing payments from accounts payable.
Improve systems and procedures and initiate corrective actions.
Confidentially handle sensitive information.
Aid in the implementation of new accounting policies, standards, and guidelines.
Maintain an outstanding balance report.
Generate Daily closing balance report.
Provides financial information to management.
Salary
Sixty thousand naira (N60,000) monthly
To apply for the job, follow the link here.
S. Lloyd Nigeria Limited
S.Lloyd is a top Oil and Gas industry in Nigeria, and it is currently recruiting objective-driven candidates in its organisation nationwide to fill the position of Graduate Trainee
Reference No: GRA20200091
Job Location: Nationwide
Requirements for the job
Applicant must have a B.Sc./B.Eng./HND in Accounting, Business Administration, Economics, Psychology, Sociology, Political Science and Quality Engineering.
Not more than three (3) years work experience; Excellent communication and organizational skills.
Must be smart and result oriented.
Method of Application
Interested and qualified candidates should send their CV along with a passport photograph to info@slloydltd.com using "Their disciplines" as the subject of the email.
Bincom Dev Center Trainee PHP/MySQL Developer
It is a part-time/freelance role for individuals able to commit to learning and development of the next generation of software developers in Nigeria at various levels – (i.e. foundation, beginner, intermediate and expert levels).
It is located in various places in Nigeria including Yaba, Ibadan, Ijebu Igbo (Residential), Kano, Kaduna, Delta, Lekki.
Although some of the training/engagement will be remote in nature, Training Facilitators must be physically present in Bincom Dev Center location.
Job Description
Deliver course material/curriculum through sessions as per pre-defined curriculum
Train and Mentor participants across different knowledge levels.
Continuously recommend updates to training approach, training curriculum and training handbook based on industry trends and industry demands.
Review and respond to participants' questions.
Perform quality assurance reviews to assess comprehension of training efforts
Evaluate Participant's performance and assignments and give constructive feedback
Support Participant (post-training) as Participant gains experience in the specific knowledge track
Requirements for Job
Minimum of 1-year proven experience in the Knowledge Track (for Foundation and Beginner Level Facilitators) or 2+ years proven experience (for Intermediate levels)
A passion for IT Training Facilitators must be currently engaged as a Developer in the Knowledge Track. (Not Captain Localhost)
Physical Availability at Bincom Dev Center Location during Training Contact Sessions ( 8-10 contact Sessions, ~20 hours per month)
Available Knowledge Tracks:
PHP / MySQL
PHP/ MySQL Foundation Class
PHP/ MySQL Beginner Class
PHP/ MySQL Intermediate Class (MVC Framework)
PYTHON
PYTHON Foundation Class
PYTHON Beginner Class
PYTHON Intermediate Class (Data Science for Beginners)
MOBILE APP / FRONTEND
MOBILE APP Foundation Class (Basic HTML / CSS / Javascript)
MOBILE APP Intermediate Class (Cross-Platform Development)
Training locations:
Yaba (Lagos State)
Ibadan (Oyo State)
Ijebu Igbo (Ogun State) (Residential)
Kano
Kaduna
Delta
Lekki (Lagos State)
Job Types:
Full-time, Internship, Permanent
Salary:
₦25,000.00 per month
Expected Start Date:
20/10/2020
Experience:
To apply for the job follow the link here
Apply is only for one training track and one city location. You may indicate if you are willing to travel in your application.