Naira plunges to N475 as dollar demand increases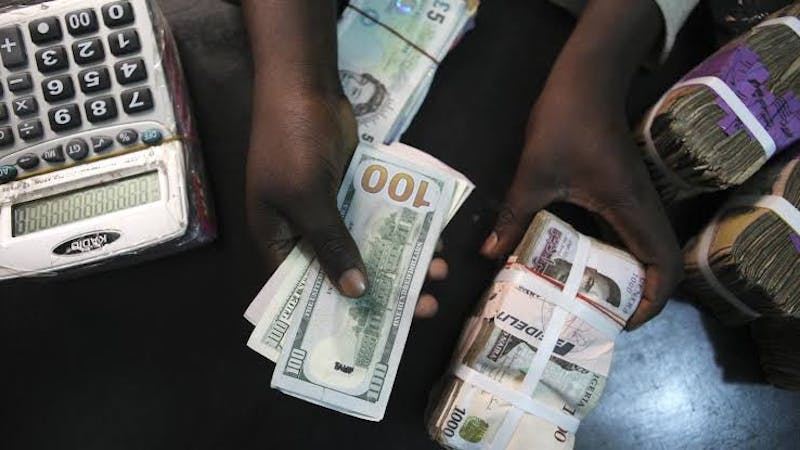 The naira further went down on Monday as it traded at 475 to the United States dollar in the parallel market amid the increase in demand for the legal tender.
The local currency which has been hit with pressure in the past few days declined to N470 per dollar on Friday from N468 on Thursday. During the beginning of the month, it was trading at N462-463 at the unofficial market.
In the Investors and Exporters' forex window, the naira closed at 386 to a dollar on Monday compared to the 385.50 that it opened with, a data from FMDQ Group said.
The CBN has since August kept the exchange rate at N379/$1. That was when the naira was devalued for the second time this year from 360 per dollar, after its devaluation in March to N360 from N306.
The Group Managing Director, Cowry Asset Management Limited, speaking with news correspondents said, "All the major sources of foreign exchange inflow to support the country's forex reserves have declined".
The forex reserves fell to $35.60bn as of November 13, 2020, from $35.69bn on October 28, according to the most recent data from the Central Bank of Nigeria.
Johnson said the price of crude oil has recovered a little; however, the decline in oil production as a result of the OPEC cut deal meant that proceeds from crude sales had dropped.
He said that "there is a lot of unmet demand for dollars", adding that pressure was mounting even as the CBN continued to intervene in the market.
Also, the MD/CEO Financial Derivatives Company Limited, Mr Bismarck Rewane speaking earlier this month said that the naira would weaken in the parallel market and would likely depreciate to 470-475 against the dollar in November and December.
Rewane also said that with continued pressure on oil prices, there would be a further limitation with the supply of forex into the country, adding that resumption of international flights and other economic activities would heighten forex demand pressures.