Oil industries to search for survival strategies amid global price fall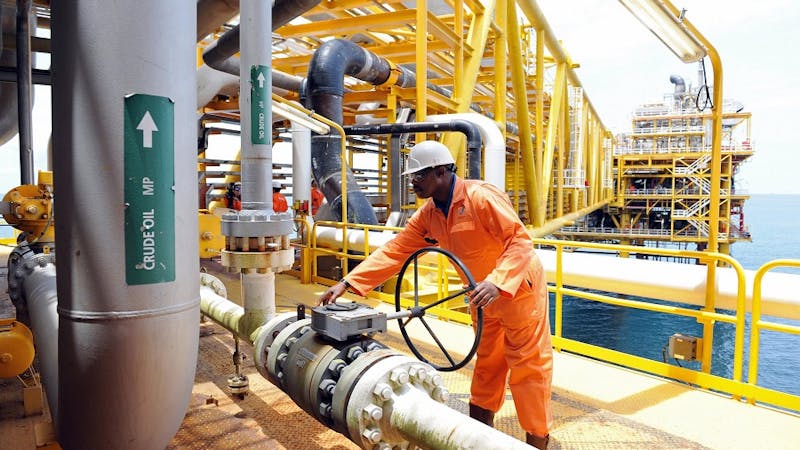 The fall in the price of crude oil has affected the economy of Nigeria and also the world at large with Nigerian business stakeholders gathering to find a solution to the awkward development in the country.
The gathering which included different stakeholders from different industries and federal government representatives was devised to generate a means of improving the economy.
According to the federal government representatives, it is impossible for crude oil revenues to fund the country's budget given to the global fall in oil prices due to low demand of the commodity.
The government stated that the fall has affected the Nigerian development process and revealed it is strategizing to reduce the effect of the challenges imposed on the country by the oil downfall.
Looking into the statement made by the federal government during the conference, stakeholders agreed to acclimatise to the situation and generate a new way of tackling the problem.
The Minister of State, Petroleum, Chief Timipre Sylva, speaking during the Seplat Energy Summit 2020, which was organised by Seplat Oil Company, stated that federal government earning from taxes had been negatively affected by the economic setback.
Sylva revealed that Nigeria had joined the Organisation of Petroleum Exporting Countries (OPEC) in the strategy to rebalance the oil prices and that has helped in the gradual rise in the oil price once again.
"Oil and gas revenue can't fund government budget, but its not a death sentence but a time to do things differently.
"Oil prices went down to 10 dollars due to a global supply glut. It created uncertainties, leading to contract cancellation and deferments resulting in huge losses, cutting employment and taxes to the government.
"This has significantly impacted the Nigerian economy. Nigeria also joined OPEC to rebalance oil prices. Now prices have risen to about 43 dollars. Nigeria is expected to comply by 1.412 million barrels per day for May, June and July," Sylva said.
He added the oil department is working on the growth to at least reduce the overall oil cost to 30 per cent while they focus on generating domestic gas for Nigerian companies as an alternative.
"We are working on $10 per barrel without jeopardising growth. Through the NNPC, we have rolled out strategies to get to that $10, plus 30 per cent cost reduction.
"We have declared the year, a year of gas to ensure domestic penetration of LPG. The nation has enormous gas reserves. When explored it will increase power generation and help associated companies like those producing fertilisers" he noted during the conference.
The Group Managing Director, NNPC, Mallam Mele Kyari, in his remarks, said that even though the government relies on OPEC cut-price there is a possibility of achieving three million barrels per day with the help of local skill.
"Ours is a global industry, but we need local skills which will contribute to economic growth. We are bringing down cost, but not at all cost. We are doing it in such a way that where we can't produce, we don't need to operate it. That's the principle.
"Companies shut down when they can't produce sustainably. We will deal with issues of expectation of our shareholders. The three million barrels is achievable, although we are committed to the OPEC cut. It is in the best interest of the market" he said.
Kyari added: "What we can do is to make our environment competitive. We have a gas that can be harnessed. What we can do is to leverage and have connectivity.
"We are working on the Trans Africa gas pipeline to Morocco and will expand the West Africa gas pipeline.
"The world is transiting. But even that is not a challenge because, by 2040, we will still have oil and gas constituting up to 70 per cent of the energy mix. All we need to do is to be more competitive.
"Africa is the next destination for businesses, but we can't sustain the current structure. We need to incorporate the Nigerian content, but it comes at a cost. That cost has to be managed, so it doesn't impact negatively on our shareholders."
Kyari confirmed that all the nations refineries are broken, but the country will hope on Dangote refinery to achieve the expected maximum production the country needs.
"All four national refineries are down at the moment, but we are working round the clock to see how we can fix them. We will also continue to support the completion of the Dangote refinery and create space for local skills to come into play to reduce cost and contribute to economic growth.
"We remain committed to achieving our target of increasing crude oil production to the national target of three million barrels per day and reserves of 40 million barrels," he stated.
According to the President, African Export-Import Bank, Prof. Benedict Oramah, the African countries would have to rely on renewable energy gas to solve the oil and gas business issue. Still, the process has to be done gently.
"Some of the changes we would like to see happening is in regards to policies and regulatory changes, investments in gas and renewable energy space because they are key to changing the narrative of oil and gas business in the African continent.
"We have to be smart as to how we address climate change to create a fair world and solve degradation as sustainability goes beyond social issues because development is done by carrying everyone along, but petroleum, gas, renewable energy needs to be done more cleanly," he noted.
Another speaker Audrey Joe-Ezigbo said, "We need to leverage on Africa's over 527 TCF proven natural gas reserves and use that side by side complementary to building up our renewables profile as well which Nigeria should be championing".