Remote jobs: Top 10 online jobs in Nigeria in 2020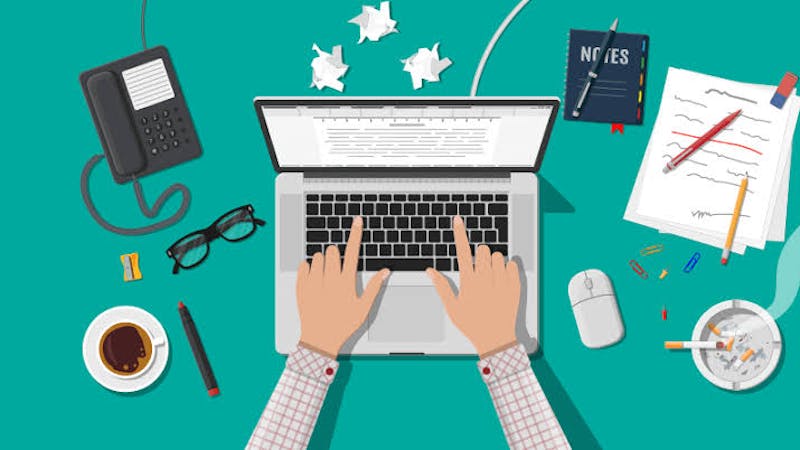 If you are seeking remote jobs/work from home jobs in Nigeria in 2020, you are reading the right article. There are lots of online jobs in Nigeria that you can always opt for.
Here, we will point out for you, 10 paying online jobs in Nigeria in 2020. Many had no idea that you can work from home, work remotely for a company or an individual and earn some money. But, the outbreak of Coronavirus seems to have exposed many to that reality.
Some Nigerians have the notion that remote jobs do not work in Nigeria. Some think that online jobs in Nigeria are a scam; well, it's not.
As a Nigerian living in Nigeria, the lack of offline or physical jobs should be a reality to you. But do you know you can earn up to N200,000 and above from working at home?
Actually, there are many flexible ways you can earn additional money in Nigeria.
It is not magic, It works, and it is all legit. You can apply for online jobs in Nigeria and work with individuals or companies in any part of the world.
The online jobs in Nigeria offers an opportunity to work from the comfort of your home and still earn reasonable amount of money.
The exciting part about these work from home or remote jobs is that you don't even need much capital to start them. Another good thing about the online jobs in Nigeria is that you also don't need to quit your regular job for it.
If you are determined to earn additional money, you can combine your regular job with one of these online jobs in Nigeria. All you need is to find one you are passionate about and which fits into your schedule.
Also, if you are a student, seeking for online jobs in Nigeria or even remote jobs from any part of the world could be one huge step to your financial breakthrough.
You don't have to sit and wait till you graduate. Start earning money right away!
10 Work from home/online jobs in Nigeria that pays well
Here is a list of top ten online jobs in Nigeria that pays well.
1. Graphics design and web development jobs
Are you versed in the area of web designing and coding? What are you waiting for to start earning money online? Web development jobs are among the top online jobs in Nigeria in 2020.
Web developers are well sought for thus, it is one of the top online jobs in Nigeria in 2020
When you search online, you will see lots of remote job vacancies for web developers and graphic designers. Even if you are a novice, you can learn web development. It is one of the most sourced for skills in 2020.
Many companies and businesses in Nigeria and even outside Nigeria outsource jobs to people with web development skills. You can work remotely with such companies as a freelance website developer.
If this is your niche, find it online, grow it, and build your reputation.
2. Social media and digital marketing jobs
Since the world has gone digital, it is not surprising that remote jobs on social media and digital marketing are among the top paying online jobs in Nigeria in 2020.
Needless to say, many people today are making enormous amounts of money from social media. You can start with managing business social media accounts.
Suppose you are also good with gathering social media users and building a presence online. In that case, you can delve into the business of building and selling accounts as many people and businesses are always seeking for already built social media accounts to buy.
Social media and digital marketing is one of the top online jobs in Nigeria in 2020
Social media managers earn up to #200,000 (and above) salary in Nigeria. Your salary would depend on your expertise, experience as well as the brand you are working for.
Starting with social media and digital marketing job is not that hard. You only need your device and an internet connection.
However, if you want to be successful in this area, you should be ready to learn more, move with current trends and of course, develop your social media skills.
3. Blogging jobs
Among the online jobs in Nigeria, you can do at home is blogging. Do you love writing, or do you have excellent writing skills? You can start earning from blogging.
You can delve into blogging, start working from home, drive traffic to your website and start and earning money.
Think of the niche you love writing on, leverage on your skill and start earning money online. Design your website or hire a web developer/designer to do that for you.
There are different content management systems (CMS) you can use such as WordPress, Magento, Wix, Ghost, Drupal etc. These content management platforms help you create and manage your website using a human-friendly interface.
You can make reasonable amounts of money from your blog sites via google advertisements. However, you should note that blogging is not a get rich quick scheme. You have to give in much time into building your website.
Asides writing skills, you need search engine optimisation (SEO) skills. SEO ensures that many online users get to access your blog site easily.
4. Online tutoring jobs
If you love teaching, you can grab the opportunity of online jobs to live out your passion. You can earn lots of money with your knowledge.
Sign up as an online tutor of applying for tutoring jobs online if you are passionate about teaching.
Specialise in a particular area or subject and teach people what you know. There are different ways you can do that. You create a personal website, open a YouTube channel or check out online tutoring jobs on freelancing platforms.
You can teach people your skills, teach how-to topics, do-it-yourself (DIY) etc.
If you are multi-lingual, you can teach people the languages you know online as well. Finding online tutoring jobs is not difficult as the internet is filled with people who want to learn one thing or the other.
So if you can give a solution to the queries people input into the search engines, you are on the right path to earning yourself some money.
You can teach things in areas related to web design, how to write effectively, business science and development, stock market and trading, make up, how to cook different dishes, weight loss and dietary classes etc.
5. Online vendor
You can become an online vendor and sell your goods online. So, even for people who have an eye for business where they buy and sell, they can do that online.
One of the specs of these online jobs in Nigeria is that you can do your business or render your service from any part of the world and get paid for it.
As an online vendor, you can sale almost any product ranging from cars, electronic products, clothing and accessories etc. online
Technology has made it much easier for us to buy and sell online, even right from the confines of our home. In this case, you don't even need much starting capital as some of the expenses that would have been involved, such as renting a physical shop has been eliminated.
Some of the standard eCommerce sites in Nigeria now allow sellers to market their goods and sell those goods online. One of such websites is Horezone, a topnotch e-Commerce website where goods are displayed, and buyers get to purchase from any part of the country.
Other top e-commerce you can leverage their services as an online vendor is Jumia and Konga. The good thing about these eCommerce sites is that they have different categories that can easily fit into your product description.
Horezone deals mostly in electrical products and home appliances whiles Jumia and Konga covers varying product categories. You should leverage these topnotch platforms, sell your market and earn your money from home!
6. Affiliate marketing
You must have heard about affiliate marketing, but do you know what it is about? Perhaps I will create an exclusive article on that. But, while we wait for the article, here's a snippet of what affiliate marketing entails;
Affiliate marketing has to do with promoting other companies products (on your blog site perhaps), and you get a commission when someone purchases through your affiliate link.
As an affiliate, you can be likened to a salesperson. This is because you are helping the company to make their sales.
Companies pay affiliate marketers Commission for sales made through their affiliate links
It is even better than a salesperson because, unlike a salesperson, you can work for different companies, promoting their products and earning commission from the sales.
There is no doubt about the fact that affiliate marketing is one of the top online jobs in Nigeria in 2020.
In this type of remote job, all you have to do is to share the unique link given to you to people or have it pasted on your website, blog, YouTube page, social media page etc.
When people click on the click and make purchases, it will be traced back to you, and you get to be paid your commission. The commission you will receive will depend on your agreement with the company you are doing business with.
There is no limit to how much people earn from affiliate marketing. Some affiliate marketers earn as much as N1 million in a month.
7. Virtual assistant jobs
A virtual assistant is simply like an office administrator, only in this case, you offer administrative support remotely. Your work is virtual and carried out online.
Virtual assistant job role is similar to that of the regular office assistant except in this case, you work online
Your job roles as a virtual assistant might include typing, sending and replying emails, setting up meetings, receiving calls etc.
You do all the works from your home and get paid depending on your work terms. Sometimes payment is made on an hourly basis. At other times, it could be on a weekly or monthly basis.
8. Video editing jobs
Video editing usually goes hand in hand with graphic design. These are remote jobs that rank top for online jobs in Nigeria in 2020.
Horn your video editing skills if you are passionate about that area and start scouting for relevant online jobs in Nigeria
Even if you don't have the resources or finance for purchasing sophisticated gadgets for this job at the moment, you can start by using some fantastic phone editing tools.
First, learn how to edit videos and design graphics. Upload your works online when you are done and have them promoted.
Best believe that if you have the skills and you are good at what you do, people will surely seek you out and pay for your services.
9. Translator jobs
Are you bilingual or multilingual? Why haven't you started earning money online with remote jobs? There are many works at home jobs that enable you to translate from one language to another and get paid for it.
You will find online top companies seeking for translators. This is one of the top online jobs in Nigeria in 2020
Among the top most important foreign languages that sale in 2020 include Mandarin Chinese, Spanish, German, English, French, Arabic, Russian, Japanese, Hindi, Spanish and Italian.
You should look out for job opportunities with top brands around the world if you are good with any of these languages.
As a translator, you will be given the task to translate documents, videos, audios, podcasts etc. And you can do your job from home.
You can find translating jobs on websites that put up translator job adverts such as Unbabel, Gengo etc.
10. Creative writing and copywriting jobs
Writing is one of the skills that sales today in Nigeria and different parts of the world. Creative writing and copywriting are one of the most searched for online jobs in Nigeria in 2020.
Are you a creative writer seeking for remote jobs in 2020? Your skill will help you land online jobs in Nigeria in 2020
Creative writing a great way of earning money asides your regular job. You can apply for freelance writing jobs even as a student. As stated earlier, you don't have to wait till you graduate to start earning!
Many companies, brands, businesses seek copywriters to put up copies for their business websites. If you are good at persuasive writing, you should go for this.
You can write promotional contents and get paid for it. You can write articles for blogs and get paid for it as many blog owners seek creative ghostwriters for their blogs.
There are screenwriting or scriptwriting roles where you write scripts for movies. If you are not ready to publish your own eBook, you can write eBooks for clients and get paid for it.
You can also create contents for website pages, home pages, landing pages etc. All that is needed is writing creativity. If you have this skill, confidently apply for copywriting and creative writing jobs with companies and start earning.
Do you know?
People are looking for you online? Companies and individuals are searching every day for web developers, copywriters, tutors, translators etc.
You are the solution they seek for, and it is even better that you get paid for those services. They are not free even though you get to work remotely from home.
Start with using the search engine to look for online jobs in Nigeria. The LinkedIn platform is also an awesome place to look out for remote jobs.
Have you tried freelancing platforms? There are lots of freelancing platforms that serve the purpose of connecting individuals and companies to potential freelancers.
Check out platforms like Fiverr, Freelancer, Upwork, TeraWork etc. and land gigs for different online job roles.