Walmart to mandate that all customers wear face masks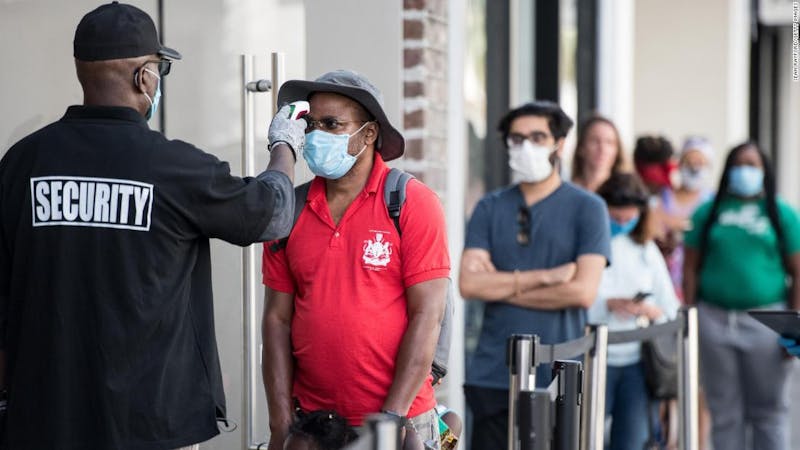 Walmart, which is regarded as the world's largest retailer, is the latest national business chain to require that all customers wear face masks.
The change is meant to be adopted from next week. Starbucks made mention of a similar move last week, saying it would require customers to wear masks or facial coverings in all 9000 of its company-owned stores in the US.
Best Buy announced on Tuesday that it would also mandate all buyers entering into about 1000 retail chains owned by the company to wear face masks. Costco already adopted this rule since the beginning of May.
Although there has not been a federal mandate in place to wear a mask, the Centers for Disease Control and Prevention did say that "everyone should wear a cloth face cover when they go out in the public". It further added that "face coverings are meant to protect other people".
Initially, most big retailers and grocery sellers hesitated to make mask-wearing mandatory for customers during the pandemic partly to avoid losing customers who wouldn't want to abide by the rule.
However, as the pandemic worsens, restaurants and retail companies have shifted their stands within recent weeks. More than 3.3 million people have tested positive, and cases are increasing more and more across countries, cities and states.
Walmart speaking in a news release on Wednesday said, "As the number of confirmed cases has spiked in communities across the country recently, so too has the number and types of face-covering mandates being implemented".
Also, since about 65 per cent of its stores are located in areas where there is a government mandate on wearing of face masks, it decided to make the requirement consistent across all stores.
"To help bring consistency across stores and clubs, we will require all shoppers to wear a face-covering starting Monday, July 20. This will give us time to inform customers and members of the changes, post signage and train associates on the new protocols", Walmart said.