EFCC arrests 10 alleged internet fraudsters, social media reacts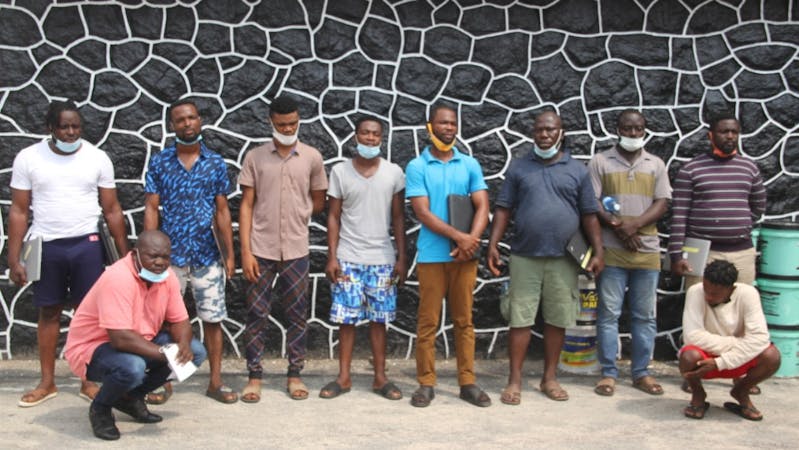 According to the Economic and Financial Crimes Commission's official Twitter handle, the commission arrested 10 people in Lagos allegedly involved in internet fraud.
EFCC, after listing out the names of the suspects said they were arrested on Saturday during an early morning operation in the Alagbado area of Lagos.
The tweet read thus; "EFCC Arrests 10 For Alleged Internet Fraud In Lagos.
"Operatives of the Economic and Financial Crimes Commission, EFCC, Lagos Zonal Office have arrested 10 persons for their alleged involvement in computer-related fraud.
"The suspects are Jonathan Daniel Adebayo, Lawal Waidi Seun, Adeosun Joseph, Taiwo Gbemileke, Oseni Omotayo, Emmanuel Fakiyesi, Rasheed Ogunlana, Oladunni Segun, Sowunmi Rotimi and Efetovore Prince Wilfred.
"They were arrested on Saturday, January 9, 2021, during an early morning operation in the Alagbado area of Lagos, following credible intelligence received by the Commission about their alleged criminal activities.
"Items recovered from the suspects at the point of arrest are cars, mobile phones, laptop computers, passports, a digital video recorder and a cheque book.
"They will be charged to court as soon as investigations are concluded".
The EFCC post infuriated many Nigerians who asked why the EFFC parades suspects who haven't been charged to court and found guilty as criminals.
Some people asked questions like, "How many hours can the EFCC detain an individual without it being an infringement of right?" considering the fact that the suspects have been detained since Saturday.
Twitter Nigeria has been buzzing with 'EFCC' on the trends table. Below are some reactions of social media users to the EFCC post.
@AdetoroOlowu said, "My friend Jonathan Daniel is not a yahoo boy, he was my coursemate at Pefti Film institute, and we both studied Film and TV production. He's a video director now, and he's a video director now and a music producer.
Yet another user who seems to know some of the listed suspects @_warlawk wrote, "Jonathan Daniel Adedayo and Adeosun Joseph Olatunji aren't fraudsters. Dayo is a music producer/soundtrack artist/music video director while Joseph is a plumber/drummer.
"You have found nothing incriminating on my friends and shouldn't parade them as fraudsters".
@chemicalbrodar quoted the tweet saying, "You guys, this is false. Please read this thread. This is pure wickedness that EFCC is doing".
"EFCC can illegally parade powerless young Nigerians but treats the powerful with courtesy. Why was Ibrahim Magu not paraded? This madness must end immediately", @mrfestusogun tweeted.