#ENDSARS: Lagos Judicial Panel views CCTV footage of Lekki Toll Gate shooting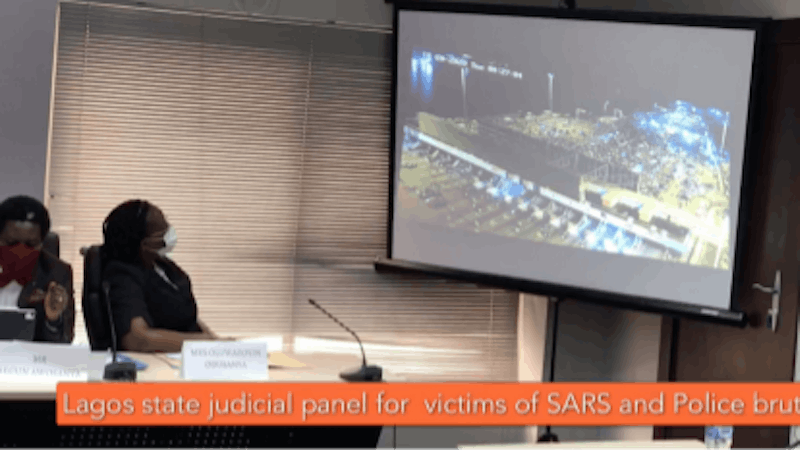 The Lagos State Judicial Panel of Inquiry has viewed the Closed-Circuit Television, CCTV, footage of the October 20, 2020, Lekki toll gate shooting.
Footage of the unfortunate incident was submitted by the Lekki Concession Company during the last sitting. It was admitted by the panel led by Justice Doris Okuwobi (retired) for viewing on Friday (today).
According to Sahara News report, the footage which is being viewed by the panel is 24-hour-long and is being viewed in the presence of media and other observers.
The Lagos State Judicial Panel of Inquiry had been set up to investigate and look into the brutalising activities of the men of the recently disbanded Special Anti-Robbery Squad, SARS.
Clacified reported the case of Ndukwe Ekwekwe, a trader who told the panel on Tuesday the sad story of how SARS operatives threw him down from a two-storey building in 2018 thus, leaving him confined to a wheelchair.
Nigerians took to the streets to voice their anger and protest the brutal acts of the notorious SARS.
During one of the #EndSARS protests, the Nigerian Army allegedly opened fire on peaceful protesters at the Lekki Toll Gate, Lagos.
Reports had it that about a dozen protesters were killed at the scene with many left injured. The soldiers were also reported to have left with some victim's bodies.
Initially, the Nigerian Army denied being involved in the shooting, claiming that none of its soldiers was present at the scene of the incident.
This left Nigerians speechless, and video recordings clearly showed men in army uniforms shooting sporadically at peaceful protesters at the scene.
It also left many asking the critical question, "Who gave the order for the massacre of peaceful protesters at the Lekki toll gate?"
The Nigerian Army later admitted that its soldiers were there and shooting did take place but claimed that soldiers fired blank bullets with no deaths recorded.
Clacified also reported earlier today that the Nigerian Army would be appearing before the Lagos State Panel of Inquiry to probe the alleged shooting on Saturday (tomorrow).