EndSARS: Nigerians mourn as army allegedly opens fire on protesters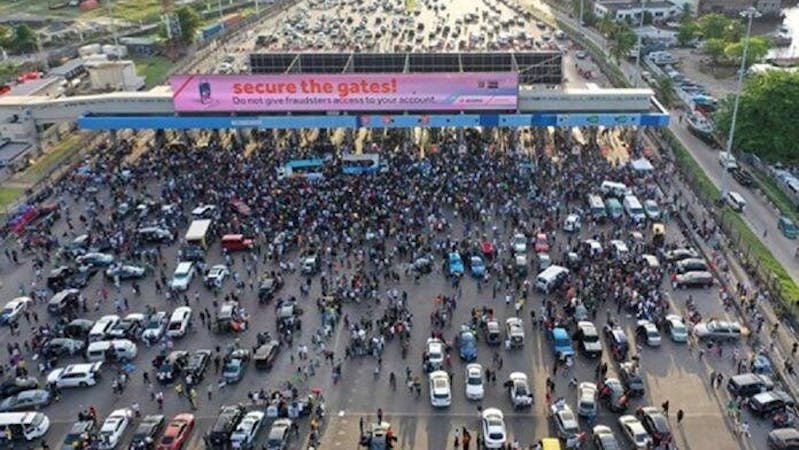 Nigeria was thrown into a mourning state on Tuesday night as it was reported that the Nigerian Army allegedly opened fire on peaceful protesters at Lekki Tollgate in Lagos state.
According to some eye witness reports, some men who claimed to be from the government had removed CCTV cameras which were installed in the area thus leaving people suspicious of the motives behind that.
BBC News Africa also reported that armed soldiers were seen barricading the protest site some moments before the shooting commenced.
Many people were reported to have been injured and killed in the shooting which took place at Lekki, a wealthy suburb in Lagos.
Video clips and media footages streamed live from the scene showed protesters attending to the wounded. However, it is not yet clear how many people were killed or injured.
The sad event occurred barely 24 hours after the Lagos State governor Babajide Sanwo-Olu imposed a curfew which starts by 4 PM in the state.
It was reported that the street lights were put off while the soldiers allegedly continued unleashing shots at the protesters.
Nigerians have declared Tuesday, 20 October 2020 a Black Tuesday while lamenting that the government of the nation has failed its people.
EndSARS: Black Tuesday in Nigeria as many peaceful protesters were shot by the Nigerian Army
Before the shooting on Tuesday, there were reports of widespread roadblocks and excessive use of force against protesters in different parts of the country, especially Lagos.
Round the clock curfews were also imposed in other states like Ekiti and Jos city.