Lagos begins three days 'End SARS' protest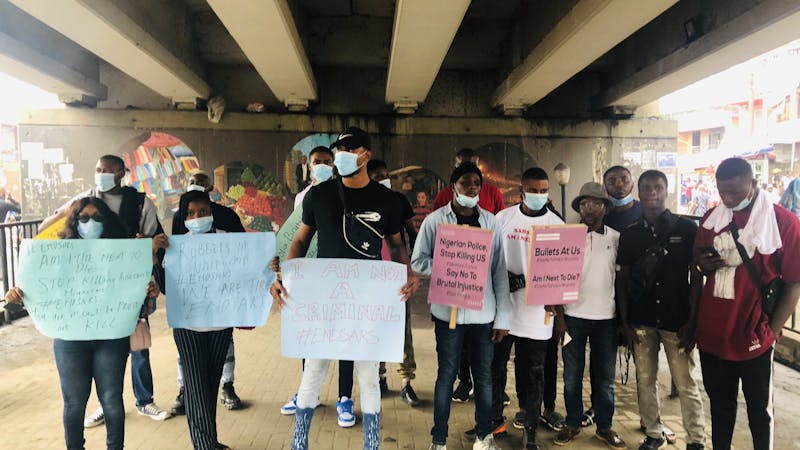 Lagos residents have commenced a three-days protest today agitating for the scrapping of Special Anti-Robbery Squad of the Nigeria Police Force.
The protesters said the action will hold from Wednesday through Friday with a march to the Force Headquarters, Ikeja, Lagos, as well as the Lagos State Government House.
The protesters are demanding for the need for a transparent prosecution of all officers involved in extra-judicial activities, justice for victims of extra-judicial activities as well as the call for the police to have a list of officers that have been found culpable of extra-judicial activities.
Some Lagos residents protest against continuous killing of innocent citizens by SARS
Other demands include "public enquiry on the activities of the unit in the past one year, compensation to be given to verifiable victims both dead and alive, tags on all policemen with names and job details.
"No police officer should be found in civil wear while on duty with a gun, police should stop going around in unidentifiable cars or buses and digital mediums for tracking cases with the police."
The case of SARS killing innocent citizens in the country is at its peak. This made Nigerians rise in defence of their freedoms and lives.
It started with a digital protest on social media with hashtag #EndSARS. Now, some groups have taken to the street to protest the brutality of SARS to Nigerian citizens.
Naira Marley one of the Nigerian famous musicians proposed a similar #ENDSARS protest but backed out and cancelled it at the last minute after Minister for youths and the Nigerian Police Force advised him against that.
According to Amnesty International, Nigeria has recorded 82 reported cases of SARS brutality from 2017 to 2020.