[Video] How police shot fellow officer during EndSARS protest in Surulere

By Emeh Joy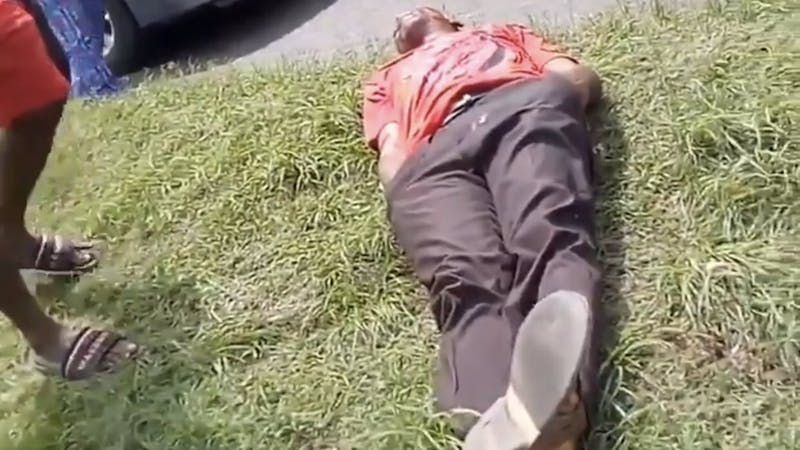 The #EndSARS protest in Surulere, Lagos State on Monday, turned frenzy when the Nigerian police force men opened fire on the peaceful protesters. They shot continuously and aimlessly and shooting one of their officials dead in the process.
The protest was a peaceful one; the protesters had no arms, ammunition or any form of weapon with them; they weren't causing any damage to public property.
However, it came as a shock to many of the #EndSARS protesters when men of the Nigerian Police Force opened fire on the youths thus, leaving them with no choice but to run for their dear lives.
During the aimless shooting, a man amidst the protesters got hit by a stray bullet. Eyewitnesses later reported that the man was also a police officer and was seen earlier with the group of policemen who shot at them.
Some reports alleged that some protesters were held on a purported falsehood that they killed a policeman; meanwhile, a stray bullet from police hit him.
The shot police officer didn't make it as he died on the spot, just like many others who have lost their lives in the fight to end the ferocious activities of the Special Anti-Robbery Squad, SARS.
More casualties recorded from the Surulere EndSARS protest
Many protesters were wounded as a result of wild panic and people running for their dear lives. Another man was reported to have been shot dead by the policemen during the shootings.
The man, who was later identified as Mr Ikechukwu Ilohamauzo, didn't make it even after some medical personnel attended to him, giving CPR and trying to control the bleeding.
Late Mr Ikechukwu Ilohamauzo, who got hit by bullet while the police was shooting at EndSARS protesters in Surulere
It was also gathered that Ilohamauzo wasn't part of the protest or a protester. He was going about his usual business when he got caught up in the area of the protest.
The 55-year-old man only stepped out of his car to look up the road when he got hit by a stray bullet.
It was also reported that police went about arresting and taking into custody youths who were on a peaceful protest. They restricted them from having access to their lawyers and wouldn't allow their family members from seeing them.
An older woman lamented that police officers slapped her at the police station for demanding to see her child, who was reportedly among the arrested protesters.
It was not until the Speaker House of Assembly, Femi Gbajabiamila, intervened that six of the arrested protesters were released at night.