2500 delisted civil servants shut down government activities in Cross River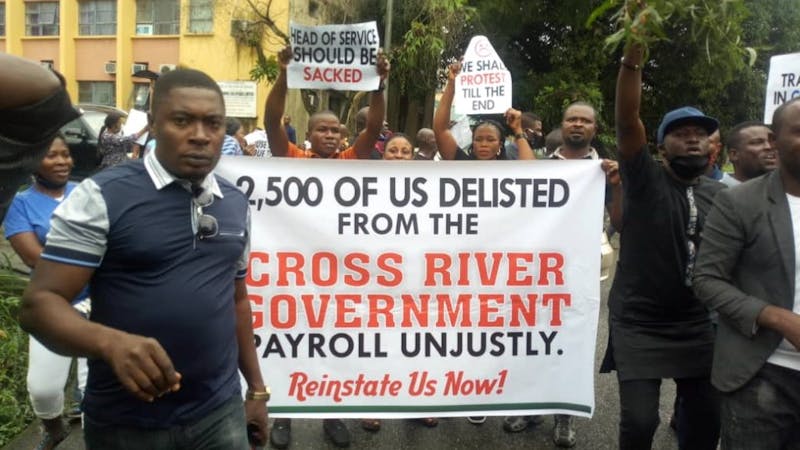 Over 2,500 civil servants who were delisted from payroll by the Cross River State government on Monday took to major streets protest disrupting government functions at the state ministries over the non-payment of their over one-year salaries.
The protesters had last week given the Cross River State Government seven days ultimatum to reinstate them and pay them their backlog of salaries and failure to do so will push them to make governance and official engagement difficult in the state.
The civil servants whose names were delisted by the Ayade led administration 13 months ago were seen carrying placards with various inscriptions including "Ayade Pay us our salaries " No Trade Union in Cross River " "We will protest until we are reinstated " "John Odey should be sacked " amongst others.
The protesters alleged that it's exactly one year and some months since the Cross River State Governor, Sir Ben Ayade reportedly dismissed them from the payroll of the State civil service without any letter or any other form of communication.
It was learnt that after a series of attempts to dialogue with the government and unfulfilled promises lingering longer than expected, the workers decided to take proceedings into their hands.
Francis Inah, one of the protesters, said their situation was quite unfortunate and disheartening as many of them have not received salaries since 2018 while some have not been paid since August 2019 since their names were illegally removed from the payroll by government.
''We were duly employed in 2015, and due process was followed as many of us wrote different examinations and were given employment letters by the Cross River State government.
Surprisingly for no reason many names were dropped from the payroll in 2018 and another large number in August 2019.
The government said that many of us entered through the back door, we have gone for various audits yet our names have not been reinstated to date. What crime have we committed?
We are appealing to the Ayade led administration to take a cursory look into our plight because many of us are now homeless and our children are already out of school coupled with the impact of COVID-19, life is getting worse by the day.''
Civil servants whose names were delisted by the Ayade led administration shut down the state by carrying different placards to register their grievances
Speaking further Mr Inah said Labour in the state has also abandoned them to take up their fight alone vowing that they will not stop protesting until their names are reinstated into the payroll and their salaries of over one year paid.
The State Chairman of Trade Union Congress, TUC, Monday Ogbodum when contacted said that they have met with the head of Service on the matter and there will be a screening exercise this week to resolve the issue.
Special Adviser, Media &publicity to Gov. Ben Ayade, Mr Christian Ita also said:
''The protest and barricading of the State Secretariat was not necessary because Cross River State Government and Labour including the Joint Negotiating Council, TUC, NLC signed an agreement in March this year to resolve it normally but COVID-19 lockdown stopped the screening exercise on the day it was supposed to kick-start.
As we speak we are in touch with Labour to begin the process of reinstating them back in the payroll, so there is no cause for alarm at all, all those genuine civil servants will surely be reinstated."