EndSARS: Lagos governor Sanwo-Olu joins protest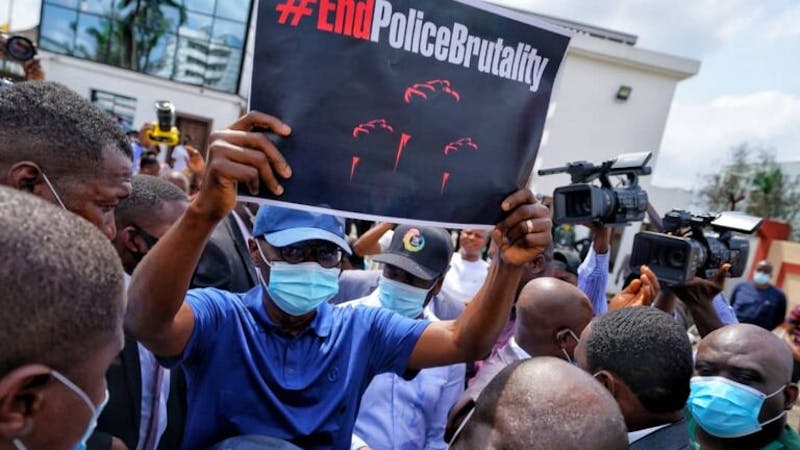 Lagos State Governor, Sanwo-Olu joined protesters on Tuesday in Lagos to protest against the brutality of the police force.
The action of the governor has generated lots of reactions from Nigerians who condemned the act.
Sanwo-Olu joins EndSARS protest in Lagos
See reactions below
"Next thing Jimi Abaje go join walk. Youths... Correct this please...their task is to get to work and give us daily reports on what they have done so far with our demands. We are not asking them to walk with us, they should rather expend their energy on seeing our demands met."
"Well, he's walk is not needed. He's needed with he's colleagues. They should be giving us updates daily as they did with coronavirus cos this issue is as serious as that, if he wants to be useful that's what he should focus on doing. Don't get it twisted, I respect your opinion."
"This is not an APC or PDP protest, we are not asking them to walk with us, their task is to see to it that our demands are met. No clout chasing, you're our servant, we put you there, errand wey we send you you never go you come dey walk with us. Tell that man to leave that place"
Sanwo-Olu joins protesters in Lagos to protest against Police Brutality
"Who's Sanwo Olu trying to deceive.? I hope no be Nigerian youths na hin Ancestor Jagaban. #SarsMustGoNow''
All those are to win the Lagos youth heart; we ain't voting for you 2023! Dey ur dey!"
"Unnecessary drama. Just ask the police to stop shooting at unarmed citizens and also hold the police accountable. No be to come here dey act movie for us".
"When he is done with protesting with them, they should not let him speak. So that he will know it is not a play as usual.''