Fuel and electricity tariff hike protest: Police arrest 4 journalists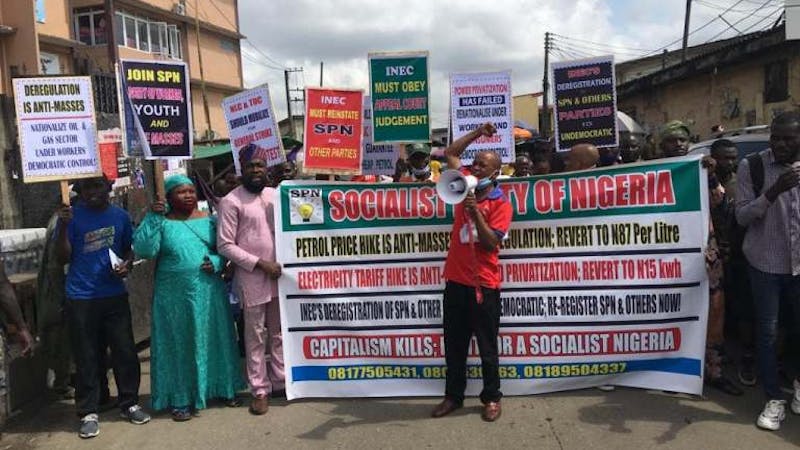 Lagos State Police Command yesterday, arrested no fewer than 14 protesters and four journalists during an anti-fuel and electricity tariff hike protest and forcefully dispersed the protesters at Ojuelegba area of the state.
According to Vanguard News, the protest was organised by leaders of the Lagos Chapels Socialist Party of Nigeria, SPN, National Conscience Party of Nigeria, NCP, and Campaign for Workers Democratic Rights, CWDR.
The groups protested against the recent hike in the pump price of Petrol, increase in electricity tariff and perceived de-registration of some political parties including SPN and NCP.
Those arrested were National Youth Leader of SPN, Chinedu Bossah, SPN's National Executive member, Hassan Taiwo Soweto, Dagga Tolar, Christopher Harry, Abisoye Kosoko, Tunde Yusuf, Akande Abiola, Ayo Ademiluyi, Ifeanyi Onwunalu, Davy Fidel, Adetunji Gbenga, Usman Khadijat, Moshood Oshunfurewa and Taiwo Alao.
The Journalists were Ifeoluwa Adediran of Premium times, Abiodun Ayeoba of Sahara reporters, Awoniyi Oluwatosin of Objectv media and Daniel Tanimu of Galaxy TV.
The peaceful protest which took-off at the Nigeria Labour Congress, NLC, sub-national secretariat, Jejuosho, Yaba, was without incident until the protesters got to Ojuelegba.
It was gathered that when the protesters got to Ojulegba, police officers swooped on them from different directions and surrounded the protesters.
One of the leaders of the protesters, and Chairman of CWDR, Rufus Olusesan, told Vanguard News that the leader of the policemen ordered the protesters "to surrender their protest materials including posters, handbills and banners, but we refused and told them that the constitution guarantees us the right to peaceful protest.
The policemen started cocking their guns, threatening to shoot us and ordered us to sit on the floor.
That was how 14 of us and four journalists were arrested, crammed in a Police van and taken to Area C.
From Area C, our arrested colleagues, including the four journalists, were taken to Police Headquarters, Ikeja. It was at the Police headquarters that the four journalists were released."
It was gathered that the arrested protesters were accused of breaching the state social distancing protocol of COVID-19 and had been taken to Oshodi office of State Task Force on Environmental Sanitation.