Fuel hike: Group shuns labour, protests in Oyo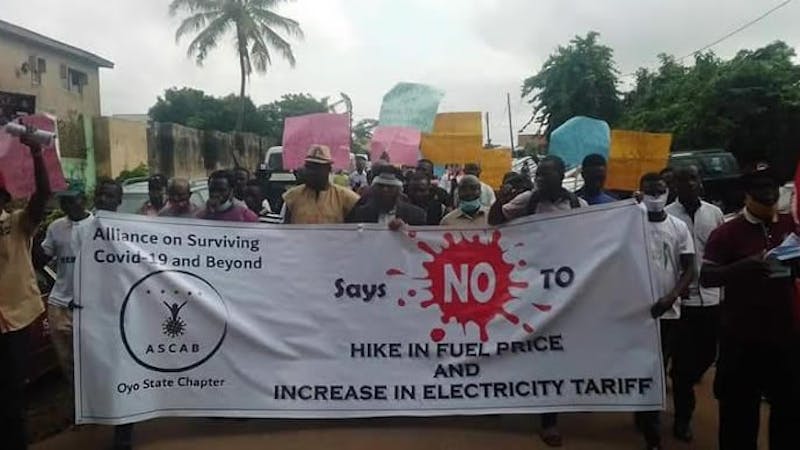 A group under the umbrella of Alliance on Surviving Covid-19 and Beyond in their numbers trooped out in Ibadan to protest against the hike in the price of petrol and other policies of the Federal Government.
The group, which gathered at the Agodi Gate area of Ibadan, were led during the peaceful protest by human rights activist,  Femi Aborisade, who is the Vice-Chairman of the  Alliance on Surviving  COVID-19 and Beyond.
The protesters, who were armed with placards condemning the Federal Government and its policies, said Nigerians had been further impoverished by the recent hike in the electricity tariff and petrol pump price.
They stated that corruption by government officials made life unbearable for the masses, as they equally criticised the lack of adequate funding of the education and health sectors.
Aborisade who led the protest said Allainace on Surviving Covid-19 and Beyond ASCAB was against the agreement between the NLC, TUC, and the Federal Government, saying Labour leaders ought to have briefed workers before taking that decision.
He said the Federal Government should follow the rule of law by obeying the Federal High Court judgment of 2016 against fuel price and electricity tariff hikes.
"Federal Government must reverse the electricity tariff increment and fuel pump price hike in the interest of the masses."
Some members of the Nigeria Labour Congress and the Trade Union Congress joined the protest in solidarity.