Landslides kills ten in Nepal, South Asia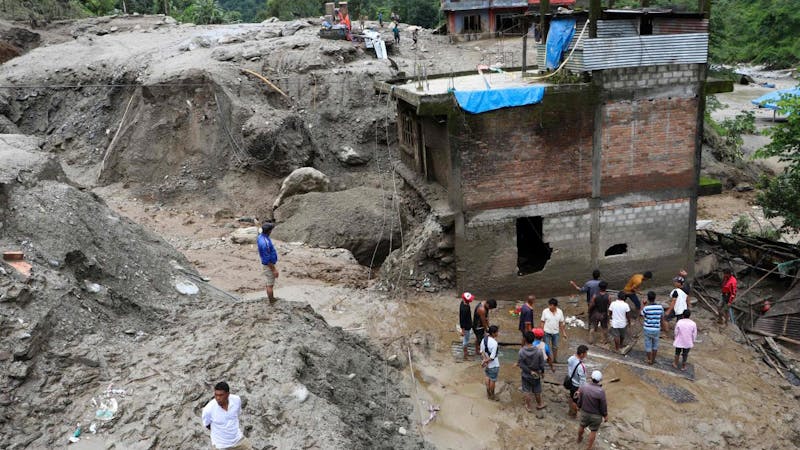 Following the heavy rains in South Asia, landslides triggered in Nepal has killed eight labourers at a construction site and two members of a family on Monday.
According to a report from Reuters, the Nepali government official, Murari Wasti said that the labourers were in a deep sleep in a tin-roofed shelter near the capital, Kathmandu when the landslide started.
"Rescuers dug through the mud and took out all eight bodies," Wasti said. One of the labourers who was injured has been admitted in a hospital.
After the first landslide, a second one started nearby the first scene and killed a man and his wife in their home.
Wasi revealed that 57 people were missing while 111 are injured by landslides which are caused by the May-September Monsoon rains.
Elsewhere in the Himalayan kingdom of Bhutan South Asia, four soldiers died in a flood while they were rescuing villagers trapped in flood, officials said.
Junior minister of the Disaster Management and Relief Ministry Enamur Rahman also said that over 1 million people were left stranded in Bangladesh, and thousands of hectares of land have been flooded, compelling more than 60,000 into crowded shelters.
The flood incident has lead to an increase in the cases of coronavirus in South Asia due to the lack of social distancing as people live in crowded shelters.
Bangladesh has been hit with over 240,746 cases of the coronavirus infection with 3,154 death cases reported.
"This is really challenging," Rahman said. He added that efforts are being made to see that people maintain social distancing.
The landslides in South Asia are reported to have killed up to 177 people since late May 2020, with 135 killed in Bangladesh in late June. It was reported that the flood in Bangladesh is the longest-running in more than two decades.
According to Arifuzzaman Bhuiyan, executive engineer at the Bangladesh Water Development Board, the water from heavy rains across Indian Mountains has led to the increase in the level of  Bangladesh's rivers contributing to the flooding since 1998.