Mayor of Seoul found dead after seven-hour search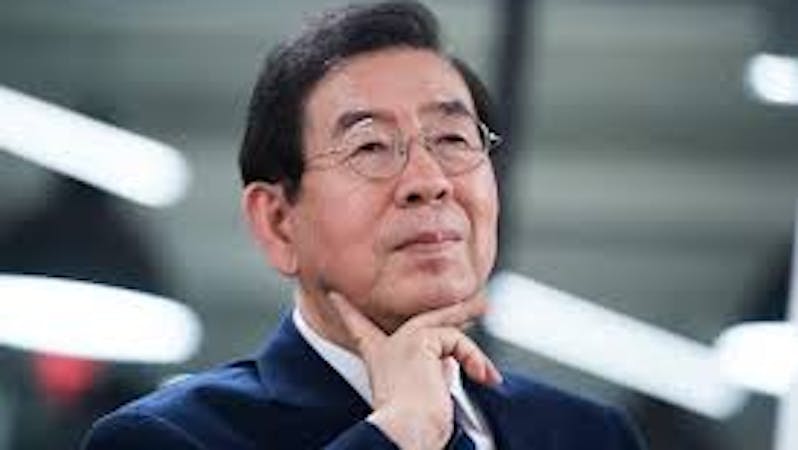 The mayor of Seoul, Park Won-soon, who is regarded as the second-most powerful official in South Korea, has been found dead on a mountainside within the South Korea capital city.
His body was found on Bukak mountain in Seoul's Seongbuk-gu neighbourhood just past midnight on Friday local time. The area is not far from his official residence in Jongno-gu.
The police have ruled out foul play. However, to protect his privacy, they did not reveal how he died. Choi Ik-soo, an official at Seoul Metropolitan Police Agency's Crime Department, said during a briefing on Friday that he didn't leave any suicide note and his belongings were found nearby.
The remains of the late mayor of Seoul, Park Won-soon found on Bukak mountain carried by security agents
The deceased mayor was first reported missing by his daughter on Thursday evening, according to a police official. This left nearly 600 police officers and firefighters alongside three rescue dogs scouring the city, searching for him for seven hours.
The body of the 64-year old was later found by one of then rescue dogs and was identified by firefighters.
Park was born in 1956 in the South Gyeongsang Province of South Korea. He once worked as a prosecutor, after which he became the Secretary-General of the People's Solidarity for Participatory Democratization, a major NGO, for many years.
The civic activist had taken up the mayor position since 2011 and was considered a possible hope for the country's liberals in the forthcoming 2022 presidential elections.
Search teams earlier had combed the Waryong Park, where the police reportedly said he was recorded on CCTV footage on Thursday. His last cell phone signal was detected Seongbuk-gu, where his body was finally found.