Nigerian students protest rape and murder of UI student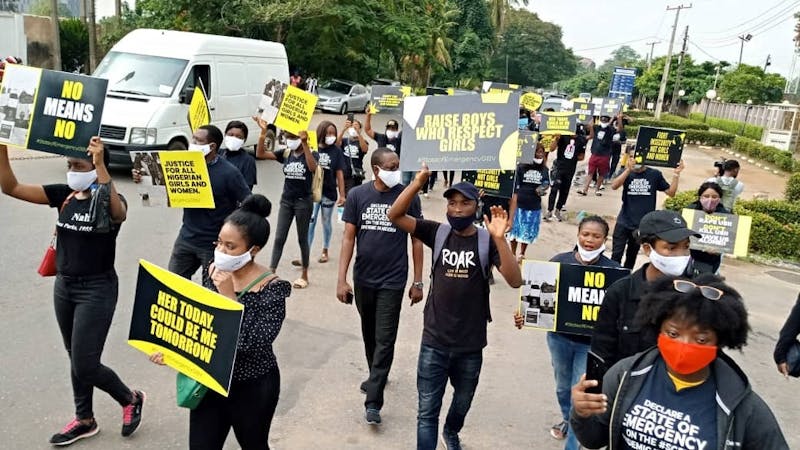 Nigerian students under the umbrella of National Association of Nigerian Students (NANS) has protested over the rape and murder of Barakat Bello, a student of University of Ibadan.
The police have confirmed the murder of Barakat Bello; however, the police denied she wasn't rape.
"Truly, the matter happened, but it was not rape. She was attacked with stone on her head and left to die", he said. "The police commiserated with the family."
Reports have it that she was attacked on Thursday at her house in Aba Ijefun, Akinyele Local Government Area of Ibadan on June 5, 2020.
According to residents of the area, a stone used to kill Miss Shomuyiwa was found beside her bed with blood covering her body.
"The girl was raped and killed. As of this morning, police came to the place to arrest some people they suspected," one resident said asking not to be named.
NANS National President, Daniel Akpan, who led the protest, demanded justice for the victims and advocated an end to gender-based violence in the state. He also called for the enactment of laws that would stipulate capital punishment for rapists.
Akpan stated that students from all parts of the country converged on Ibadan to protest 'the unfortunate killings.'
Akpan while seeking justice for the victims, called on the Nigeria Police Force and other security agencies "to speed up the investigation process on those behind the dastardly act and bring them to book immediately.
Commissioner for Youth and Sports, Seun Fakorede, who spoke on behalf of Oyo State government, said that the state government was working to ensure justice for the victims.
Fakorede, who addressed the students on behalf of the Governor, Engineer Seyi Makinde, described rape as a very condemnable act, stating that the state would bring the perpetrators to justice.
The peaceful rally took off from Agodi-Gate in Ibadan, and the protesters moved around significant markets and other places in the area, sensitising and demanding justice for victims of rape, and other social vices.
The protesters, who carried placards with various inscriptions to press home their demands, later moved to the governor's office in Agodi, where their protest letter was received by the Commissioner for Youth and Sports, Seun Fakorede, on behalf of Governor Seyi Makinde.
Fakorede, who responded on behalf of Governor Makinde, lauded the coalition for the initiative, saying the state government had put in place appropriate measures to checkmate the development.