Nigerians, others react to Lekki toll gate massacre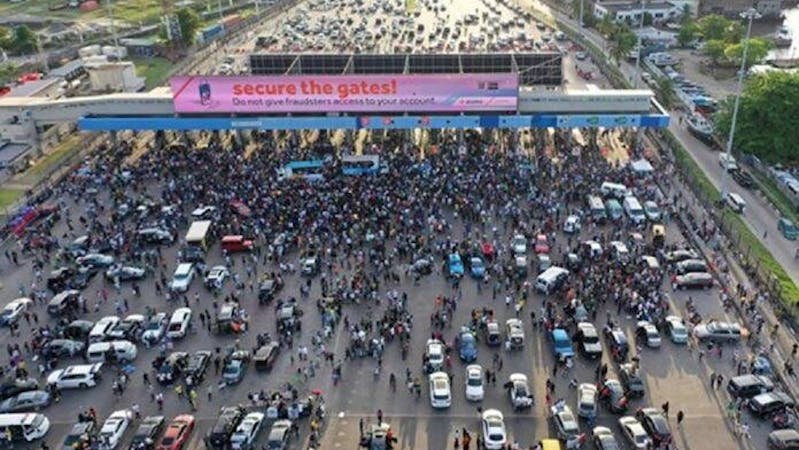 Many Nigerians outside the country have reacted to the EndSARS campaign massacre at Lekki toll gate Lagos State on Tuesday night October 20, 2020.
Many peaceful EndSARS protesters were killed yesterday, while others were injured and got hospitalised in an open fire by the Nigerian Army and other hired thugs.
Anthony Joshua pledges support to EndSARS protesters.
Famous Nigerian boxer Anthony Joshua has pledged to support Nigerian youths who were injured during the EndSARS, EndPoliceBrutality, EndBadGovernance protest.
On Tuesday, October 20, 2020, it was a sad day in Lekki Lagos Nigeria as many people were killed in an EndSARS, EndPoliceBrutality, EndBadGovernance protest.
Joshua, who lives in the United Kingdom, said he is preparing some packages for the people affected in the protest and also send foods to people in Nigeria to help sustain them as they protest.
He also urged them to keep pushing to end bad governance and have a better country.
"This is a message to the people of Nigeria. Even though I'm no there with you in the physical, we've been making some tangible efforts to try and support your protests on the ground.
Anthony Joshua has laid his support to EndSARS protesters who were injured during the massacre shooting
"I know it's getting to a stage where things are heating up, and tensions are high, but in my prayers at night, I'm praying for peace and positivity, because I know that the people on the ground aren't trying to be heard for their own benefit.
"It's for the benefit of the next generation.
"Me myself, I have had to take time to understand the issues that people in Nigeria are facing. Why sometimes I'm silent is because I've learnt that my silence can't be misquoted.
Anthony Joshua has pledged to support Nigerian EndSARS protesters who were injured during the open fire at Lekki Lagos
"So I and my family and my close friends have been trying to do something tangible things, and we're organizing many care packages for the people on the ground. So even if I'm in my training camp and we're in London, we can support you guys from a distance.
"December the 12th, I'm competing, and after that, I'm going to try and make some plans to come to Nigeria to meet my friends and family and meet some of the people trying to make long-lasting change. But for sure, from London and far and wide, your voices are definitely being heard.
"So keep on pushing, keep on striving. You have my support through and through. My ears and my eyes have been opened. I understand the issues that you guys are facing and for some people what I'm going to do will be enough.
"And for some people, it may not be enough. But together as we hold hands and push for a better change, we all move forward in a positive direction. So keep on pushing. Your voices have definitely landed in my ears. And you definitely have my support."
Odion Ighalo reacts to the Lekki toll gate massacre
Manchester United and Super eagles' striker Odion Ighalo criticized the Federal Government of Nigeria for sending Soldiers to kill peaceful protesters in the Nation.
Ighalo has hit on the government over the killing of peaceful protesters
Ighalo said that he is ashamed of the federal government of Nigeria and also said that they are out to kill.
The striker warned Nigerian youth to stay indoors and remain safe.
"I am sad and heartbroken I don't know where to start from, I am not the kind of guy that talks about politics but I can't keep quiet anymore about what is going on back home in Nigeria, " he said.
"I will say Nigeria government are a shame to the world for killing your own citizens because they are protesting for their rights is uncalled for. Today 20-10-20 you people will be remembered as the first government that sends military to the city to start killing their citizens.
I am ashamed of this government, we are tired of you guys and can't take this no more."
Ighalo Criticise Nigeria government over killing peaceful EndSARS protesters
"I am calling the UK government and those leaders in the world to please see what is going on in Nigeria and help the poor citizens… we are calling on the UN to see to the matter."
Ighalo also urged all Nigerians to remain calm and stay safe.
"I want to call on my brothers and sisters to remain safe be indoors please don't come out because this government are killers and would keep killing if the world did not talk about this."
The Nigerian government is yet to address the protesters who are trying to fight for a change in the country, and also the President of Nigeria Mohammadu Buhari continue to remain adamant over the issue.