Thugs interrupt as Northern youths protest over insecurity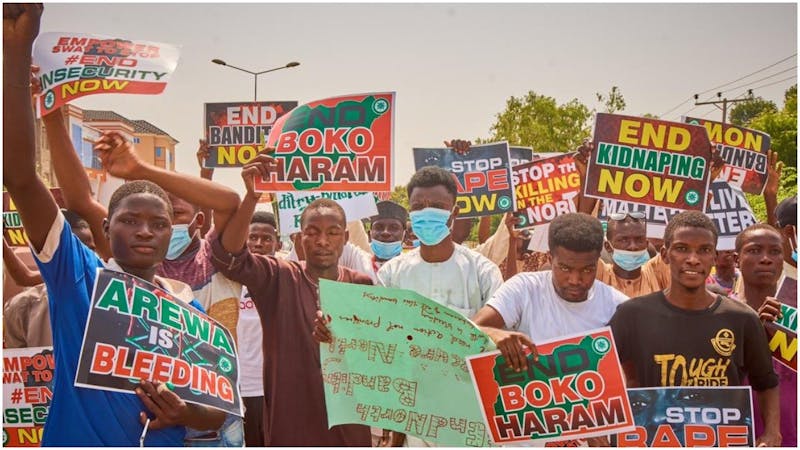 As EndSARS protest rocks the Eastern, Southern and Western parts of Nigeria, Nothern youths have taken to streets of all nine northern states to protest against insecurity in the northern part of Nigeria.
The protest was lead by Coalition of Northern Groups (CNG) across all nine northern states.
In a statement released and signed by the CNG's spokesman, Abdul-Azeez Suleiman and circulated across the North, the group said the aim was to show concern for the deteriorating level of national security and other pressing issues.
Northern youths have taken to streets to protest against insecurity in the north
The statement reads in part:
"It is contradictory that despite several protests and pleas by northerners, the authorities never deemed it fit to extend the swift spirit deployed against FSARS into securing the North, or addressing the myriad distresses faced by northerners.
We publicly condemn and pass a vote of no confidence on those officeholders and elected leaders who have abandoned the bulk of northerners to the mercy of a vicious insurgency, destructive banditry, rape and sexual assaults, violent communal clashes amidst mounting poverty and entrenched fear of widespread kidnappings for ransom."
Unfortunately, the protest couldn't go as far as the protesters had wanted, as heavily armed thugs launched an attack on them.
The protesters gathered in Bayero University road, Kano to proceed with the protest, but some hoodlums descended on them, beating and snatching their phones until they took to their hills for safety.
A member of the group, Usaini Adamu narrated that the thugs, brandishing dangerous weapons invaded the gathering, opposite BUK old campus and started attacking the protesters.
Though according to Adamu, no major casualties were recorded in the attack, a few of the members had sustained minor injuries.