Protest in Osogbo over electricity tariff, fuel hike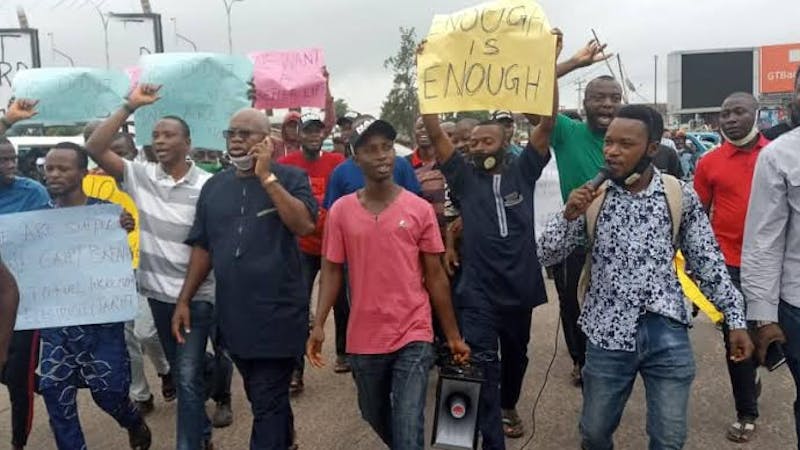 Members of the Coalition for Civil Societies in Osun State, on Friday morning, protested against the hike in electricity tariff and petrol price.
The protesters took off from Freedom Park, Osogbo, around 8:30 am. According to Punch Newspaper, the protesters displayed placards showing their displeasure over the increase in electricity tariffs and petrol prices.
The protesters lamented that "approval of new electricity tariff and increment in petrol's pump price is the highest level of insensitivity and wickedness from President Muhammad Buhari-led All Progressives Congress government.
The Petroleum Products Marketing Company, a subsidiary of the Nigerian National Petroleum Corporation, had, on Wednesday, increased the ex-depot price of Premium Motor Spirit (petrol) to N151.56 per liter from N138.62 per liter but later reduced it to N147.67.
This comes three months after the National Assembly halted the tariff hike implementation slated for July 1. It prevailed on the distribution companies to shelve the date to the first quarter of 2021 due to Nigeria's current economic challenges.
Many Nigerians, Aare Onakakanfo of Yorubaland, Iba Gani Adams, have condemned increasing the petrol price while the citizens are starving.
Gani Adams advised President Muhammadu Buhari to raise Nigerians' living standards and not the cost of essential.
In a statement on Thursday, Adams said his administration was insensitive, especially at a time the world is still going through the COVID-19 pandemic.
''The Federal Government has failed in its responsibilities to Nigerians. The hardship of these increments relating to transportation and electricity tariffs will affect the people of this country for a long time.
"This is not the kind of change we expected from a government that rode to power on Nigerians' hope. Rather than cushion the effect of this outrageous increase, the Federal Government decided to look the other way. How will an ordinary citizen cope?"