Tolulope Arotile's body laid to rest amidst tears from family, friends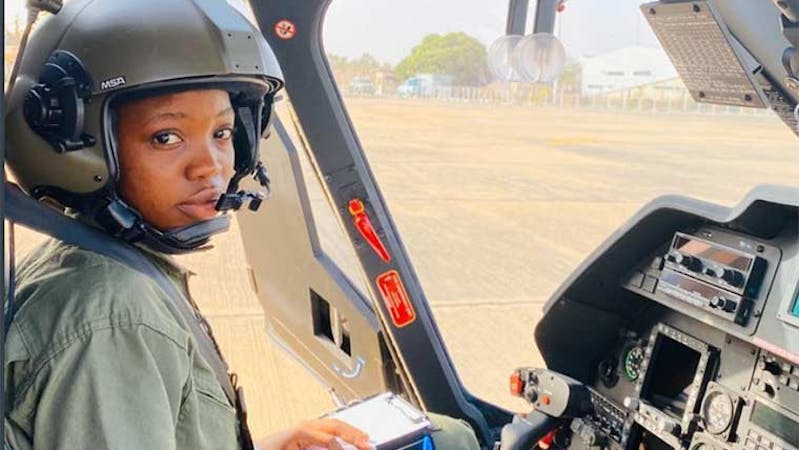 The remains of the first female Nigerian combat helicopter pilot and flying officer, Miss Tolulope Arotile, has been laid to rest today in Abuja amidst tears from families, colleagues and friends.
She was accorded full military honours as Nigerian Military paid their last tribute to her.
Her remains were lowered into the mother earth at 11:05 am. May her soul rest in peace.
She died at the age of 23 years after sustaining head injuries from a road traffic accident at the Nigerian Air Force (NAF) Base in Kaduna.
The corpse of Tolulope Arotile being carried by Nigeria military
Arotile was reportedly one of the 13 pilots inducted at the NAF Headquarters, Abuja on Tuesday, August 15, 2019. The inductees were then deployed to the North-East and other parts of the country for security operations.
She graduated as the best flight student from the Nigerian Air Force in 2017.
Nigerians were insisting there was a foul play as regards her death. However, the Nigerian Air Force (NAF) on Sunday said there is no foul play about her death.
According to the report released by NAF, Miss Tolulope Arotile was knocked down by the Sport Utility Vehicle (SUV) driven by an old schoolmate at the NAF Base in Kaduna.
Director of NAF Public Relations and Information, Air Commodore Ibikunle Daramola, who addressed the media on the preliminary findings said three of her classmates in a KIA Cereto saloon car that hit her along Mando area of Kaduna would be handed over to the Police for further investigation.
They will be charged to the civil court after that.
NAF identified the three suspects being detained over the incident as Mr Nehemiah Adejoh, Mr Igbekele Folorunsho and Mr Festus Gbayegun, saying they were her former secondary schoolmates.
It said the deceased officer died of trauma due to the bleeding from head injuries she sustained in the accident because she hit her head on the road pavement and the car also climbed part of her body.