Uk protest: Anthony Joshua hit back at critics after Black Lives Matter protest speech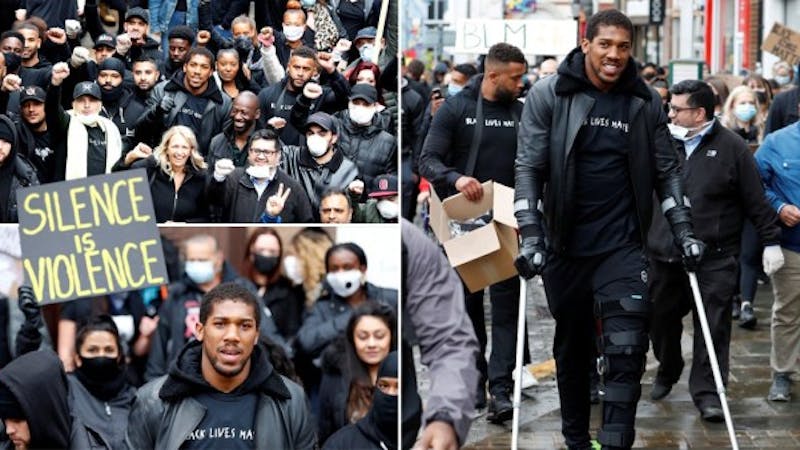 Anthony Joshua has hit back at critics of his speech at the Black Lives Matter protest in Watford.
Following the ongoing protests taking place around the globe due to the death of a black man George Floyd who was murdered in Minneapolis by police officers, the heavyweight champion in the protest for justice and against racism in his hometown of Watford, was pictured on crunches due to the injury he had during training.
During the protest, Joshua took the microphone to speak for the people who could not read what they have written. According to reports, he went further to a Watford councillor to talk about securing a place to further the discussion.
On Saturday, a part of the speech read out by Anthony was captured and uploaded on social media; the speech read "Show them where it hurts." "Abstain from spending your money in their shops and economies, and invest in black-owned businesses."
Anthony took to Twitter to hit back at the critics saying' "If you think I'm a racist, go f*** yourself!
"If you watch the full video, the speech was passed around for someone to read, and I took the lead.
"I personally spoke from the heart about the Watford community, ideas of us personally investing seven figures to create unity and opportunities and adding change to the African/Caribbean community.
"Shops aren't the issue here. Before you talk s***, you better boycott racism."
On Sunday Joshua addressed criticism regarding keeping social distancing at the course of the protest saying, "I understand the concerns in regards to social distancing.
"However, I hope those who are complaining about social distancing have the same energy about those gathering for a day at the beach [and] those going to the park for a picnic."