Edo 2020 gubernatorial: Who will win? Will Godwin Obaseki survive the heat?
The governor of Edo State, Godwin Obaseki, is currently having a bad time in his political career as his plans to run for the governorship under the platform of his party APC has been dashed. How is it going to play out? Is this a breakthrough for PDP? Will Obaseki survive the heat?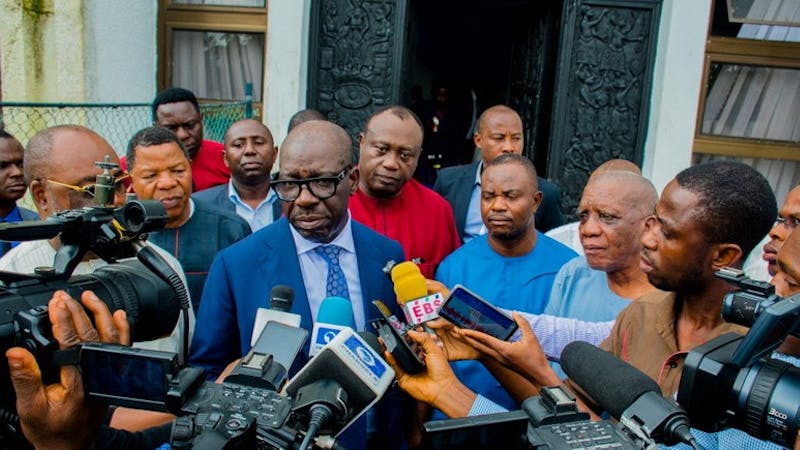 It is almost impossible to have a drama-free election. It either has to be two parties at loggerheads, a party member refusing to step down for another or a war between a godfather and a godson. It never stops; the fight for office, for power continues.
Edo and Ondo's states are two states that are currently on the election trend as their governorship elections keep drawing closer. As expected, the incumbent governor of Edo State, Godwin Obaseki, wants more. Who doesn't? There is always that thirst for power and the craving to keep it at all costs.
Should we count the politicians that came back for more after having a test of the cake? They are just uncountable (starting from the head of the nation).
It is not even the quest for power that is the issue. The issue is the fact that some of these people won't mind having the cake a second time at the detriment of others; they won't mind having it even if it means bloodshed; they will do everything to get the second term in office even when it is clear their first term was fruitless.
But, let's not deviate; the focus today is on Edo gubernatorial and its aspirant Obaseki. It's no longer news that Obaseki wants to run for a second term and has currently been under heat as his own very party; APC has been tackling him from all angles.
It is true what they say that it is someone that knows you that will bring you down, and that is because it is such a person that knows your secrets and has the tools, strategies, information to bring you down.
Obaseki, some days ago, was disqualified from his party's (All Progressives Congress) primary election on the ground of discrepancies in his academic credentials. According to reports, a petition from some APC chieftains in the state was sent to the Chairman of the APC governorship screening committee asking for the disqualification of Obaseki from the party's primary election.
The petition said Obaseki's O/Level results showed he had three credits. Also, he spent only three years to bag a Bachelor of Arts degree in Classical Studies from the University of Ibadan, Oyo State, in 1976 without an A/Level result.
Oh well, that was the reason given for Obaseki's disqualification, but we all know who is behind all these. There is a godfather-godson war going on here. Obaseki and his godfather, Adams Oshiomole, the APC National Chairman, had been on loggerheads with APC in Edo state, dividing into factions.
My Yoruba peeps would say it is "agidi" (stubbornness) that is has brought the downfall of Obaseki, but what did he do wrong? What he did was break away from the control of his godfather. Talk about biting the hand that fed you....technically.
Obaseki didn't want Oshiomole interfering with the affairs of the government in the state (and he was always interfering!), which created political hostility and war between the two.
Now, it is apparent that Obaseki cannot contest under the platform of APC. He hasn't clearly stated his next move, but just as we have seen it play out in the past, it is either he deflects to another party and contest from there, or he stays within the party and causes internal chaos or damage.
Obaseki has said he will not appeal his disqualification from the party's primary. I suspect the next move would be to deflect to the opposition party, the People's Democratic Party (PDP) and if that happens, does he stand a chance? How many politicians have stood up to their godfathers and survived? Some end up having their political ambitions crushed.
It still doesn't mean it is not possible. I know some people will point out the case of Ambode and Tinubu and how it all ended up for Ambode. But did Ambode play the cards well? Even if he did, there are just some battles you can't win. In his case, I must say that it is a case of a mouse trying to fight an elephant; Tinubu is far bigger and stronger.
Asides from that, Ambode doesn't seem to have that fighting spirit, but I see it in Obaseki. The feud between him and Oshiomole got to the point that he even called for the arrest of the APC chairman in February. A video of him vowing to deal with Oshiomole if he keeps disrupting activities of the party in the state went viral as well.
He seems tough skin just like his friend (or rather a newfound friend), Wike. Nyesom Wike, the governor of Rivers state, also makes it to the list of state governors that fell out with their godfathers.
Wike, who once had a strong relationship with Chibuike Amaechi, the former state governor and was his Chief of Staff, defied the rules of godfatherism even as he left APC for PDP.
The political crisis which broke out between the two in 2012 did cause unrest in Rivers state as the state got polarized into APC and PDP rival camps. Amaechi fought Wike and took sides with Dakuku Peterside under the platform of APC, but at the end, tough-skinned Wike still emerged the winner. Maybe Obaseki's established relationship with Wike would give him more insight on how to go about this.
On the other hand, the faction within the party may offer a breakthrough for the opposition party, PDP. It is always easier to take advantage of discord in a rival party to strike.
I would have loved to also talk about the people's choice. But, what about the people's choice? Has it ever mattered in the nation? The idea of democracy in the country is a warped one. People could cast their votes and have the election result give them something else.
It is the reality of the country; a reality that has disarmed the people and have taken away their rights to choose their leaders. In the end, it all still boils down to an aspirant playing his cards right, knowing who to bow to and who not to bow to, knowing how to manipulate the masses and having full knowledge of the political game.