Horror: Strange image in the mirror
What do you do when you wake up after a terrible night, to check out yourself in the mirror only to see a strange image of another person in place of your real self?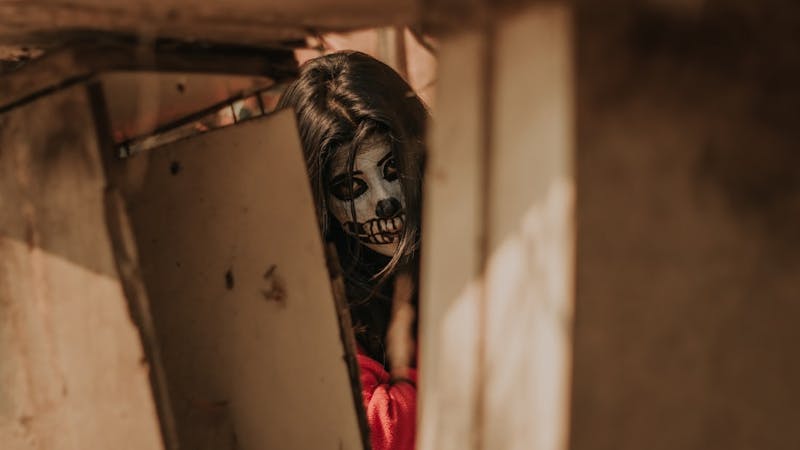 "I shall be back in three days time. Take care of your sister and the house till I return" my father said to me.
"Okay, Dad take care, buy something for us when coming back," Remy and I said in unison.
I was 14 years and Remy, my sister, was only 11, though sometimes she acts even more mature than her age. My mother had a misunderstanding with my father, they divorced, and both went their separate ways.
We relocated to Adetokumbo Ademola crescent, Wuse Abuja. It was two days after we had moved into the house that my father travelled.
At dusk we sat on the couch watching Carol brunette show, a TV show we never dared to miss. Remy played with her popcorn as she watched the show with great interest.
Abruptly the lights went off, leaving us in a gloomy state. I crawled like a snail cowering in its shell in search of a torchlight I dropped on the floor earlier.
"Knock knock knock!!" A high pitched voice came from the outside.
We weren't expecting any visitor, so we ignored and kept on searching for the torch. I could feel goose pimple inhabiting Remy as she held me like a child afraid of losing her mother.
Lightening shun and helped me find the torch. I lighted it, and it brightened our house. The knock came again, and I went to check who was at the door.
"Hello, it's raining, I'm drenched, and my mum is not yet back. Our house is locked, I live in the next compound. Can I sleep over in your house please?" a girl about 10 years old said.
I was caught between two stools, but I never wanted to be called a heartless neighbour.
"Come in!" I replied.
Remy gave her a towel to clean the water dropping off her body. I noticed her dress was torn and she was barefooted. She was quick to read my thoughts.
"Actually I had a fight with someone, and I lost my footwear" she replied.
We took her to our room; we had two beds, so she shared my bed with me. Exactly 12 O'Clock midnight, the Windows began to open on its own.
The door slammed over and over. I hastily woke up and closed them again. I was returning to bed when our television suddenly powered, and loud music played like it was at a party.
I heard a growling sound, and I quickly turned back. I saw a figure on the wall like a shadow of a beast. I freaked out but what I didn't understand was why no one else noticed that.
"Maybe I was living on imagination; maybe I have malaria. I just need to rest my head now" I murmured.
You know when you watch a lot of scary,terror-striking movies, the memories get glued to your mind like a stamp to a letter.
The urge to use the restroom became intense. I went to urinate. I removed my pant and was about to point Percy at the porcelain when I saw thick blood flowing down the pipe. I shouted, and Remy shouted at the same time and called on me.
She must have had a terrible dream; she was too scared to talk, so she held me and placed her head on my chest. Even though it was unlike her to act like a young child, she saw a mother in me, and I acted like a mum to her.
Sleep became far fetched from us. We sat praying like never before. We prayed till our alarm clock tintinnabulated. We checked the time it was morning already, voices of neighbours were heard.
"What about her, hope she's okay?" Remy asked
"Oh you mean the little girl that slept over, let's go and check" I replied
We went to the room and found her clothes on the bed. We thought maybe she went to take her bath, but we were wrong. She was actually gone.
I was infuriated that she didn't tell us before leaving. I took my bath and went to the mirror to comb my hair. I stood, but I wasn't seeing myself in the mirror, the image I saw was actually shorter and same physique with the girl that visited.
"Stop that play, I'm late for school," I said and turned my back hoping I would see her peeping into the mirror, but I saw no one.
I turned again to continue with the combing of hair. I saw her smiling and combing her hair too in the mirror. I thought I was watching a Hollywood Horrendous movie all these while, but I wasn't, and I was not dreaming too.
I ran out of the house with Remy. We stumbled into our neighbour, an elderly woman in her sixties. Her hair was greyish, and she had a set of rotten brown teeth. We told her about our experience, and she guffawed.
"The people that first lived here had a maid. The maid was beaten to death by her madam and her body buried in the compound.
Since then nobody has ever lived in that room peacefully. You people should have asked questions before packing into the house" the old woman narrated.
I froze.