Review of the Nigerian education system: Is education still the key?
One can't help but ask if education is still the key in a country such as ours that doesn't know the value of education and one in which the affairs of the state are run by those who the citizens question their certificates.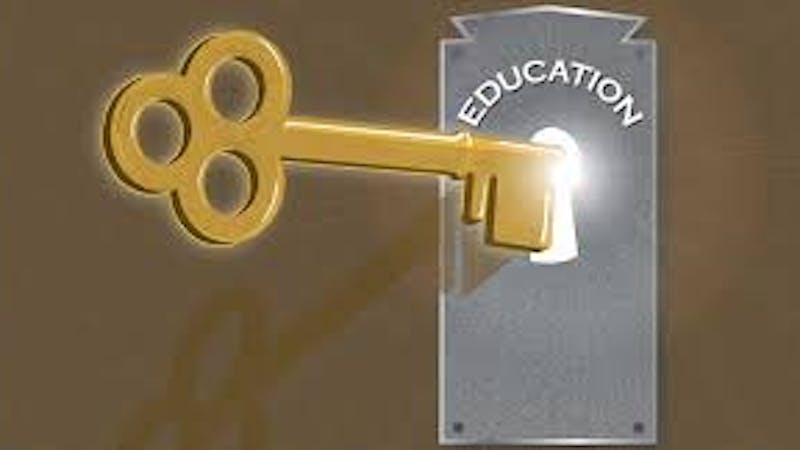 One won't cease to ask if education is still the key in a country as ours that doesn't know the value of education; a nation that relegates its elites to the background. Ours is a society whereby illiterates occupy the crucial positions in the government, a country whereby no allocation is made for the educational system and its youths, a nation like Nigeria.
At a tender age, I cherished and loved to be educated because many times, right from my nursery school, my teachers have been singing the hymn, 'education is the key', sounding it into my eardrums.
With all enthusiasm, I wanted to achieve this master key that can unlock every other door. I laboured from morning to night, toiled both in the rain and under the sun, all in a bid to grab the master key.
So many times, I have imagined myself opening many doors with the master key, the dream of having access to other doors once I obtained this master key, kept me going.
My situation I believe is the story of many Nigerian youths who strive through all odd to obtain this master key but at the end, it seems the key have been changed by our politicians or should I say that education was never the master key.
In solitude I wondered what happened to those days that one can acquire a better job with just NCE Certificate, Now, with your PhD, you don't even stand a chance of being a civil servant in this country.
Present-day Nigeria takes no delight in your certificate rather, in whom stands in as your godfather.
I believe that one will be right to confidently say that political connection and godfatherism happens to be the master key in 21st century Nigeria.
It is such a heartbreak that a country like Nigeria, which at a time has produced the likes of Chinua Achebe and Wole Soyinka is witnessing' educational bankruptcy'.
It is as a result of godfatherism in the nation that led to the deterioration in the educational system.
Yes! I know the purpose of education is not only to gain better employment, but it is also for enlightenment too. Let me burst your bubbles, what enlightenment do you seek with the British curriculum of 1960.
The world is advancing technologically, where is the position of the Nigeria nation in the world of technology? Nowhere close to the front. Have you thought of the reason? Your guess is good as mine.
How many institutions of technology do we have in Nigeria, how many are equipped, and what curriculum do they run on?
Nigeria has lost it totally in matters of education.
Recently, the federal government assigned N27.7bn for the renovation of the National Assembly complex.
This vast amount went into the renovation of an ordinary building while the Universal Basic Education fund was reduced significantly from N111.7bn to N51.1bn, by more than 54.2 per cent, according to documents obtained by Dataphyte, an open data organisation.
The Founder,  Dataphyte, Mr Joshua Olufemi, described the cuts in critical sectors like education and health as a setback to Nigeria's quest for development.
Olufemi said that it is a big dilemma that Nigeria's priority will be to renovate the National Assembly building at the expense of education.
"While budgetary allocations to the National Judicial Council, National Assembly, Independent National Electoral Commission, and other agencies of government have been reduced only by about 10 per cent respectively, budgetary provision for education is reduced by close to 55 per cent."
The Executive Chairman, Centre for Anti-Corruption and Open Leadership, Debo Adeniran, said it was unfortunate that Nigeria, which is the poverty capital of the world, would relegate the health and education sectors.
He said "Why should we waste N27bn on building that is not showing any sign of distress? It is a misplaced priority and a total waste. The National Assembly doesn't need repainting let alone renovation.
Nigeria is the poverty capital in the world despite being one of the most endowed countries. It is misplaced of priorities that brought us to this sorry state we found ourselves."
Situations as these will make one think that those at the herms of affairs in this country may not have passed through the educational system.
After all, is said and done, I have concluded that education is no longer the master key in Nigeria. The master key is in the hands of top governmental officials who have bluntly refused to release it to youths of this nation.