Short horror: The horrendous figure comes, haunting
How very well can you withstand terrifying movies? Read as little Sally challenges her elder sister who ended up having the horrific figure she watched haunt her in this cold-griping horror story.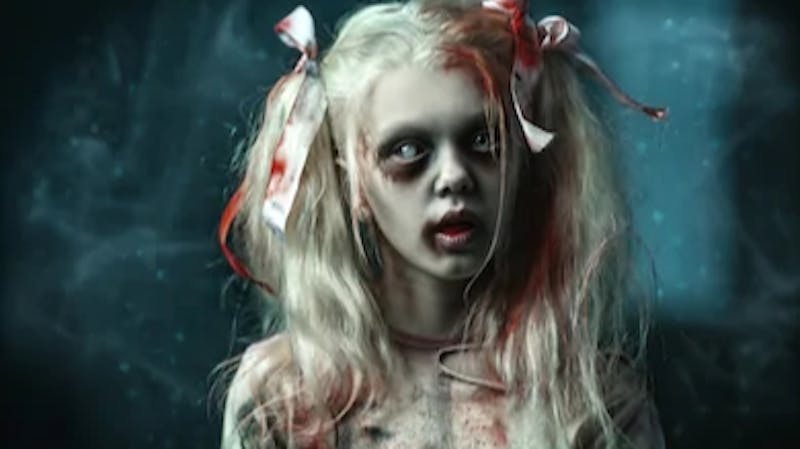 Sally, my younger sister, told me that I'm just older than her in age, but when it comes to terror-striking movies or events, I'm still a baby. I chuckled.
Last night, she sat beside me on the bed with her earphones on. She watched a movie with her Android phone while I was busy getting ready to take my shower: pants down, a towel wrapped on my chest.
Screams!!!
Sally threw her phone on the bed in shock. I picked it up and replayed the video to understand what scared the horror Queen that much.
It was a slender figured girl with a slit mouth; her scary face filled the screen. With a witchy smile, she asked: "Am I pretty?"
A background voice answered yes, doom! She tore out the face to reveal a scarier bloody mouth slit wide open from cheek to cheek.
I couldn't stand it anymore, but I wanted to show Sally that I'm not a chicken-hearted lady like she said. I sighed.
"So this little thing is why you're scared to the bones? I've watched scarier movies, and I didn't even shed a skin. Look at you."
My Dad called Sally from the parlour immediately. I knew it was to massage his body, that's what she knows how to do best in the house and how to run her parrot mouth too. When she left, I walked straight into the bathroom to take my bath.
Since I share the room with Sally only, I don't close the bathroom, what's there to hide? I have breast, and she has breast too. I stood in such a way that my back faced the room. Then, I felt someone walked into the room.
"Sally, this one you're back so soon? Are you done massaging Dad?"
Suddenly, everywhere became calm. I promised Sally that I'd whip her ass any time she'd ignore my questions again, she's fond of going from a human radio to a graveyard anytime my Dad scolds her.
I would have done that asap if not for the soap on my face, I quickly turned on the shower to wash it off, but the light went off immediately.
I went on my knees and crawled to drag myself into the bathtub; I left a bucket of water there. Fortunately, the light came on. I washed off my face.
I opened my eyes gently. Screams!!!
Beside the bathtub stood a grotesque female image with a detached head and dangling human organs. She carefully placed her head on the bathtub and combed the black curly hair.
The detached head smiled at me mockingly, I froze. I literally did. She began to wash her skin she tore out in the bathtub, then she spread it on the rope I used to spread my wet undies.
I was dead cold in fear. My lips began to shake uncontrollably. She wore her head back and moved closer to me with her dangling organs and tried to look into my eyes.
Screams!!!
The light went off again.