Approved JAMB CBT Registration Centres in Edo State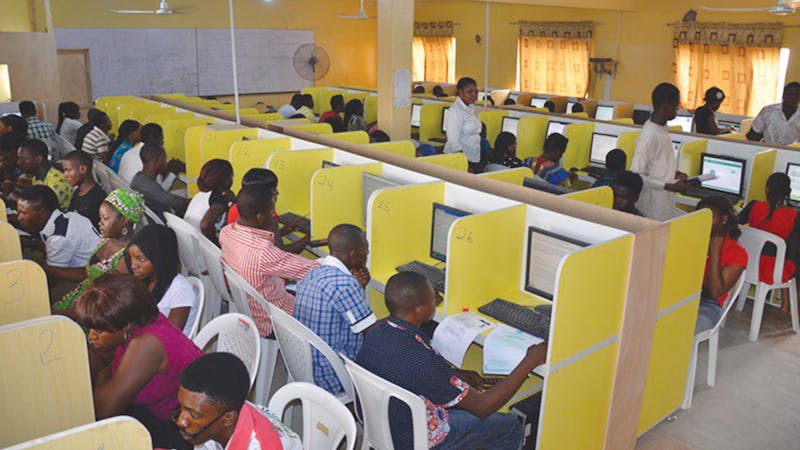 This article covers all the approved Joint Admission and Matriculation Board, JAMB centres for the registration of Unified Tertiary Matriculation Examination, UTME in Edo State.
In Nigeria, many schools are currently used by JAMB as its registration centres for the Computer Based Test(CBT) for the Unified Tertiary and Matriculation Examination.
Are you confused about the nearest place within your location to write your JAMB's Computer Based Test(CBT) for the UTME?
You have nothing to worry about, Clacified has compiled a list of the Approved JAMB CBT registration centres in Nigeria. This particular article covers the registration centres in Edo State.
Here we will be focusing on the approved JAMB CBT registration centre in Edo State.
List of Approved JAMB Centres in Edo State, Nigeria

| Numbers | Approved JAMB centres |
| --- | --- |
| 1 | Ambrose Alii university, e-Library Halls A and B Ekpoma, Edo State |
| 2 | College of Education, Igueben, Edo State |
| 3 | Complete Computers and Technology Institute 13 Adesuwa Grammar School Road, Sapele Road, Opposite Sterling Bank G.R.A Benin City. Edo State |
| 4 | Daniet Global Resources, 67 Abu Aminu Avenue, By Mouka Foam, Upper Mission Extension, Benin City, Edo State |
| 5 | Duct Nigeria CBT Centre,79 Agbor Road, Opposite Western Boy's High School, Ramat Park, Ikpoba Hill, Benin City, Edo State |
| 6 | Edo University, Km. 7, Auchi- Abuja Rd, Uzaire, lyahmo, Edo State |
| 7 | Edo State Information Communication Technology Agency, 7th Floor, Block D, State Government secretariat, Behing High Court, Benin- City, Edo state |
| 8 | Edo State Polytechnic, Okada Road, Usen, Edo State |
| 9 | Gateway Edutech & Multiconcept, 1st East Circular Road, By Sapele Road, Opposite Mrs Filing Station, Benin City, Edo State |
| 10 | Gifted Hands Science and Technology, 155, Uselu Lagos Road, Former NEPA Office, Benin- City, Edo State |
| 11 | Hf-Jemajo Ventures, 1, Joseph Ezehi Avenue, Efandia Qtrs, New Agbor Road, Uromi, Edo State |
| 12 | Hf-Jemajo Technology, 11, Agbado Street, Akpakpva Road, Benin- City, Edo State |
| 13 | Igbinedion University, Okada, Ovia East Local Govt. Okada Town, Edo State |
| 14 | JAMB Zonal Office Benin23, Ikpokpan Road G.R.A Benin Zcity Edo State (Registration Only) # |
| 15 | Lumen Christi International High School CBT Centre, Uromi, Edo State |
| 16 | Mikon Institute , 34A Boundary Rd, GRA, Benin- City, Edo State |
| 17 | MJ & Eshoiza ICT Centre, No. 31 Upper Secretariat By MTN Mast, Ugbogbo Igarra, Edo State |
| 18 | Mount Carmel Secondary School, Along Ambrose Alii University, Part Time Campus Road, Emaudo, Ekpoma, Edo State |
| 19 | NABTEB ICT Training Centre, 1, Ikpoba Hill, Benin City, Edo State |
| 20 | Samuel Adegboyega University, Km. 1, Ehor/ Ogwa Rd. Ogwa, Edo State |
| 21 | Supreme ICT Foundation Academy, No 6, Aburime street. New Lagos Road, New Benin, Benin City, Edo State |
| 21 | United Knowledge Global Services, 1, Ogiefa Street, Off Mission Road, Benin- City |
| 22 | University Of Benin International ICT Centre, lyayi Computer Building, Benin City, Edo State |
| 23 | WAEC International Office CBT, Ogunmwenyin Community, Oredo LGA, Benin City, Edo State (CTR. 1) |
| 24 | WAEC International Office CBT, Ogunmwenyin Community, Oredo LGA, Benin City, Edo State (CTR. 2) |
| 25 | Zincom Technology Institute, 31 Warake Road, auchi, Edo State |
| 26 | Yotech Academy, Nicon House 55 Apkakpava Street, Opposite ECO Bank, Benin City, Edo State |