NABTEB offices in Nigeria, addresses and contact details

By Ernest Sunday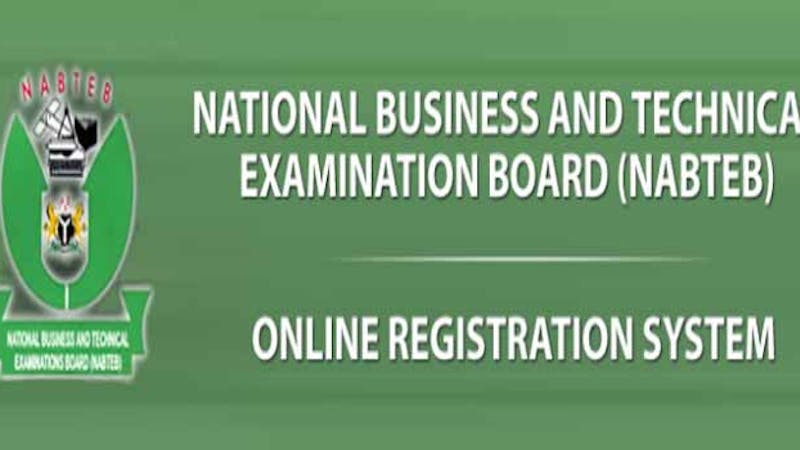 List of different National Business and Technical Examinations Board, NABTEB offices in Nigeria with its address and contact details in various places nationwide.
If you want any service from NABTEB, you do not have to stress yourself or walk a long distance for that. Just check on this Clacified article for any NABTEB office close to your residence in Nigeria.
We see it as a point of duty to provide you with relevant information to help you sort out your issues. Hence, this post covers different NABTEB offices in Nigeria, addresses and their contact details.
The list contains the address of NABTEB offices in the six geo-political zones of Nigeria, including places the NABTEB offices are located in each state.
NABTEB Officess in NIgeria, Adresses and Contact Details

No. 1, Benin-Agbor Road Ikpoba Hill, P.M.B 1747, Benin-City, Edo State, Nigeria

T: +2348078840770 E: nabtebhelpdesk@yahoo.com E: helpdesk@nabtebnigeria.org

Ikuobe filling station, Benin/Agbor Road, Benin City, Edo State

0802 850 3131, 0806 520 0850

Ministry of Education Headquarters, P.M.B 2048.

Yola, Adamawa State

Agency for Science and Technical Building. Former Arab Premises

Utako District, Abuja

Opposite Ade Kabelo filling station, Motel De Daniel

Ota Efu, Ikirun Road, Osogbo, Ogun State.

0802 339 7232, 0706 453 7518

S.M.C Premises, Science and Technical Schools Board

P.M.B 2218, Kaduna, Kaduna State

Annang Street, Ogui New Layout, Beside Queens School P.M.B 01013

Enugu, Enugu State

NABTEB State Offices

Abia State

21, Ikot-Ekpene road (Ibeku High School Compound)

Umuahaia, Abia State

NO 20, Epkeyong Street, off Barracks Road

Uyo Akwa-Ibom State

Kashim Ibrahim way, former Ministry of Education P.M.B 2048

Jimeta Yola, Adamawa State

Former SDP Building, Amawbia by-pass P.M.B 6051

Awka, Anambra State

Ministry of Education, Gidan Garkuwa road Bauchi

Bauchi State

Block 11, flat 3, Okaka Housing Estate

Yenagoa, Bayelsa State

Water Board Office Complex opposite Aper Aku Stadium

Makurdi, Benue State

Scholarship Board Complex, opposite Wema Bank, post office area P.M.B 1175

Maiduguri, Borno State

C/O Technical Education Board, Block D, Michael Ani Secretariat Complex P.M.B 1047

Calabar, Cross River State

Federal Secretariat Complex, Opkanam Road

Asaba, Delta State

Universal Basic Education Board (UBEB)

At the National Educational Research and Development Council (NERDC),

along Udemezue Street (old UBEB Headquarters)

Abakaliki, Ebonyi State

Federal Secretariat Complex, Benin-Auchi Road, Aduwawa

Benin City, Edo State

Government Housing Units, Block A Units 7 Afao Road Housing estate

Ado-Ekiti, Ekiti State

Annang Street, Ogui New Layout, Beside Queen's College

Enugu, Enugu State

C/O Ministry of Education, Buhari Estate

Gombe, Gombe State

Orlu Road, (Old Secretariat), FMC P.M.B

Owerri, Imo State

Gidan Dubu Quarters, Off Police Officers' Mess, Near Vigilant Office

Dutse, Jigawa State

SMC Premises, By Science and Technical Schools Board, P.M.B 2218

Kaduna, Kaduna State

Rumfa College Complex, along Bayero University Road, P.M.B 3552

Kano, Kano State

C/O Technical Education Board

Kastina, Kastina State

Haliru Abudu Secretariat by NECO or Arabic Office,

Birnin-Kebbi, Kebbi State

Ministry of Education (French Language Centre)

Lokoja, Kogi State

Ahmadu Bello Way (opposite NYSC)

Ilorin, Kwara State

No 7, Harvey Road, Yaba, Lagos, Lagos State

Ministry of Education Headquarters Markudi Road

Lafia, Nassarawa State

Niger State Science and Technical Board

Mina, Niger State

Mini Secretariat, Oke Ilewo, opposite Iwe Ihorin

Abeokuta, Ogun State

Prospect High School Premises, Oke-Aro

Akure, Ondo State

Block C Old Governor's Office Gbongan Ibadan Road

Osogbo State

Government College (GCI), Apata

Ibadan, Oyo State

Ministry of Education, State Secretariat

Jos, Plateau State

RM. 836, 8TH Floor, Podium Block, State Secretariat,

Port Harcourt, Rivers State

Block 10, Five Star, Giginya Secretariat P.M.B

Agency for Mass Education, opposite Neco Office, TC Quarters

Jalingo Taraba State

Along Commissioner's Quarters, Off Bukar Abba Ibrahim Way

Yobe State

Science and Medical Teachers Board, Mailittafai House, Tundun-Wada

Gasau State

Agency for Science and Technical Building, former Arab Premises

Utako District, Abuja