Top 10 Nigerian literary Artists and their major works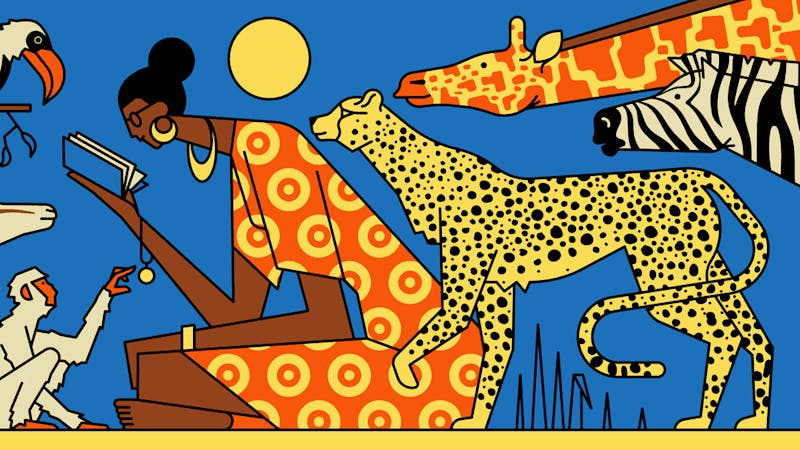 When it comes to the literary world, Africans are making waves especially Nigerian literary artists.
Nigeria became much active in writing during the advent of nationalism and nationalistic movements, and since then, Nigerians has continued to wax more vigorous in the literary world.
In a country as ethnically and culturally diverse as Nigeria, it comes as no surprise that the literature that has emerged from it be equally varied and multifaceted.
When Nigerian literature is mentioned, there's a possibility that you'll assume that the themes are centred around culture and tradition.
Perhaps there was a time when that was mostly all it was, but Nigerian literature has since expanded quite impressively, especially in the past decade and a half.
Nigerian literature now draws from the realities of the country's social processes dealing with a range of social and cultural issues, from women's rights and feminism to post-war and post-colonial identity.
Chinua Achebe and Wole Soyinka are two names synonymous with Nigerian literary art. Yet the literary output of the country is far from limited to these two greats. Here are writers that have left their footprints on the sands of history in Nigeria Literary Scene.
Chinua Achebe
Chinua Achebe is one of the most internationally-acclaimed writers from Africa. As one of the most world's most widely recognised and praised writers, Chinua Achebe wrote some of the most extraordinary works of the 20th century.
His most famous novel, Things Fall Apart(1958) announced him to the world. The novel is a devastating depiction of the clash between traditional values and the effects of colonial rule, as well as the tension between masculinity and femininity in highly patriarchal societies.
After Things Fall Apart, Achebe has written other novels that have gained global recognition. Arrow of God, No Longer at Ease, Anti Hill of the Savanna are some other of his major works.
Achebe the father of African Literature
Achebe is also a noted literary critic, mainly known for his passionate critique of Joseph Conrad's Heart of Darkness (1899), in which he accuses the famous novel of rampant racism through its othering of the African continent and its people.
Wole Soyinka
Wole Soyinka is majorly a playwright, unlike Achebe that is a novelist. Soyinka happens to be the first Africa to have won the Nobel Prize in Literature in 1986.
His play Death and the King's Horsemen, The Lion and the Jewel and The Trial of Brother Jero are some of his known works.
Soyinka's writing often focuses on oppression and exploitation of the weak by the strong. His work Trial of Brother Jero is a satirical play that ridicules the ills of the society.
In Death and the King's Horsemen, Soyinka portrayed the Yoruba's tradition and employed the stereotype of a scapegoat.
Wole Soyinka has also played an essential role in Nigerian politics, which has at times exposed him to high personal risk.
Wole Soyinka, a Nigerian Playwright
Chimamanda Ngozi Adichie
Adichie is part of a new generation of Nigerian authors swiftly growing in reputation.
Adichie's works are primarily character-driven, interweaving the background of her native Nigeria and social and political events into the narrative.
Adichie is seen as the founder of African feminism. In many of her works, she agitates for female freedom and equality between both genders.
Each of her three novels has garnered universal acclaim and a slew of awards.
Purple Hibiscus (2003), the winner of the Commonwealth Writer's Prize for Best First Book, tells the story of the 15-year-old Kambili, whose father is mysteriously involved with a military coup that destabilizes the country. The subject matter of feminism is not equally hidden in the novel.
The publication of Half of a Yellow Sun (2006) confirmed the author has a uniquely talented voice. Set amidst the Nigerian-Biafran war, the book chronicles its everyday horrors through the differing lives of its four protagonists.
Americanah(2013) is an insightful portrayal of Nigerian immigrant life and race relations in America and the western world.
It also has at its heart an enduring love story between Ifemulu and Obinze, childhood sweethearts who are separated when one goes to study in America.
Adichie's works have been met with overwhelming praise and have been nominated for and won numerous awards, including the Orange Prize and Booker Prize.
Chimamanda Ngozi Adichie, a notable Nigerian writer
Femi Osofisan
Femi Osofisan is a novelist, playwright and also a poet. Femi Osofisan encompassing plays, poems and novels – is informed by colonialism and its legacy, and is an apparent protest against corruption and injustice.
Osofisan often employs allegory and metaphor in his writings, and his book usually has a surrealist bent.
His first novel, Kolera Kolej (1975) tells the story of a Nigerian University campus that is granted independence from the rest of the country to halt the spread of a Cholera outbreak.
His best-known play, Women of Owu (2004) is a retelling of Euripides' The Trojan Women. Osofisan translates the play to the Ijebe and Ife war that devastated the Owu Kingdom in 1821-26.
Femi Osofisan, a notable Nigerian writer
Flora Nwapa
Nwapa is a novelist best known for re-creating Igbo life and customs from a woman's viewpoint.
Through her books, Flora Nwapa sought to change the narrative of male African authors whose works were full of stereotypes about the African woman.
Nwapa's books did the opposite, by telling success stories of African women. Her novels, like Efuru and Idu, challenged the traditional portrayal of the African woman as one who must always live under the shadows of men because she is perceived to be docile.
One of Flora Nwapa's most notable novels is Efuru. It portrays a woman who empowers herself enough to support her husband and her father financially.
Efuru, the protagonist in the novel, breaks anti-feminist stereotypes of the traditional African society by showing she has a mind of her own.
She takes some crucial decisions in her life based on what she feels is right for her rather than bow to the demands of the traditional African society. Her other novels include Idu, Never Again, One Is Enough and Women Are Different. 
She is seen as the mother of modern African Literature. Her most enduring legacy is the birth of contemporary Nigerian female writers. They are replicating the themes of her novels to change the negative narrative of the African woman in a male-dominated literature space.
In This Is Lagos, and Other Stories(1971) and the later novels one Is Enough(1981) and Women Are Different(1986), Nwapa continued her compassionate portrayal of women in modern Nigerian society. The novel never Again(1975) andWives at War, and Other Stories(1980) deal with the Biafran conflict.
Flora Nwapa, the mother of modern African Literature
Buchi Emecheta
Emecheta's novels draw heavily from her own life and addresses gender imbalance and enslavement and how women are often defined through the narrow framework of sexuality or the ability to bear children.
It deals primarily with the unequal and challenging role of women in both immigrant and African societies and explores the tension between tradition and modernity.
Born in Lagos to Igbo parents, Emecheta moved to London in 1960 to live with her husband Sylvester Onwordi, who had moved there to study.
The couple had been engaged since the age of 11, and while the marriage produced five children, Onwordi was a violent partner. He even burned her first manuscript, prompting Emecheta to leave him and establish herself as a single mother.
Her most acclaimed work, The Joys of Motherhood (1979), portrayed the suffering and the ill-treatment meted on the female folks by the society.
In the novel, the protagonist is a woman who defines herself through motherhood and validates her life solely through the successes of her children.
That work was followed by bySecond-Class Citizen (1974),
Buchi Emecheta and Achebe
Ben Okri
Ben Okri is a renowned novelist and poet whose written works defy definition. Nigerian novelist, short-story writer, and poet who used magic realism to convey the social and political chaos in the country of his birth.
His first novels, Flowers and Shadows(1980) and Landscapes Within(1981), employ surrealistic images to depict the corruption and lunacy of a politically scarred country.
Two volumes of short stories," Incidents at the Shrine(1986) and Stars of the New Curfew" (1988), portray the essential link in Nigerian culture between the physical world and the world of the spirits.
Okri won the Booker Prize for his novel The Famished Road(1991), the story of Azaro, An Abiku("spirit child"), and his quest for identity. The novelsSongs of Enchantment(1993) and Infinite Riches(1998)
Okri's other novels included Astonishing the Gods(1995); Dangerous Love(1996), which is about "star-crossed" lovers in postcolonial Nigeria; In Arcadia(2002); Starbook(2007); The Age of Magic(2014); and The Freedom Artist(2019).
An African Elegy(1992) is a collection of poems that urges Africans to overcome the forces of chaos within their countries, and Mental Flight(1999) is a long poem and other collections of poetry.
Ben Okri, Nigerian writer
Helon Habila
Helon Habila's novels are stories of individuals discovering and dealing with loneliness, ennui, love affairs that don't quite work out, political corruption, brutality and violence, and the enduring importance of freedom of expression.
His first two books have already established him as a fresh and original literary voice. His debut novel, Waiting for an Angel(2002), was initially written as a series of short stories.
Habila's second novel, Measuring Time(2007), is much broader in scope than its predecessor, with an epic ambition to tell the story of a village from its conversion to Christianity by white missionaries, through periods of political machinations and power struggles, to the present day.
He has written quite a several works which include Oil on Water (2010), Dreams, Miracles, and Jazz: An Anthology of New Africa Fiction (2006) and many others.
Helon Habila, one of the notable contemporary writers
Ola Rotimi
Rotimi is a notable Nigerian playwright. Rotimi often examined Nigeria's history and ethnic traditions in his works.
His first plays To Stir the God of Iron (produced 1963) and Our Husband Has Gone Mad Again (produced 1966; published 1977) were staged at the drama schools of Boston University and Yale, respectively.
His later dramas include The Gods Are Not to Blame (produced 1968; published 1971), a retelling of the Oedipus myth in imagistic blank verse; Kurunmi and the Prodigal (produced 1969; published as Kurunmi, 1971), written for the second Ife Festival of Arts;
His other works are Ovonramwen Nogbaisi(produced 1971; published 1974), Holding Talks(1979), A Tragedy of the Ruled(1983), Hopes of the Living Dead(1988) and so many others.
Ola Rotimi, notable Nigerian playwright
Cyprian Ekwensi
Cyprian Odiatu Duaka Ekwensi is a short-story writer and children's author whose strength lies in his realistic depiction of the forces that have shaped the African city dweller.
His early works include the novellas When Love Whispers (1947) and The Leopard's Claw (1950), which combine a fascination for urban life with earnest exhortations to avoid its pitfalls. 
People of the City (1954; rev. ed., 1969) is a commentary in a journalistic style on the problems of corruption, bribery, and despotism as seen through the eyes of a crime reporter and dance-band leader.
His other books include An African Night's Entertainment (1962), The Drummer Boy(1960), The Passport of Mallam Ilia(written 1948, published 1960), Rainmaker (short stories; 1965) and lots others.
Cyprian Ekwensi, a novelist, short-story writer, and children's author
He also wrote some children's books and a collection of Igbo folktales. Although some of his writings suffer from shallow characterization, his work remains an outstanding chronicle of Nigerian city life and appeals to a broad audience.