8 Nigerian Celebrities whose kids look exactly like them
An Apple doesn't fall too far from the tree or how else can we explain such striking resemblance between these Nigerian celebrities and their kids?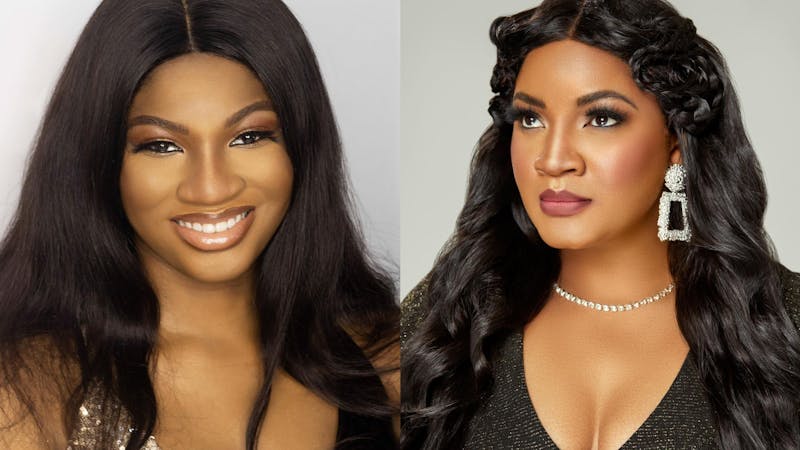 Have you ever noticed how some Nigerian celebrities and their kids bear a striking resemblance? Of course, DNA plays a role, but some of these celebrities and their kids could almost pass off as twins.
From Tuface Idibia and all his kids to Regina Askia and her daughters, these kids could easily be called their parent's doppelgangers.
Well, that's why we decided to round up a list of Nigerian celebrities and their lookalike kids.
Simi and daughter, Adejare
1. Simi and Adejare
The first time we saw famous singer, Simi's daughter on her one-year birthday. In a post shared on the Joromi singer's page she gushed over Adejare, and no one could deny the resemblance. A cute one-year-old, Adejare is the spitting image of her mother, Simi Kosoko.
Adejare is Simi and Adekunle Gold's first child together. Adekunle Gold and Simi have posted several pictures of their family hangouts featuring the lovely Adejare, laughing, giggling or making trouble.
2. 2Face and his kids
Legendary Nigerian singer, Tuface Idibia is one celebrity with domineering genes. A father of seven Tuface's kids all bear a twin-like resemblance to him. From his daughters to all his sons, no one is left behind in the matching faces game.
With 2 baby mamas and a wife, Annie Idibia, Tuface has proven his paternity without need for DNA test. His sons Zion and Nino from affair with Sumbo Ajaba, Ehibenzy Rose Idibia, Innocent and Justin Idibia from Pero Adeniyi, Olivia and Isabella Idibia from Annie his wife.
In a recent video that surfaced on Twitter, fans point out the shocking resemblance of all 2face's children. Even his daughters are not spared from the domineering genes.
Mercy Johnson and daughter
3. Mercy Johnson and daughters
Mercy's first daughter is a replica of her mother. From her smile, complexion and facial features there's no doubt she will grow up to look exactly like her mum. The mother of four, Mercy ensured both her daughters possess her facial features.
Patience Ozokwor and daughter
4. Patience Ozokwor and daughter
When the veteran actress shared photos of her daughter for the first time, the internet was in shock. 
The stunning resemblance between Mama G and her daughter is unmatched. Sending the internet into an excited frenzy, comments poured in about the striking resemblance between Ozokwor and daughter 
Omotola Jalade and daughters, Princess and Mimi
5. Omotola Jalade Ekeinde and daughters
Princess and Meraiah Ekeinde, bear an uncanny resemblance to their celebrity mom, Omotola.
Especially Princess who has all her mother's facial features, from Omotola's signature nose to her elegant smile.
The"Omo sexy" actress made fans do a double take after she uploaded a picture of both daughters.
Regina Askia and daughter Tessa
6. Regina Askia and daughter Tessa
You can say this Nollywood actress and former beauty queen gave birth to herself!
Regina Askia's second daughter, Tess from her current relationship is a carbon copy of the Nollywood star.
Stephanie her first daughter, bears a shocking resemblance to her mother Regina with her complexion, eyes and painted nose. Stephanie was born from Regina's previous relationship.
AY Comedian and Michelle Makun
7. AY comedian and Michelle Makun
Popular Nigerian comedian and actor Ayomikun Makun aka AY Comedian celebrated his daughter Michelle on her 14th birthday recently.
Dark skinned Michelle has an uncanny resemblance to her father. The pretty 14year old is undeniably her father's daughter. AY and Mabel Makun recently welcomed their second daughter, Ayomide and we can't wait to see who she will look like.
Stella Damasus and daughter Angel
8. Stella Damasus and daughter, Angel
The beautiful Nollywood actress definitely gave birth to her twin. Because their resemblance can drive anyone gaga.
Even Stella attests to their looks, on October 2020, the actress referred to Angel as her twin while celebrating her birthday. Angel is Stella Damasus second daughter from late husband Jaiye Aboderin.