2Face celebrates Annie after TV Show meltdown
Annie and 2Face's controversial love story has continued to blossom amid all the heart breaks and many children.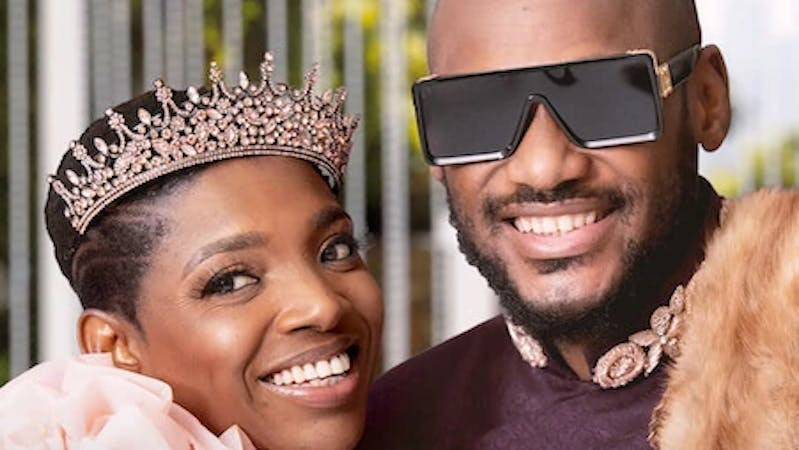 The celebrity couple, Annie and 2Face, have been trending on social media since Annie's meltdown during one of the episodes of the reality TV show.
Annie had earlier expressed her frustration over her husband's infidelity while dating.
In tears, she recounted how her first child was 2Face's fifth child. Annie's emotional breakdown had fans empathy towards her while others blamed her for pushing forward with the marriage.
Anyway, the lovebirds have continued to wax stronger since Annie's teary episode.
The music icon took to his Instagram Stories on Wednesday, March 23, 2022, where he shared photos and videos of himself and the actress.
Calling her his ride or die, 2Face was spotted laughing with his arms around Annie while they took a stroll within their estate.
"No matter what, you cannot take away that this beauty queen is a ride or die. A true African queen, no film trick with this woman. Realest," he captioned one of the photos.
"I finally agreed to take a stroll in the neighbourhood," he captioned the video.
The music star 2Face's posts come days after he confidently defended his wife following her comments about their relationship in the reality TV show.
Annie had painfully revealed during one of the episodes of the show that she has been subjected to many humiliations and embarrassment. She would always question how 2face made the same mistake twice.
Annie Idibia breaks down in tears as she recounts marriage to 2Face.
Meanwhile, this is not the first time Annie would recount or talk about the father of seven's cheating habit.
Last year September, in a messy quarrel that looked like the end of their marriage, Annie went wild with rage and hurt as she called out 2Face for having an affair with Pero again. Pero is 2Face's second baby mama and mother of three out of seven children.
According to Annie, in a voice note, that quickly went viral. 2Face had packed out of the house to an unknown location after lying he was going for a shoot.
The mother of two, Annie, said she later discovered that he was in the United States of America, where Pero lived with 2Face's kids.
Although, later, Annie tendered an apology online in a long lengthy post. But fans have not recovered from the crisis that hit their marriage last year.
How did Annie and 2Face meet?
Annie first met 2face Idibia at Even Ezra Music Studio when she was just fifteen, and in her words, "I think there was some electricity that second". They were friends first but had started dating officially by the time they shot the "African Queen" video in 2004.
2Face was 24 at the time he started dating 15year old Annie Macaulay. Annie and 2Face got married in May 2012, and they have two daughters, Isabella and Olivia.
The couple recently renewed their marriage vows to celebrate their 10th anniversary.