2Face gifts OAU multimillion music studio
2Face was inducted into OAU's school of music as a fellow of the school of music.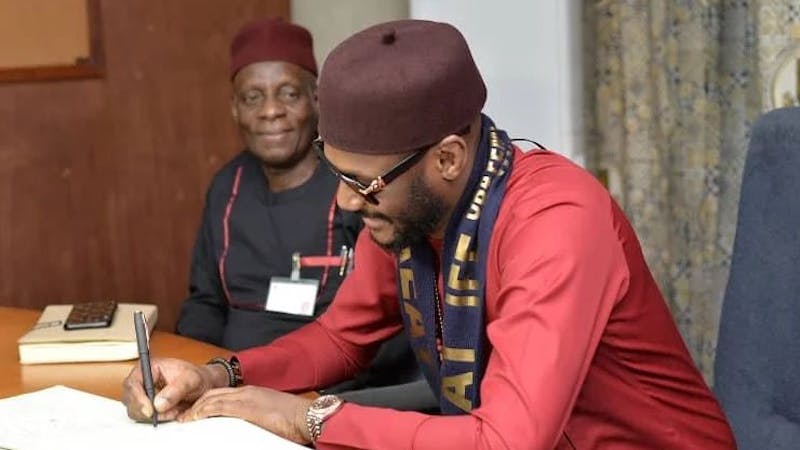 Nigeria's no.1 music legend Innocent Ujah Idibia has proven his humanitarian side again by giving back to the Federal tertiary institution, Obafemi Awolowo University, Ile Ife(OAU).
The Nigerian music icon 2Face Idibia built and commissioned a multimillion music studio for the prestigious OAU, Ile Ife.
On Tuesday, March 15, the legendary 2Face made this known via his Instagram page in a video post of the opening ceremony at OAU.
"Some time ago, I was honoured by the Great OAU as I was inducted into the school of music as A Fellow Of The School of music,'' he captioned the video.
2Face idibia and Eyitope Ogunbodede, OAU's vice-chancellor, after the studio was commissioned.
The music icon shared a picture of himself and Eyitope Ogunbodede, OAU's vice-chancellor, after the studio was commissioned.
In his welcome address, the Vice-Chancellor appreciated the singer.
Ogunbodede revealed that OAU now has the best recording studio in any Nigerian university, thanks to 2Baba. 2Face's latest feat has stirred a round of applause on social media from fans and colleagues in the industry.
2Face Idibia, who effortlessly ranks as one of the Top 10 richest musicians in Nigeria, said his next plan is to build a similar studio for his hometown at the Benue State University (BSU)
In another post shared about 2 hours ago on his page, the singer expressed his desire to build many facilities in schools across universities in Nigeria and called on colleagues in the industry for support.
" .....my goal is to build a recording studio in as many schools that i can. i want to use this medium to ask my entertainment industry/celebrity friends to do anything they can as well." 2face wrote.
Meanwhile, this is not the first time the music star will give back to society.
Recall in 2017, 2face presented a cheque of N3.5million to the United Nations High Commissioner for Refugees, UNHCR
According to Idibia, who made the presentation to UNHCR in Lagos, he was particularly touched when he visited camps of the Internally Displaced Persons(IDPs) in North-Eastern Nigeria recently.
"The conditions I met the internally displaced persons when I visited their various camps were terrible. They were really terrible.
2face, who owns a charity foundation, added that in partnership with the U, NHCR, he was g, going to cushion the effect of the plight of the refugees.
"The 2Face Foundation has, therefore, decided to enter into partnership with the UNHCR to see how we can help put smiles on the faces of these persons."
The iconic musician also pledged to hold a charity concert in June to help raise more funds. 
Fast forward to 2020, during the Covid-19 pandemic and consequent lockdown, 2face donated 10 million naira to combat the coronavirus outbreak in Nigeria.
At 46 years old, Innocent 2face Idibia, Nigeria's best selling singer and Africa's most iconic pop star, has achieved many milestones.
In 2007 he was set to become a goodwill ambassador for the United Nations' new world food programme. 
According to his manager Joice Ize-Iyamu, 2face has always been particularly interested in giving back to a "society that has been so kind to him(2face)."
However, on June 23, 2020 2face was finally appointed a regional GoodWill ambassador by the UNHCR, the UN Refugee Agency.
The Afropop singer's appointment made him the first Nigerian to be appointed a UNHCR Goodwill Ambassador.
Aside from humanitarian efforts donations, Innocent Ujah Idibia is an extraordinary  Nigerian musician, singer, songwriter, record producer, entrepreneur, philanthropist, humanitarian, and activist.
His music career has stood the test of time and advanced with the growing digital disruption in Nigerian and African music globally.
Recent acts like "Amaka" and "Oyi" 2face has shown resilience and talent in music.