7 times DJ Cuppy got bullied online
Cyberbullying is a prominent trend on social media, and billionaire heiress DJ Cuppy is a victim. Here, we recount instances DJ Cuppy got bullied on social media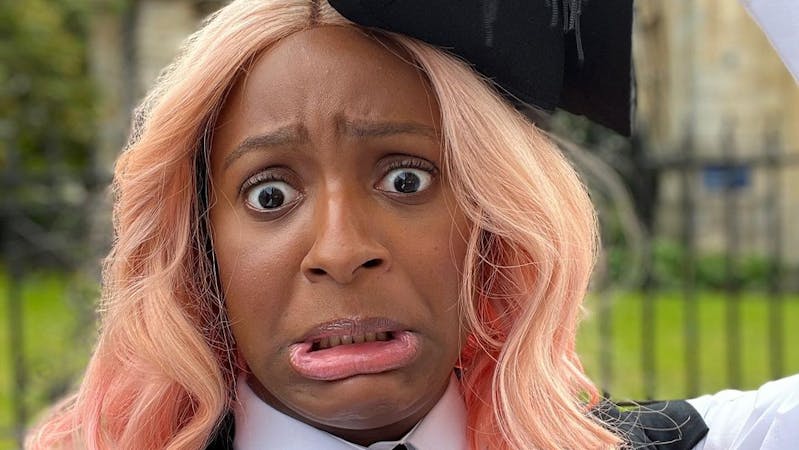 Florence Ifeoluwa Otedola, popularly known as DJ Cuppy, is easily the most bullied Nigerian celebrity on the Internet.
Trolls and keypad warriors have gone out of their way to drag and dish out savage replies to DJ Cuppy. Some of these replies could make the strongest hearts melt with hot tears.
However, the pink haired Gelato crooner DJ Cuppy has faced social media bullies with a smile on her face and sometimes, tears in her eyes.
This article covers some incidents where DJ Cuppy received the most cyberbullying comments on social media platforms.
DJ Cuppy is often criticized for her music.
1. DJ Cuppy's Music career
Cuppy has faced lots of backlash on social media because of the quality of her music. Of course, there's room for improvement in her music, but the internet has meted out the no mercy treatment for the pink-haired DJ Cuppy.
This one time, DJ Cuppy recorded a video on Twitter and begged fans to stop criticizing her music and give her a chance by listening to her album.
As usual, her post generated negative comments from users. Some netizens mocked her music calling it bad news and terrible. 
Credits to Instagram/cuppymusic
2. Fashion sense
The 29-year-old DJ Cuppy, in an interview with Zeze Mills openly revealed that she is not a fashion enthusiast like her sister Temi Otedola.
On several occasions, DJ Cuppy has been criticized for her fashion outfit. A Twitter user further criticized her outfit, once commenting on her post, writing, DJ Cuppy body shamed.
DJ Cuppy is not the conventional slim-waisted and light-skinned artist. She is beautiful by every standard and considered a 'thick' African lady.
On one occasion, Cuppy posted a picture of herself in a white satin dress on Instagram. But some followers made it their business to make rude comments about her body, reiterating in clear terms how ill-fitted the clothes looked on her 'bloated' stomach, 'athletic legs' and 'excess fat on the upper body.
Responding to the embittered troll, Cuppy reacted with emojis which depicted love and kisses.
Credits to Instagram/cuppymusic
3. DJ Cuppy's short hair
Recently, the disc Jockey chopped off all her hair and dyed it pink.
However, in an Instagram Live chat with reality star and childhood best friend Terseer Waya, popularly known as Kiddwaya, Cuppy spoke about how people, especially men, view her low cut.
She said, "A lot of guys are not attracted to someone with short hair. And it's annoying because I am the same person. It made me insecure, and I asked myself, 'Am I ugly?'.
"I feel that as Nigerians and young black people, we need to stop being so on the surface. We are putting ourselves under too much pressure. Even with make-ups and lashes, we cannot kill ourselves. Even weight is a thing."
A proud mother, DJ Cuppy and her dogs
4. DJ Cuppy's dogs
DJ Cuppy is a die-hard dog lover, and her love for these pets also triggered adverse reactions.
Referring to herself as a mother of her two Dogs, DJ Cuppy was not ready for the kind of hateful comments that social media users would give.
Posting pictures of the dogs in matching outfits, she added the caption, "Being a mother to @dufupoms has changed my life."
The comments that followed DJ Cuppy's posts were hurtful. Some referred to her as 'autistic'; others blamed it on her wealthy status and lack of meaningful things to do with money.
DJ Cuppy and Temi pose with Ferraris bought for them by their dad, Femi Otedola
5. DJ Cuppy's pink Ferrari
In 2020, billionaire businessman Femi Otedola went on a shopping spree and bought Ferraris for his three daughters, Temi, Tolani and Cuppy.
Cuppy shared a series of photos of the fast cars on her page with the caption: "Papa took us shopping and bought ONE of EACH! #FerrariPortofino #CuppyDat"
The new cars, which cost ($90M), each sparked various reactions in her comment section- some users congratulated her while others were irritated at Cuppy's post.
A few users reiterated that the vehicles were purchased higher, but the vast majority congratulated DJ Cuppy and moved on.
Based on all the trolling and bullying, Cuppy made a big decision.
Credits to Instagram/cuppymusic
6. DJ Cuppy takes a social media break
In August 2021, DJ Cuppy announced her intention to take some time off social media via her Instagram page.
 "I am taking a three-day social media break. (I would) be back soon."
Though she did not state the reason for the 'break', many assumed she did that to get a breather from cyberbullies.
Earlier in April, DJ Cuppy posted a picture she took with her mum.
"My mummy said you people should stop bullying me or else she will suspend my Twitter #FreeCuppy she wrote.
Credits to Instagram/cuppymusic
7. Celebs are not left out
Several individuals have also expressed their dislike for Cuppy online.
Singer Omoniyi Raphael, aka Zlatan Ibile, went as far as blocking the DJ Cuppy.
According to Cuppy, Zlatan her on WhatsApp and Instagram for 10 months. Cuppy said she was surprised by his action as they had a 'great' relationship and had worked together on her song, Gelato.
Though Zlatan did not reveal why he blocked her on social media, according to Davido's logistics manager, Israel Afeare, Zlatan was unhappy with Cuppy because she did not pay Zlatan for the collaboration.
After Israel's statement, Cuppy sued him for libel and defamation. Israel Afeare had to beg Cuppy and her dad on social media till the case was dropped.
A social media personality, Abisoye Michael, aka Oyemykke, also 'advised' Cuppy to quit singing. According to him, she could do more than singing by producing people's songs and supporting up-and-coming artists.
Comedian Justice Nuagbe, aka Ushbebe, also described Cuppy as a 'wack DJ' during his show.
DJ Cuppy has since moved past all of the hateful comments and spiteful jabs on social media. The pink-haired beauty is currently running her second MSC program at Oxford University London. The billionaire heiress is more than just a Disc Jockey who also runs an accessory business called 'Cuppy Cuts'.
Speaking on privileges and influence, Cuppy, in her chat with Zeze Millz, said she knows she's 'privileged, and I am grateful for that.' Still, everything that she has become -DJ Cuppy- Philanthropist- degrees are all by the personal effort she put into her life.