Bam Bam and Teddy A share stunning pregnancy photos
Teddy A and Bam Bam are expecting their second baby after 3years together.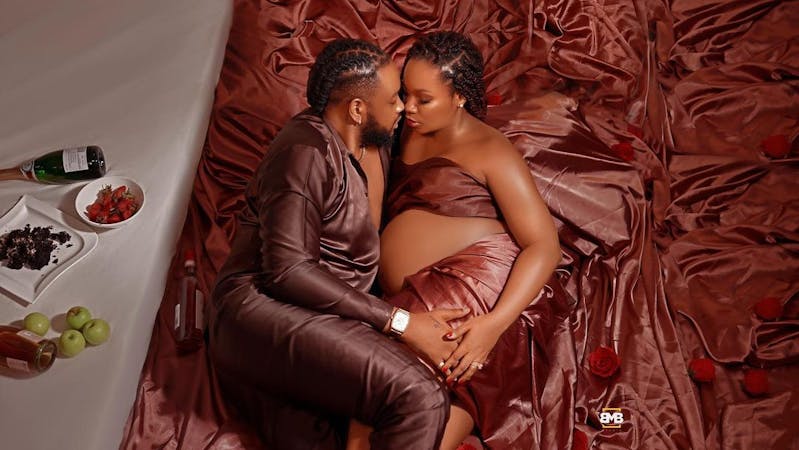 Bamike Olawunmi-Adenibuyan- former Big Brother Naija housemate popularly known as Bam Bam released some heartwarming  maternity photos on her Instagram page today.
The reality star and her hubby Teddy A recently revealed that they were expecting their second child together. The celebrity couple made this known during an episode of their show 'Uncut With BamTeddy.'
In the episode Bam Bam was sighted with her protruding stomach at the gym while she cracked side jokes about her pregnancy.
Flooding her Instagram timeline with a beautiful series of photos, Bam Bam expressed the joys of motherhood.
"No one else will ever know the strength of my love for you. After all, you and your sister are the only ones who know what my heart sounds like from the inside 🧡Being a mother is learning about the strength you didn't know you had and dealing with fears you didn't know existed 🧡," she captioned some of the photos.
Featuring Teddy A in some of the pictures, Bam Bam and her husband looked stunning together. The couple's photoshoot coincides with the valentine's day live celebration. 
The reality TV couple welcomed their first child back in 2020. Where Teddy A had taken to his Twitter page in the early hours of Thursday, March 5, 2020, to announce the good news.
Filled with joy Teddy A in his tweet, shared the name of his baby girl ''Zendaya Folakemi Adenibuyan! Red heart," he tweeted.
Teddy A and Bam Bam met during the Big Brother Naija show, season 3.
Teddy A, Bam Bam and their daughter Zendaya.
How did Teddy A and Bam Bam become lovers?
During the third season of Big Brother Naija Bam Bam and Teddy Abecame a viral sensation after footage of their infamous 'toilet sex' episode in the reality TV show emerged. It was an event that sparked heated reactions from fans.
The duo were evicted from the Big Brother Naija house following the scandalous  incident.  
Teddy A and Bam Bam's  affair quickly became 2017 most talked about topic of Big Brother Naija house as many believed Teddy A was playing Bam Bam.
What everyone believed was a fling blossomed into a full fledged relationship.
In no time the couple decided to start their forever journey in 2019. Making them the first BBNaija lovers to get married.
Teddy A and Bam Bam's wedding was the talk of the entertainment industry at the time. Some even called it a royal wedding as it happened in Dubai with friends and family in attendance.
Adding a touch of class and bling the couple's outfit was designed by Toyin Lawani of Tiannah's Place Empire while Bam Bam's dresses were styled by Medlin Boss.
The wedding ceremony was held at the Jumeirah Creekside Hotel in Dubai and had a heavy number of Nigerian celebrities in attendance, including; Alex Ekubo, Toni Tones, and other BBNaija housemates.