Bash Ali, former boxing champion who sleeps on the street
Bash Ali made history in 1985 as the first cruiserweight boxing champion from the African continent. He never fought as an amateur, but went on to win every boxing fight.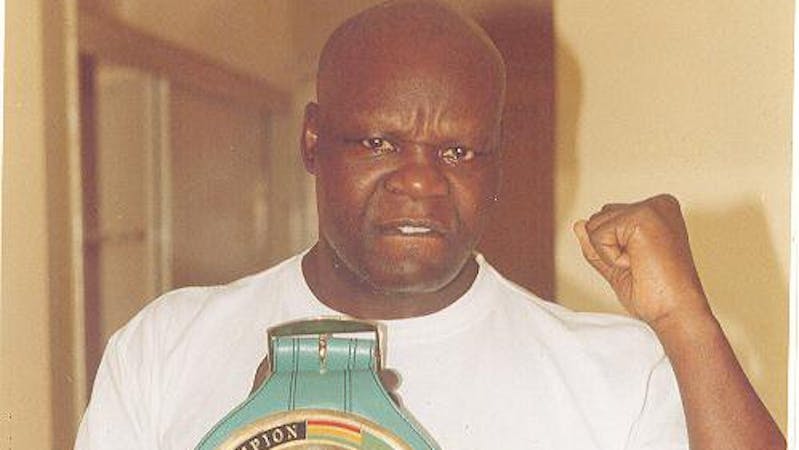 The name Bash Ali rings a bell in the minds of everyone.
The veteran boxer who became a world-renowned cruiserweight champion put Nigeria in history for producing one of the world's finest sportsmen.
Beginning his career on Nigerian soil with hard work, talent, and dedication, Bash was soon wrestling against the world's best boxer.
This great boxer, once a global sensation, has become an older man reminiscing about past glory while carrying a dream that will never become a reality.
At some points, Bash Ali was seen sleeping on the streets of Abuja. How did such a globally recognized boxer become a homeless man?
This article expounds on the life of Bash Ali, his biography, career, and the latest news about the cruiserweight champion.
Bash Ali's biography
Bashir Lawrence Ali was born on the 27th of February 1956 in Lagos to a family of five, his parents and three siblings. Both his parents were from Etsako Edo State, and his dad died when he was 6years old, according to an interview with the Punch.
Ali attended Ladi-Lak Primary School, Lagos, and later, Birch Freeman High School in Lagos.
In 1974 at the age of 18years, he relocated to the US, where Ali enrolled at the University of California, Berkeley, and bagged a degree in Political Science.
Bash Ali's boxing career
Bad Ali began his boxing career in California, USA, in September 1978.
He was discovered by Clarence Douglas, who trained him in his early days and never fought as an amateur. His first 
the professional fight was against a big-time boxer called Junior Albers in his hometown, Sacramento, California, in 1978, 
 He is the only boxer in the world to win every cruiserweight title conceivable. He has won the California title, United States Boxing Association title, North America Boxing Federation title, World Boxing International title twice, and the current World Boxing Federation title, which he won on September 9, 2000, when he knocked out the then champion, Terry Ray of USA. He has had a great boxing life.
Bash Ali has retained his World Boxing Federation cruiserweight after his opponent Tony Booth from Britain threw in the towel after just three rounds in their scheduled 12 round encounter at the indoor sports hall of the National Stadium, Lagos. 
His last fight was in 2004.
Bash Ali protesting on the streets.
Bash Ali:The Cruise weight boxer living on the streets.
In 1996, Mr. Ali envisioned a world boxing match that would put his name in the Guinness Records as the oldest boxer to defend his cruiserweight title.
Speaking with the Punch, the cruise weight boxer said;
"Once I step inside that boxing ring at the young age of 63, win, lose or draw, I would make history as the oldest boxer to fight and defend his title. 
But I want to make positive history as the oldest boxer to defend his title successfully and win another championship. I must win, and that is my goal. 
I want to break the jinx that you cannot make it in Nigeria unless you compromise. I must break the jinx." The old boxer said.
However, this dream Bash Ali has consistently tried to bring to fruition every year has caused many setbacks.
In 2014, Bash Ali declared he was bankrupt and in debt as he owed half a million at the lodge where he stayed.
In the last decade, Bash Ali lived for several months on the street corners, bus stops, and gates of institutions he targeted. When Mr. Ali chooses a target, he camps there, occupies the office, and protests until heard.
Bash Ali was sleeping at a motor park in Abuja; he also gate-crashed at the PDP headquarters.
Bash Ali declared he was broke in 2014.
According to Premium Times, Bash Ali's case reached a climax when in 2013, the National Sports Commission set up a Local Organizing Committee for the fight. NEXIM Bank was offered a seat on that committee.
 Mr. Ali's claims state that it was at the inauguration of the committee on January 7, 2014, that NEXIM got a "presidential" directive to provide 30 million US Dollars for the fight.
"That's their role on the committee," he said.
The Bank, however, denied knowledge of the directive and said it demanded copies of the direction severally from Mr. Ali, but he was "never able to produce" them.
"NEXIM does not finance sports activities. Notwithstanding this explanation, Bash Ali decided to use every means to get the $1 000,000. 00 from the Bank.
In Bash Ali's defense, he claims the Managing Director of the bank, Robert Orya, demanded 10 percent of the 30 million US Dollars support funds in bribe and "I said no."
Bash Ali was arrested and manhandled for being a nuisance and spreading false claims.
According to Mr. Ali's claims, the fight will bring in a projection that will attract about $500 million (over N179 billion).
The Federal government has refused to support Bash Ali's Guinnes Record fight.
Bash Ali's Guinness record fight, FG refuses to support
Unfortunately for the 63-year-old, the Federal Government under President Muhammadu Buhari washed its hands of any involvement with Bash Ali or the war.
On January 7, 2020, the ministry of youth and sports development denied that approval was granted to former Nigeria boxer Bash Ali for his Guinness World Record Fight.
The letter signed by the Director Legal Service of the ministry said that it entered no agreement to endorse the Guinness record fight.
You can read the full letter here 
Later in the same, the ministry released another statement; the ministry said the government distanced itself from the fight via a series of documents and correspondence with Bash Ali.
A letter written to Ali's lawyers and signed by Gabriel Aduda, the sports ministry's Permanent Secretary, stated, "The ministry under the directive of Mr. President in a letter, dated 10th March 2020 made it clear that it is not the proper platform for your client to realize his pet project."
Last year, the former world boxing champion was sued by Sunday Dare(Minister for Sports) over alleged defamation of character and disruptive comments.
Sunday Dare also filed a five billion naira (N5b)suit against the former boxing champion.
Bash Ali released a video where he accused the minister of extorting 'millions of naira' from him as part of the process to organize the Guinness World fight as allegedly directed by President Muhammadu Buhari.
Bash Ali, once celebrated as a global sports hero, is now an embattled older man with failed dreams and looming court suits on his trail.