BBNaija Khloe reveals she attempted suicide
Beauty Entrepreneur and former BBN housemate Khloe confessed about her decision to kill herself.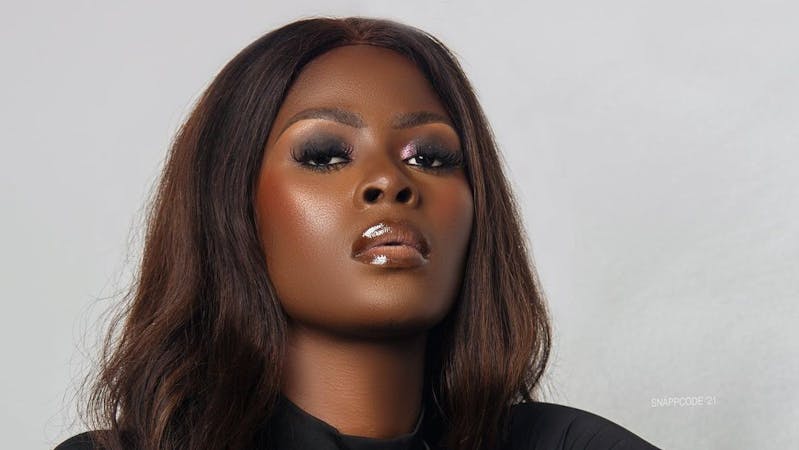 Former Big Brother Naija housemate Abiri Oluwabusayo Khloe has narrated her attempt at suicide after viral nude photo leaked.
 The dark skinned  reality TV star disclosed this during a chat with Instagram influencer and model, Temisan.
During the Tea with Tay Podcast hosted by Temisan, Khloe explained her attitude to naysayers and public posts.
"I always say to people, you can post anything about me".
However, Khloe disclosed that posting her nude pictures online was a major deal breaker and made her suicidal.
"... but I never want to see my naked picture on the Internet. That one took me out. I have never said this anywhere, I was suicidal, I was dead for 24 hours," she said.
When asked who had taken the picture Khloe disclosed she had no idea but that whoever it was "God is handling the person".
The reality star appreciated Alex and her younger sister for saving her, after drinking harmful chemicals to take her life.
"Thanks for Alex and my younger sister, they broke the door and took me to the hospital. I drank Dettol...drank all the soap washers in the apartment. I was ready to go."
Credits to Instagram/kokobykhloe
Khloe also revealed that her biggest fear at the time was, "what will my parents say?
The TV star divulged that people who post nude pictures of celebrities don't understand the impact it will have in the long term.
" It's not about me. Are you not getting the message?
She added that her life would end if her mum saw the picture.
" If my mum sees this, it is over."
The curvaceous Khloe explains the picture was taken after her butt surgery while she was unconscious.
"The surgery part took me out of this world; I am still somewhere I haven't come back from. I'm still in oblivion; I don't even know how to get back from it."
Credits to Instagram/kokobykhloe
Remember that in 2020, a photo of the naked reality TV star on a plastic surgeon's table came up online.
Khloe later confirmed that she was the one in the photo.
Khloe is not the only celebrity who has suffered from leaked nudes; Several celebrities like Wande Coal Small Doctor.
Unlike Khloe's case, where an anonymous person shared it with the public, these other stars were either blackmailed or accidentally posted it.
Nigerian Celebrities whose nude pictures leaked to the public
Wande Coal - In 2010, the musician's nude photos trended on Twitter. Wande was pictured lying naked on a bed after a sexual experience.
The photo had tongues wagging on social media; Don Jazzy denied the picture saying that it was " photoshopped."
Mocheddah- In 2011, Mocheddah accidentally shared her nudes on Twitter. So, the tweet was supposed to be sent as a DM to Eldee da Don, but unfortunately, it ended up on her public feed.
The picture showed her entire body without her face and hands covering her female parts.
After Mocheddah noticed the mistake, she blamed the incident on hackers and told fans to disregard the picture.
She also denied being the one in the picture.
Toke Makinwa- Toke Makinwa also suffered at the hands of blackmailers, as they threatened to release lovely photos of the celebrity slay mama.
Toke later released the nude photos stating that they were photoshopped and she was not allowing anyone blackmail her.
Other celebrities who have also been victims of leaked nudes and videos are small Doctor, Tacha BBN, Alex, and Salawa Abeni.
The leaked photos of BBN Khloe came after rumors of her butt implant started to circulate.
.
Khloe had a full body cosmetic procedure.
Did Koko by Khloe do plastic surgery?
Before the viral nude photo got leaked 27year old Khloe sparked off butt implant rumours following sudden weight gain.
 In a post shared on 30 August, 2020, the reality TV star Khloe shared a video of her new look. The video showed Khloe dancing and showing off her new curvaceous body.
The reality star has always been known for skinny body, imagine the shock when she flaunted an journals figure.
BBN Khloe finally confirmed butt implant speculations in September 2020.
The reality star bragged in a video praising her curves, ".......... her boobs are full, waist snatched, ass fat and hips are legit." Khloe said.
From the reality star's statement Khloe had undergone plastic surgery to look hot. She is among the list of BB Naija housemates like Nengi who have gone under the knife.
Many have wondered how Khloe's fame went from zero to hundred in such a short time. Here's a brief get to know Khloe session below.
Khloe's biography
Oluwabusayo Victoria Abiri was born on October 29, 1993, and hailed from Ekiti State.
Oluwabusayo is professionally known as Khloé or KokobyKhloe, and she is a Nigerian media personality, actor, socialite, model, businesswoman, and entrepreneur. 
In 2018, Khloe entered the BBNaija house as a contestant. Her stay in the house was spiced up with several controversies.
She made it to the top 10 finalists on the Big Brother Naija show and was the first housemate to be recalled to the big brother house after being evicted.
A thriving businesswoman Khloe is the CEO of a clothing and fashion line, KokobyKhloe, which recently upscaled into cosmetics and other beauty care products