BBNaija reunion 2021: The summary and gist
BBNaija reunion for 2021 is here, read on about the gist and summary of what transpired among the former BBNaija housemates on the day 1 of the BBNaija reunion for 2021.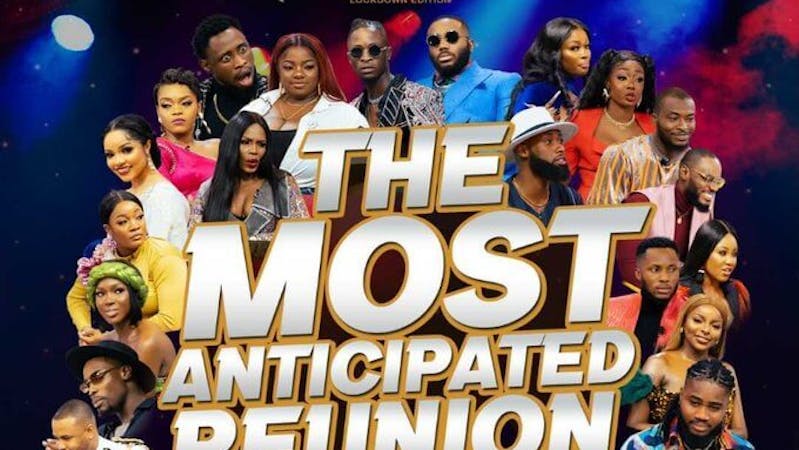 The long-awaited big brother Naija lockdown reunion for 2021 is finally here. Hope was high on what to expect when the former Big brother Naija housemates meet at the BBNaija reunion for 2021.
It is safe to say that fans were not disappointed after the first and second episodes of the BBNaija reunion for 2021.
Albeit it to say that Nigerians are full of vibes and abhors dull moments, the BBNaija reunion for 2021 was neither dull nor boring.
On the contrary, the BBNaija reunion for 2021 was definitely filled with thrilling moments (positive and negative) - depending on the fan you ask.
BBNaija reunion 2021: Introduction to the day 1
As expected, Ebuka Obi-Uchendu was the host of the BBNaija reunion for 2021. The regular BBNaija host looked stylish in his designer suit.
Ebuka Obi-Uchendu started by revealing what the former BBNaija housemates have been up to; their business and celebrity life.
Ebuka Obi-Uchendu then proceeded to call in the former BBNaija housemates in the following order:
Brighto
Dorathy
Eric
Ka3na
Kiddwaya
Laycon
Lucy
Lilo
Neo
Praise
Prince
Tochi
Tolanibaj
Trikytee
Vee
Wathoni
Erica and Kaisha were not present on the first day of the BBNaija reunion for 2021 (reasons unknown).
The BBNaija reunion for 2021 revealed grudges, enmity, rivalry, old scores and feelings.
The former housemates like ka3na, Nengi and Tolanibaji made it known that they came to the reunion to say their truth and set the records straight.
Former BBNaija housemates, Eric, Trikytee, Prince, Praise, Neo, Brighto, Tochi, Ozo, Laycon and Kiddwaya with the host Ebuka.
BBNaija reunion for 2021: What the housemates have been up to
The former BBNaija housemates went into the BBNaija house to attain fame and celebrity status. The downside of becoming a celebrity is that people will always want to poke into your private life (fans and foes alike).
The fans of the former BBNaija housemates would like to know what their favourite former BBNaija housemates have been up to.
Fans would want to compare and dissect the lives of their favourite housemates, and that is why Ebuka Obi-Uchendu had no intention of disappointing viewers.
The BBNaija Host started the BBNaija reunion for 2021 by showing the achievements of the former BBNaija housemates and how they are clinching closer to achieving their dreams.
BBNaija Brighto: The former BBNaija housemate popularly known as lord Baelish has been taking certification lessons as a marine engineer and scaling up in his career.
BBNaija Dorathy: Dorathy now owns a lingerie brand for ladies bold and beautiful like the former housemate. Dorathy also runs a logistics company.
BBNaija Eric: The gym enthusiast still frequents the gym and has a successful career as a fitness trainer.
BBNaija Ka3na: She is the CEO of the ka3na premium line, a fashion line that maintains her title as the 'Boss lady'.
BBNaija Kiddwaya: The billionaire offspring now lives his life as a lifestyle architect, travelling around the globe to expand his businesses.
BBNaija Laycon: BBNaija lockdown winner, Laycon has finally received the musical appraise he has always craved. Laycon is building his brand as a music artist and serves as a senior special adviser to the Ogun state governor.
BBNaija Lucy: Lucy has opened a top-notch food company called Luciana's Grills.
BBNaija Lilo: The youngster is now an actress and the CEO of Cafe 23, selling coffee and fruit juice 
BBNaija Nengi: Nengi Hampson is now a brand ambassador and Senior special adviser to the Bayelsa state governor. Nengi also owns a shoe design called shoes by flora.
BBNaija Neo: Neo had always dreamt of being a model and actor; now, the former housemate has achieved those dreams and adds his unique ideas to brands.
BBNaija Ozo: Ozo has always been passionate about sports while in the BBNaija house; now, Ozo lives his life as a Sports presenter and brand manager at Juventus academy in Nigeria.
BBNaija praise: The dancer now has a successful career as a dance instructor; apparently, he is doing what he loves.
BBNaija Prince: Prince has carved a niche for himself in the fashion industry. Prince runs a hair salon while also branding himself as a TV host, model and actor. Prince is also an ambassador for numerous brands.
BBNaija Tochi: The former housemate has delved into estate development and has been good at it so far.
BBNaija Tolanibaj: Tolanibaj owns a logistic company (Tbaj express) and runs a video blog where she interacts with her fans.
BBNaija Vee: BBNaija Vee has steered her career into writing and recording songs. She is also a TV show presenter and host.
BBNaija Wathoni: The mother of one is now an author after publishing one of her books. She also features in the entertainment industry as a TV host and presenter.
Former BBNaija Housemates, Tolanibaj, Wathoni, Lucy, Ka3na, Dorathy, Lilo, Vee and Nengi with the Host Ebuka Obi-Uchendu.
BBNaija reunion 2021: No one said hello to Ka3na
Maybe we are exaggerating, but who else noticed the apparent snub of ka3na by the former BBNaija housemates on day 1 of the BBNaija reunion for 2021?
Though the BBNaija reunion for 2021 was poised to display anger, remorse and bitterness, no one expected such a flagrant display of hatred or enmity.
The BBNaija reunion for 2021 started with Ebuka Obi-Uchendu calling in seven former BBNaija housemates into the discussion room: Brighto, Dorathy, Eric, Ka3na, Kiddwaya, Laycon, Lucy and Lilo.
The above housemates trooped in the above order. They all displayed pleasantries greeting and hugging each other, but no one said hi or hello to BBNaija Ka3na.
One could have let it past, but when Ebuka called in the next set of former BBNaija housemates, none of them exchanged pleasantries with the Boss lady, BBNaija Ka3na.
The actions that occurred while they were in the house and the exchange of words that ensued later could explain better.
Former BBNaija Housemate, Ka3na AKA the Boss lady
BBNaija Reunion 2021: Love triangle or square
The host of the BBNaija reunion for 2021 made it known that they will kick off the BBNaija reunion for 2021 by discussing one of the famous relationships in the house, which involved BBNaija Nengi, Ozo and Dorathy.
The love debacle between the trio was termed 'a a triangle' by Ebuka. Ebuka then proceeded to ask BBNaija Ozo what he felt about the relationship between him, Nengi and Dorathy.
I saw Dorathy as just a friend - BBNaija Ozo
BBNaija Ozo made it clear that he never felt there was a triangle between the trio. BBNaija Ozo also emphasized that he understands the reason people might feel that way.
According to BBNaija Ozo, Dorathy was the first person he felt connected to in the house, and that's why they became close.
Ozo also noted that from day 1, he was clear about the girl he liked in the house; according to Ozo, BBNaija Nengi was the only girl that met her criteria when it comes to attraction.
Ozo did mention that finding out that Dorathy was part of the people that nominated him made him furious because he cannot do the same thing to Dorathy.
In summary, BBNaija Ozo said he only saw BBNaija Dorathy as just a friend.
BBNaija Dorathy denies having feelings for Ozo
BBNaija Dorathy denied having love feelings for Ozo. BBNaija Dorathy claims her relationship with Ozo was purely platonic as she never expected more from Ozo.
BBNaija Dorathy was then confronted about why she asked Ozo to stop talking to her if she never had feelings for BBnaija Ozo.
BBNaija Dorathy attempted to clear the air by stating that the decision was made because Ozo always put her in a spot she never liked, affecting how viewers see her.
BBNaija Dorathy accused Ozo of going back and forth in her relationship with Nengi and revealing any advice she gave Ozo to Nengi.
BBNaija Dorathy now went ahead to clarify that the above made her look like she never liked BBNaija Nengi.
BBNaija Prince supported Dorathy's narrative even though the duo was not on speaking terms.
On the contrary, BBNaija Wathoni explained that if Dorathy had no feelings for Ozo as she claimed, she should not have had issues with Ozo going back and forth and complaining to Dorathy about Nengi; that's what ordinary friends do for each other.
Wathoni's assertions did not sit well with BBNaija Dorathy, who later slammed BBNaija Wathoni, telling her to ...shut the hell up because it's not her fucking business. 
The love triangle exposed during the BBNaija reunion for 2021 turned into a square when Prince was brought into the battleground.
In a move to elicit more reactions, Ebuka brought the tango between BBNaija prince and Nengi into the discussion.
Ebuka asked why the relationship between the duo did not germinate to fruition.
To her credit, BBNaija Nengi accepted she did like Prince at first but did not want to continue with the relationship because she felt Prince was not loyal in friendship.
Prince later accused BBNaija Nengi of being in breach of her values; at the time, she was going back and forth with Ozo and other guys in the BBNaija house.
On another note, Nengi confirmed that even outside the house, she never got close to Dorathy. Nengi revealed that her relationship with Dorathy is just formal.
Former BBNaija Housemates, Nengi, Ozo and Dorathy on the day of Ozo's eviction.
BBNaija reunion 2021: Ka3na exposes Ozo
BBNaija ka3na was the centre of attention when he made a revelation concerning BBNaija Ozo.
If you can remember vividly, the last BBNaija lockdown party, Ozo, snubbed Nengi, which made the latter cry afterwards.
Ozo was also seen dancing romantically with Ka3na while refusing to say a word to Nengi.
Now, during the BBNaija reunion for 2021, Ka3na revealed that all the above was a purposeful act orchestrated by her and BBNaija Ozo in a bid to make Nengi jealous.
According to the former housemate Ka3na, below is what transpired between her and Ozo before the Saturday Night party:
While we were lodged in a hotel, Ozo came into my room looking down. He told me that after his eviction from the BBNaija house, he realized that his fans and family were disappointed in him. 
Ozo now told me his plans, that she needs my help to make Nengi jealous. I was hesitant at first, but while we were in the car going to the night party, I told Ozo, I'm in; let's do this.
Still, on the BBnaija reunion for 2021, Ozo denied the above accusation stating that she cannot be that petty to make Nengi jealous because there was no need.
To support Ka3na's accusation, Praise retorted that though she has no love for Ka3na, he can confirm that he did go into Ka3na's room only to meet Ozo and ka3na talking about something.
Praise said he never heard what BBNaija Ozo and Ka3n were discussing, but he got the vibe that they didn't want him to follow the conversation because they stop as he walked into Ka3na's room.
In summary, the BBNaija reunion for 2021 has come to stay; let's watch and see as more events unravel.