Bobrisky set to undergo cosmetic surgery again
Nigeria's most popular cross dresser Bobrisky joins the train of celebrities who have had cosmetic surgery to look sexy.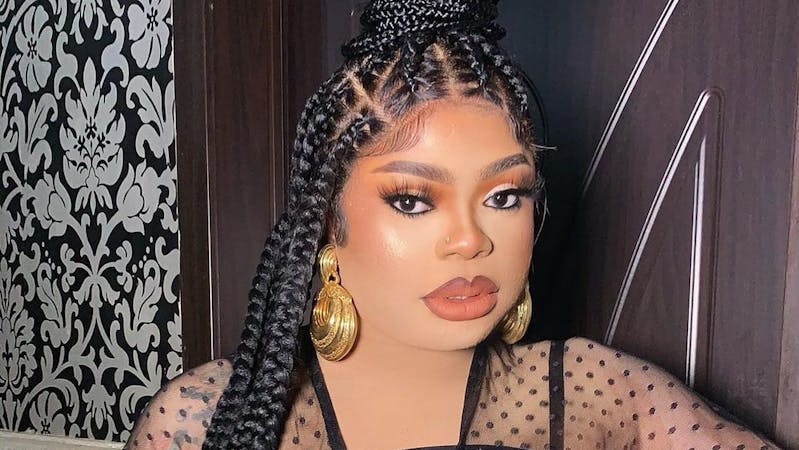 Popular controversial cross dresser, Okuneye Idris Olanrewaju aka Bobrisky is prepping to undergo a bout of cosmetic procedures on his/her body.
In an Instagram post shared today, January 21, 2022, the transgender female said;
"Going for another surgery in March, I just wanna be a bad bitch nothing else.
I want all this men to spend all their money on me."
In her caption she wrote;
"Getting a breast implant, I want those boobs round and solid.
Jaw line need to be adjusted little bit
Now that I'm more chubby i need one more liposuction to give me more curvy shape
Hairline adjustments
I don't need ur opinion so my comments section remain blocked till further noticed on dis post 😂😂😂😂."
Shortly after the post, Bobrisly posted a video of he/she dancing with a caption saying;
@designerbodys I know you guys tried with my first surgery right but see that waist line i want it more tiny and snatch in March, then add more fat in that ass for me. Dis bitches need to know money can make you achieve any look on dis life.
Credits Instagram/@bobrisky222
Based on Crossdresser's claims, the surgery slated in March is not the first cosmetic procedure done.
The transgender female, Bobrisky always trends on social media for various controversies and luxurious spending.
The "Shim" as Bobrisky has been tagged was friends with Nollywood actress, Tonto DIkeh before they both got into an ugly fight that ended their good rapport.
It will seem like Bobrisky has a special talent for messy fights and trending for all the wrong reasons.
Credits to Instagram/bobrisky222
Bobrisky's controversies
The 30 year old cross dresser has been involved in major scandals and controversies about his appearance and relationship with other celebrities.
The Entreprenuer was recently lambasted for a careless conversation about getting married to a popular monarch in Nigeria.
Bobrisky travelled to the Heartbeat of the Nation for an event organised by Ehi Ogbebor, the interior designer.
While in the car with friends conveying him to his destination in Benin, Bobrisky could be heard saying: "The queen's are in Benin. We are here to disturb Benin. This one no be 'shere shere' o! We are here to disturb Benin.
"Oba of Benin, Bob don enter o! Come and marry me, Oba."
Immediately, the internet was in a frenzy as individuals lashed at the cross dresser for uttering "such nonsense".
Seeing the uproar caused by his "distasteful" and "unruly" comment, the social media personality apologized to the Oba and entire people of Benin.
Bobrisky appealed to all who found his comment offensive not to take it personal.
In September, 2021 Bobrisky's former personal assistant, Oyemyke, leaked some of his dirty secrets to the public.
She claimed Bobrisky allegedly had a sexual relationship with Nigerian Instagram influencer, Ismail Mustapha(Mompha,)
Bobrisky initially invited Oyemyke over to Nigeria to become his PA after she tattooed him on her body. However, their work relationship ended on a messy note and Oyemyke took to Instagram to answer questions about her former boss.
Oyemke's announcement came in the heat of the internet brawl between Bobrisky and Tonto Dikeh.
During the battle of words and revelation of secrets, Bobrisky dragged Mompha into the feud by saying " Tonto Dikeh begged Mompha" for money.
The business man refuted claims to having anything to do with Bobrisky or Tonto and warned the crossdresser to never involve his name in such fights.
In a moment of anger, the 30 year old Bob released chats between him and Mompha.
The business man petitioned Bobrisky for libelous and defamatory publications made against him, demanding compensation of N1 billion.