Burna Boy, Wizkid release hit single "Ballon D'Or"
Inspired by the prestigious professional soccer trophy for exceptional male players, Africa's top music artist Burna and Big Wiz reunite to create magic single "Ballon d'or".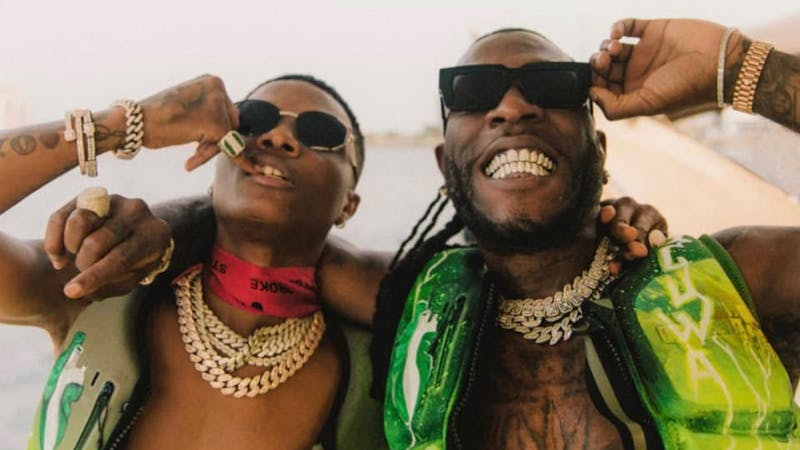 Acclaimed African giant Burna Boy since the wake of his award-winning album "Twice as Tall" 2020, has dropped vibrant singles like "Kilometre," "Question," and "Want It All," which featured a verse from Chicago rapper Polo G.
Now, the grammy award singer is back with a strong collaboration few days after announcing the spring 2022 concert at Madison Square Garden, which he will be headlining April 28, 2022 ( making him the first Nigerian to achieve such a feat).
The collaboration was first announced during Wizkid's 02 arena concert in London before its release yesterday.
"Ballon D'or" features Nigerian hitmaker and multiple award-winning singer Big Wiz on the project
A mixture of springy rhythmic sound, a bit upbeat and sweaty "B. D'OR" — named for the Ballon d'Or (Golden Ball), a trophy cup conferred annually to the best men's soccer player in the world.
The single was produced by Nigerian British producer P2j(he also co-made Wizkid's song "Ginger")
An electrifying sound that sends the listener's mind into a clanging frenzy, Ballon D'or unveils musical chemistry between Burna and Wizzy that we have never felt before.
Apple music chart of Ballon d'or ranking
Within six hours of its release, the single "B'D'Or " had reached #1 on Apple Music Nigeria.
This is not the first time Burna or Wizkid collaborated on a song to create a fluid and groovy jam.
In January 2020, Wizkid released "Ginger" featuring Burna Boy; by the 8th of the same month, the song's audio file had over six million streams on Youtube.
Released on the heels of one of the biggest holidays in the year, Christmas, the vibe on vibe jam has sparked significant reactions on the birdie app trending at 48.7k tweets as of the time of this article.
Below are some Twitter reaction tweets from fans of the music stars.
@iampetu: Bruhh wizkid came back for revenge after allowing Burna steal the shine on Ginger, Big wiz belike this is my turn bruh🤣🤣😂
@wesleymartin103: Burna boy and Wizkid are the best combos in the Nigeria music industry
@UnrulyOutsider: Respect to Burna Boy & Wizkid. No, be everybody fit know wetin to use that kind beats do..  👏🏿 #BallonDOr
@iamOkon: Burna Boy & Wizkid link up is like Messi & Neymar in Barcelona shirt in 2015. 🤝 The collaboration is consistently producing QUALITY results. 🔥
@antigravitylite First time Burna boy confidently releases a song without a video this year. Please, we need visuals for this hit. Make everywhere burst
@kenechuks_Burna Boy and Wizkid are the Goats and the Ballon D'Or and the FIFA best artists and stuff.
But "it goes down when my Gs connect, no disconnect."
🍾😀🙂