Daddy Freeze: The nemesis of other Daddies
The name "Daddy Freeze" has become a household name in every religious centre due to his reputation for stepping on big religious toes regardless of stature and authority.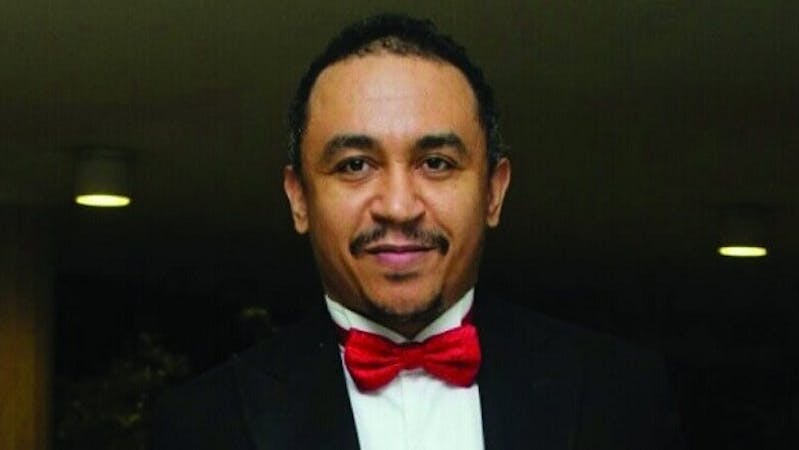 Over the last 5years, Ifedayo Olarinde, popularly known as Daddy Freeze, has left a trail blaze of sizzling controversies on his path.
The OAP, who formerly worked with Cool FM for 20years before resigning, is a staunch critic of religious teachings and men of God.
A seeming voice of reasoning or "antichrist," as some have tagged him, Daddy Freeze can be called the doctrinal police.
This article will give some background story to Daddy Freeze's roots and the beginning stages of his controversial reputation.
Daddy Freeze is a Romanian Nigerian
Who is Daddy Freeze?
Ifedayo Olarinde, also known as Daddy Freeze, is a radio host and entertainment born in Cluj-Napoca, Romania(6 May 1976).
A half-caste of Romanian and Nigerian descent, Daddy Freeze is from Ryan Town in Odo Otin's local government area of Osun State.
He spent his early life in Ibadan Oyo State, where he attended International secondary school.
A Sociology graduate from the University of Ibadan, Daddy Freeze began his career with BCOS Television in 1996.
Career 
Daddy Freeze first saw his calling on a trip to Romania. For 3 months, he hosted a Kid's program in the broadcasting station. On his return to Nigeria, he landed his first job with BCOS before moving to Cool FM in 2001.
Climbing up the ladder, Daddy Freeze worked as a radio presenter, television, and general entertainment host with Cool FM
Soon he became head on-air personality(HOP)
He has hosted many music concerts, comedy shows, and Nollywood premieres in Nigeria, Ghana, and the United Kingdom.
He was the first Nigerian to win the Nickelodeon Kids choice award in 2014 as the 'favorite Nigerian on-air personality' held in Los Angeles.
Daddy Freeze and his parents
Who are Daddy Freeze's mother and father?
Daddy Freeze's mum is Professor Elizabetha Smaranda. Olarinde, who is the Vice-chancellor ABUAD, and was recently elected as a  member of the prestigious Association of African Universities Board. 
His father is Dr. A.G.A Olarinde, a renowned professor in the medical field.
Daddy Freeze's net worth
Daddy Freeze's current  net worth is estimated to be over $4million(₦411.5million to ₦2.1billion) 
Largely spurred from his job as compere.
The media host revealed that he charged more than a million per event and attended about five events every month.
Daddy Freeze has sparked a number of controversies with Nigerian pastors.
The timeline of Daddy Freeze's controversies
In 2016 rumors made rounds of Daddy Freeze being sacked from Cool FM over an undisclosed misunderstanding.
According to reports at the time, the sack was tied to a controversial photo with Basketmouth's wife, Elsie Okpocha.
 However, other reports say that he had a fallout with the CEO of Cool FM, Amin Mousalli. 
An alleged memo of his sack got leaked and was publicized by the SDK blog. Later on, the radio host debunked all rumors in a post online.
Daddy Freeze is leader of #freethesheeple movement.
Free Nation is launched in 2017
By 2017 he began the Free Nation online church where teaches the Bible every Sunday and weekdays.
Daddy Freeze made his #freesheeple movement debut in a statement addressing tithing.
His opinion on the doctrinal teaching of tithing sparked mixed reactions. It became a national trend in churches and around the country.
Even Majek Fashek was not left out of the lash. When the Pastor of COZA (Biodun Fatoyinbo) invited the "send down the rain" singer, it didn't sit well with Daddy Freeze.
"I am still searching for the sense in this. I am a huge Majek fan, but do I want to see him perform in a church? Freeze said.
How did we get here?
–
Maybe I'm wrong, but I thought Christian altars were supposed to be sacrosanct…
Can a secular musician like Majek perform in a mosque? Have you ever seen an artiste like Majek perform in a Buddhist or Hindu temple? Can Majek complete inside the Okija shrine? or the shopping or Ayala shrine?
If other religions value their altars and keep them sacred, is it out of place to suggest we do the same?
We need to start asking ourselves these questions and start asking them now! ~FRZ
#FreeTheSheeple"
Daddy Freeze speaks out against Bishop Oyedepo's teaching on submission in 2018.
2018 Daddy Freeze clashes with Bishop Oyedepo
The 42year old at that time heavily criticized Bishop David Oyedepo of Winners Chapel in a video.
Bishop David Oyedepo had advised women to be submissive to their husbands to protect their marriage.
Daddy Freeze critiqued a bible verse, saying that women and men should be submissive.
He described Oyedepo's teaching as modern-day slavery, advising men and women to be submissive to one another.
The viral video garnered heated reactions as Pastor Ibiyeomie vehemently warned(verbally) the media personality not to speak ill of his spiritual father. 
Daddy Freeze goes after Pastor EA Adeboye
Still, in 2018, Daddy Freeze went after Pastor E.A Adeboye after spotting a poster in Rccg telling people to pay tithes.
Moving quickly to 2020, the online host tendered an apology to Bishop David Oyedepo for past confrontations.
This was following negative comments about his video from 2years ago.
In his apology, Daddy Freeze promised to desist from addressing faith-based issues in aggressive manners.
"My attention has been drawn to a video I released circa two years, seven months ago, while addressing some pertinent issues that arose back then. I apologize for the delivery of my message and for any insult to Bishop David Oyedepo in that video as I didn't in any way intend to dishonor, disrespect, or disregard the person of the bishop".
Daddy Freeze and Pastor Chris Oyakhilome .
April 5, 2020 Daddy Freeze confronts Pastor Chris:
Daddy Freeze slammed Pastor Chris Oyakhilome for making a 5G statement about the Covid-19 pandemic.
The founder of Love world said
"5G is the reason the Federal Government has to lockdown Abuja and Lagos so the 5G could be installed. And there are other cities planned for, and as I said before, what killed people in Wuhan, China is not the virus; it was the 5G. If you say it is not, tell us how you discovered yours," 
Daddy Freeze, unable to contain himself, reacted to the comment.
"I am disappointed in Chris Oyakhilome. How can the Federal Government have a secret 5G plan? What on earth is this? How can he get away with saying such things? Were the deaths in Wuhan were caused by 5G, not Coronavirus? Like WTF?...........
Really? Like the government needs anyone's approval to install anything."
Daddy Freeze came under heat for his relationship with the fraudster Hushpuppi.
June 2020 Daddy Freeze and Hushpuppi's love story takes an unusual twist
In June 2020, the Nigerian radio broadcaster came under heat for his affiliations with internet fraudster Ramon Abass.
Recall that the 45-year-old featured Hushpuppi in a mini-documentary on Youtube. In the documentary video, Hushpuppi disclosed his driver collects more money in a month than a local government chairperson in Nigeria.
Daddy Freeze said, "Hushpuppi's driver earns #700,000 a month, you that are abusing him, you are doing houseboy work, and you are collecting #35,000 you go on insulting Hushpuppi… Instead of you to beg Hushpuppi make him use your papa do driver."
Daddy Freeze defended his actions by saying ,"
He further stated that Huspuppi was innocent until proven guilty
"As of the time I did the video, which is eight months ago, he had no case. Even now, until he is proven guilty by a competent court, we have to sit down and wait and allow the court to do its work.
Recall that, Hushpuppi was apprehended in the United Arab Emirate on June 10 for multiple fraud charges. Hushpuppi had duped thousands of victims of about N168 billion
Daddy Freeze and Pastor TB Joshua.
July 10, 2021, Daddy Freeze lambast religious leaders over the death of TB Joshua
Following the death of the Prophet TB Joshua and the funeral between July 5 and July 9. 
Leader of the Sheepless Ministry, Daddy Freeze, lashed out at General Overseers and pastors for not honoring the funeral ceremony of the late Bishop.
"Prophet T.B Joshua has been laid to rest. May his soul rest in peace. I worry about the turnout of Christians at this man's funeral.
"I worry.
"If we indeed are Christians, every church should have sent a delegation.
"I must say I am disappointed whether you like to admit it or not. I am disappointed." He said.
Conclusion
Other clergies who have faced the entire criticism of Daddy Freeze's corrections are Apostle Suleiman, Paul Adefarasin, Mike Murdock, and others.

The events and controversies surrounding Daddy Freeze are not a case of who is right or wrong. The social and moral, social, financial, and spiritual decadence has given birth to a high level of distrust.

For instance, Nigeria has one of the most vital religious cultures, yet many wonders why specific "promised blessings" have not translated into physical prosperity.

Also, the level of rot and corruption in politics raises questions when religious leaders endorse some of these "labeled politicians" into the fold.

These issues have created an atmosphere of distrust and uncertainty, a problem that stems primarily from the lapses in Nigerian society.

0