Aliko Dangote's alleged ex-girlfriend, Bea Lewis claims he broke her heart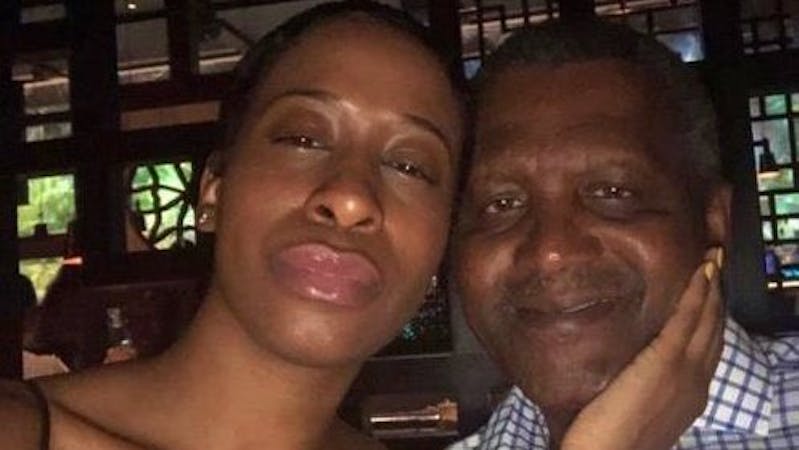 Aliko Dangote, who is among Africa's top 10 richest men, entered the trending table on social media today as alleged stories of women he has been with came up.
This includes the story of Bea Lewis, who claimed she dated Dangote, and he broke her heart.
According to Bea Lewis, an American restauranter, she dated the richest black man, and he broke her heart into a thousand pieces.
Bea Lewis broke the internet when she posted a picture of herself with Aliko Dangote on her Instagram page just on the morning of January 1st.
The self-proclaimed ex-girlfriend of Aliko Dangote shared alongside the post-Valentine's card addressed to Aliko Dangote.
Bea Lewis wrote, "I dated the richest black man in the world. He broke my heart in 1000 pieces. I learned more from him than any person I've ever met.
"Communicating with a billionaire daily makes you see the world differently than your humble beginnings in liberty city.
"I became more organized, and finally, I am able to step away from the daily kitchen operations. I learned to love without strings. Give your best without expectations.
"Nothing is forever. I realized a half a million-dollar restaurant project was a bad investment. I purchased two properties. I started a consistent fitness regime. Became a vegan. Obtained a profitable stock portfolio.
"He changed my perspective on work ethic and patience. Once my mindset change, the universe gravitated me to people that uplifted me and increased my networth mentally and financially".
Another girl, allrounda1 uploads a viral video which showed Dangote's bum
Just while social media is trying to deal with the story of Aliko Dangote and the alleged ex-girlfriend, Bea Lewis, another girl with the Instagram handle "allarounda1" shared images of Dangote's bum bum as well as videos of the African richest man chilling with her.
One of the things that caught the attention of many was the fact that part of Aliko Dangote's bum showed up in this viral video.
The video which unfortunately showed Aliko Dangote's bumbum had gone viral, causing many people to criticize the lady for sharing such compromising video of one of Africa's most powerful men.
Allarounda1 said in the Instagram post that Aliko Dangote was never in a relationship with Bea Lewis.
"I am here to clean his name. What she did was disgusting and uncalled for. To give a paragraph with such descriptive detail is classless of you.
"Act like you are used to things and most importantly value yourself more babe. Never let money do clown shit like that", Allarounda1 wrote.
Is Aliko Dangote married?
Pictures of three ladies alleged to be Dangote's ex-girlfriends and side-chicks surfaced online and has been on the trending table all day.
Bea Lewis, the self-proclaimed ex-girlfriend of Aliko Dangote, who claimed he broke her heart
This left many people wondering if Aliko Dangote is married and Aliko Dangote's relationship status.
Aliko Dangote, Africa's richest man, has been married and divorced twice. He had remained single since his last divorce.
The business mogul, Dangote seems to be more interested in building his business than building on relationship and marriage.
As Dangote's women issues trended online today, many people refrained from criticizing him, saying he is single and for that has the freedom to date any adult he wishes to date.