Dare Art Alade, 4 other Nigerian celebs married to older women
Nigerian male celebrities are breaking the status quo and finding love and getting married to women 5-10 years older than them.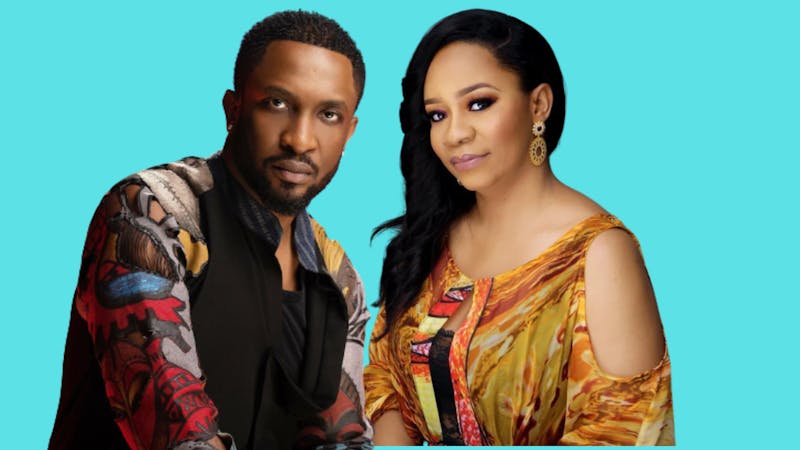 In an industry where marriages crash before they even begin, these Nigerian celebrities have not only stayed happily married but defied the African traditional mindset of men being older than their partners. Below is a list of 5  male celebs who are married to women older than them.
Darwy art alade and his wife Deola Ayeni
1. Dare Art Alade and Deola Ayeni
Talented R&B singer Dare Art Alade – popularly known as Darey is a musician, and singer-songwriter married to entrepreneur Deola Ayeni. The couple got married in 2007 and have two lovely kids together.
Dare is eight years younger than Deola Ayeni. Of course their marriage has shown age is not a question in the equation called love. Dare and his wife Deola Ayeni co-own a creative production company, Livespot 360 in Lagos.
Speaking during an interview Dare revealed that he and Deola are best of friends and respect each other. Dare claims it has also helped their business, Livespot 360.
Livespot has worked with leading brands like Airtel, GTB's Fashion Weekend, United Bank of Africa (UBA), Heineken, World Economic Forum, First Bank and so many more providing integrated marketing solutions.
The couple's company, Livespot 360 was responsible for Darey's "Love Like a Movie'' which saw top celebrities – Kim Kardashian, Kelly Rowland, and Ciara, between 2014 and 2016.
Dare Art-Alade is an Idol series judge and the son of the renowned Nigerian entertainer.
Peter Okoye and Lola Omotayo Okoye
2. Peter Okoye and Lola Omotayo
Peter Okoye(40) of PSquare, and Lola Omotayo, (47) e an intriguing love story. The couple had been in a relationship for over eight years before they finally tied the knot on Sunday, November 17, 2013.
There has been a lot of talk and whispers about their marriage, especially with the fact that Lola is seven years older than the singer, Peter Okoye
Lola Omotayo is a marketing representative, who previously handled British American Tobacco brands in the agency she worked with at the time. According to Lola, she met Peter when Psquare was doing a show for the company at Enugu.
"Though I had met Peter a couple of times before then, at the show there was some chemistry. He asked for my number and I refused to give it to him. I told him 'if you really want to know me, you have to find my number".
After Peter got her number, the rest they say is history.
The couple has two lovely children,  son Cameron and daughter Aliona. Peter and his twin brother Paul were born on November 18, 1981.
BBN housemate Mike Edwards, his wife and son
3. Mike Edwards and Perri Shakes-Drayton
BB Naija ex-housemate Mike Edwards is another male Nigerian who married an older woman. The reality TV star, professional athlete, and entrepreneur got married to British Olympian, Perri in 2018 after dating for months.
Perri is 33 years old while Mike is 30 years old. The couple welcomed their son, Matthew in 2020.
Nollywood actors Stan Nze and his wife Blessing Jessica Obasi
4. Stan Nze and Jessica Obasi
The popular Nollywood actor, Stan Nze, 32 tied the knot with his wife Blessing Jessica Obasi, 42 in a lavish wedding on September 11, 2021.
In a chat with BBC Pidgin, Stan Nze explained why he chose to marry a woman 10 years his senior. According to him, he chose to settle down with his wife since she gives him peace and he has found his rib in her and they share incredible chemistry and bond.
"Pipo yab me say I go marry 42 year old…but me I marry my friend, pesin wey give me peace. Pesin wey I dey extremely comfortable with."
Typical of the Nigerian society with the African culture being prevalent, some fans were taken aback to see the 32 year old actor tie the knot with a woman 10 years his senior.
The marriage sparked some mixed reactions from fans but the couple has maintained a united front against societal comments.
MC Fish and actress Anita Joseph got married in 2020
5. Anita Joseph and Fisayo Olagunju
MC Fish, a 29-year-old celebrity hype man, married the 37-year-old actress and mother of two, Anita Joseph on February 14, 2020. As of the time of writing this report, Anita Joseph has two children, a daughter, Chizaram Isabella Carter, 7, and a son Michael,11.
When news of Anita Joseph and MC Fish's marriage broke headlines, many described their marriage as a farce. The couple celebrated their second anniversary on February 14, 2022. 
Actress Anita Joseph and MC Fish met at a birthday party on June 8, 2017. The actress described their meeting as "love at first sight".
She explained how her friend hated MC Fish at the beginning of their relationship because he is a hype man, and how she discouraged her from dating him.
However, Anita Joseph went ahead to marry the entertainer saying that she loved him and he felt the same way.