Davido and Burna Boy; a match made in Hell
What really happened between Davido and Burna Boy? Davido and Burna Boy are both music giants in Africa; what's the history of the beef between Davido and Burna Boy, read on.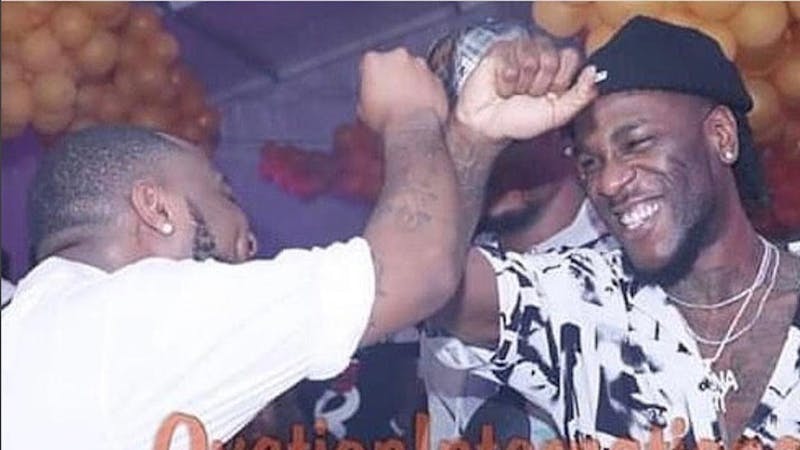 Davido and Burna Boy are both music giants in Africa and lead the continent in the Afro-music genre. At such status, few would expect the two to be at loggerheads with each other.
The music industry in Nigeria is a very competitive business and trade, but it also has room to accommodate many; Nigeria is the most populous black nation on earth and can boast over 200 million citizens.
The stat above shows you there is room for everyone, especially in a diverse country in culture and language; no matter what you sing, enough people will listen and applaud your songs.
The beef between Davido and Burna Boy cannot be seen anymore as a fair competition or friendly rivalry in the industry. The rivalry between the two is at the most significant height after the recent incident.
Two kings cannot co-exist in a kingdom; Davido and Burna Boy are kings in their stead, as facts and multiple billboard statistics have shown, but that is not all there is between the two Nigerian singers.
Davido and Burna Boy have two distinct sounds, and their fans love them for this. Thus Davido and Burna Boy can co-exist and wield a significant influence in the Afro-music world - If they wished.
When celebrities beef, many coordinated events occur; Charts are toppled, stream doubles or triples, fans become more passionate about their artists, thereby leading to more energetic tours.
Is it then safe to assume that Davido and Burna Boy are intentionally beefing to get more PRs, or is something else involved?
Celebrities beef to keep the fire burning, but once this beef takes a more personal and physical turn, there needs to be a re-examination.
Someone once advised that Artiste beef should revolve around music; once the beef is no longer about the money - forget it.
The beef between Davido and Burna Boy is no longer about money or music; it has got personal and physical. It is time to examine what is currently happening, why and how it began.
The beef between Davido and Burna Boy is truly a match made in hell. It did not start today and does not look to be stopping soon.
The beef between Davido and Burna Boy did not start today.
Davido and Burna Boy: A Timeline of their beef
This piece on the altercation between Burna Boy and Davido is based on facts with little personal intuition and judgement.
As a lover of the Nigerian music industry and someone who has followed the two singers very well, the best thing would be for the two to put away their grievances and collabo.
Let us examine how the relationship between Davido and Burna boy deteriorated and shattered into fine pieces.
Before now, Davido has always referred to Burna Boy as his 'Guy'. During an interview with Big Brother host Ebuka Obi-Uchendu, Davido hinted that Burna boy is his close friend and pal.
Davido also claimed he knew Burna Boy before they both became popular. In 2010; Davido, Dammy Krane and Burna Boy went to Victoria Island to meet Tuface and got arrested by Army officials for wearing Camouflage.
Davido met fame and recognition before Burna Boy thus, no one can deduce if this beef grew from there.
Recent events may suggest otherwise; in December 2018, Davido appeared in Burna Boy's shows and sang alongside his new enemy, Burna Boy.
Davido also congratulated Burna Boy on Nomination for the Grammy. Davido equally showed he was happy when Burna Boy won the BET award for International Act.
While Davido may have congratulated Burna Boy for the Grammy nomination, further examination suggests evidence of animosity between Davido and Burna Boy during the Grammy Nomination - though it may not be the origin.
The beef between Davido and Burna Boy precedes the Grammy Nomination.
Based on various rumours, the beef wasn't necessarily about Jealousy, but Davido's signee, Peruzzi, was not credited as the author of one of the songs in the Africa giant album.
It has it that Davido believes that if Burna Boy had credited Peruzzi as the songwriter, Peruzzi would automatically become a Grammy nominee, the same route taken by Wizkid in Drake's 'One Dance.'
If this was the origin of the beef between Davido and Burna Boy, then the next question is, is it deep enough to lead to a physical fight?
Escalation: New turn in Davido's Beef with Burna Boy
While Burna Boy not crediting Peruzzi, Davido's signee as the author of one of the songs in the African giant album could have heightened the animosity between Burna and Davido, we believe that it is not the genesis of the beef between the two.
Remember 'The Lion King' - Beyonce's music album? Lion King featured many artists from Nigeria including:
Wizkid,
Tiwa Savage,
Burna Boy,
Mr Eazi,
Tekno and
Yemi Alade
Davido was never part of the Lion King (album) project.
Beyonce featured some artists like Yemi Alade and Mr Eazi in more than one track, but as you could have guessed, Davido was left out.
During the famous interview with BBNaija Ebuka, Davido disclosed that some persons unknown planned not to include him in the Lion king project.
Davido revealed that the Producers and some of the artists made sure he wasn't part of the Lion King Album. He didn't specify names.
From the look of things, the Lion King album was brought to Africa and then Nigeria to include the Afrobeats sound but then, as Davido alleged, he was bypassed through a powerplay.
Davido revealed to Ebuka that he was hurt and felt terrible, claiming he didn't know why some unamed persons sabotaged him.
The 'Lion King' Allegation from Davido proves the beef between Davido and Burna Boy precedes the Peruzzi saga because Grammy Nomination was announced around November 2019. Still, the Lion King album was released around July 2019.
If the Lion king album was released in July 2019, the project precedes songs for Grammy consideration/nomination.
A Trio of Beef: Wizkid, Davido and Burn Boy
Every eight-year-old child in Nigeria knows the ancient beef between Nigerian music gods, Davido and Wizkid.
The beef between Davido and Wizkid will be highlighted in another article. Still, we have to delve into Wizkid and Davido to conclude the Davido and Burna Boy saga.
The phrase "The enemy of my enemy is my friend" remains valid in all aspects of life. Wizkid and Davido have always been at war with each other before Burna Boy came to stage.
According to Davido, he has always been a close friend of Burna Boy, so what really happened? What could move Burna Boy away from Davido's circle into Wizkid's arm?
While we accept that rivalry and jealousy is constant factor, we also need to access the reason behind some of the ill-fated comments towards Davido.
Tiwa Savage and Yemi Alade are rivals, but nothing spectacular about this rivalry comes with the territory. Still, rivalry beef takes a new turn when you attack people's families.
Davido's most considerable pain is that most common Nigerians do not see him as a regular figure in the music industry because of his father's wealth.
His fellow artists claim he is not a talented musician, and the fact that he is successful in the music industry today should be attributed to his father's wealth and influence.
Burna Boy leads people on that side of the argument, and that's what Davido have to deal with daily.
Burna Boy believes the reason behind Davido's success is his Dad's bank account.
Davido has been successful in his music career, and I could still remember arguing with friends on this issue. During the arguments, most Wizkid fans would argue using this line:
"could Davido have made it if his father was not rich?"
No one denies that his father's wealth contributed to his success, but it is gross to attribute all his success and triumph to his Dad.
Some Nigerians are striving in the music industry today and haven't broken that glass-of-fame to date. Some of them have billionaire Dads that support their music career 100%, yet none has reached the position currently occupied by the Davido, Burna Boy and Wizkid.
In 2017, Wizkid posted a tweet that many believe was to shade Davido. Wizkid wrote: "My people make una remember say Yankee passport no be baba blue, e no dey cure frog voice."
Davido and Wizkid were at loggerheads when he made the post, but that's not the point here. The fact is, Wizkid Doesn't believe Davido has a true musical talent, citing that Davido's voice should be likened to the sound of a frog. How pathetic.
This is where Wizkid and Burna Boy arrived at a common ground, a common hatred for Davido, who they believe does not deserve his accolades and success.
Wizkid mocked davido's voice with a twitter post
When Davido uploaded the photoshopped picture of him and Wizkid, he tagged the post 'The 2 greatest of all time! No cap s'; this action led to the infamous post made by Burna Boy, as stated earlier.
In one of his interviews, Davido queried why Burna Boy was angry. He posted a picture of him and Wizkid while he (Burna Boy) was in London recording a song with Wizkid.
It was at this point that Davido alleged a gang up against him.
Conclusion
The beef between Davido and Burna Boy has been one-sided for a while now. We have only heard from Davido.
Burna Boy has chosen not to comment on the matter during interviews. The only evidence is cryptic posts made by him, as reported earlier.
Nevertheless, we know something is amiss between Davido and Burna Boy; the duo was allegedly involved in a bar fight, as reported by Clacified.
According to Davido, Personal Assistants, managers and their inner circle contribute to the beef. The people staying close to these artists whisper falsehoods and half-truths to their benefactor.
Davido is also known to enjoy the beef and hostilities; one can call him a PR genius.
After the post made by Burna Boy attributing his success to Davido's Dad, Davido posted on his IG story that he plans to go offline for a while. Davido also unfollowed everyone on his IG page, even his fiance Chioma Rowland - which made airwaves.
Davido pulled the stunt and returned with the hit single 'FEM' - you can read more about it here.
Davido recently claimed that the song 'way too big' by Burna Boy is his best song, and he plays it every day, the statement could be for PR purposes, or it could be true.
During one of Davido's interviews, he claimed he plans not to engage in any physical fight because of the current beef between him and Burna Boy, citing that he wants to be an excellent example to his kids.
Notwithstanding, the only underlying and common factor in the beef between Davido and Burna Boy is Jealousy.
It is safe to assume that Davido and Burna Boy are jealous of each other, though they both deny this and appear to have a more genuine reason for this eternal beef that allegedly has resulted in a physical fight.
The alleged fight between Davido and Burna Boy proves otherwise.
To prove the point about Jealousy, you only need to ask yourself:
Did Davido and Burna Boy fight because of PR?
Did Davido and Burna Boy fight because of the 'Lion King' album?
Did Davido and Burna Boy fight because of the Peruzzi saga?
Did Davido and Burna Boy fight because of Jealousy?
Jealousy is an emotional force to reckon with. It can lead to many atrocities and shameful events, as allegedly seen in Ghana.
Biblically Jealousy begets pride, a sin that flew Lucifer to Hell.
The beef between Davido and Burna Boy is a match made in Hell; there may never be a limit or end.