Are Davido and Chioma back together?
Chioma is Davido's third baby mama and mother to his son, Ifeanyi.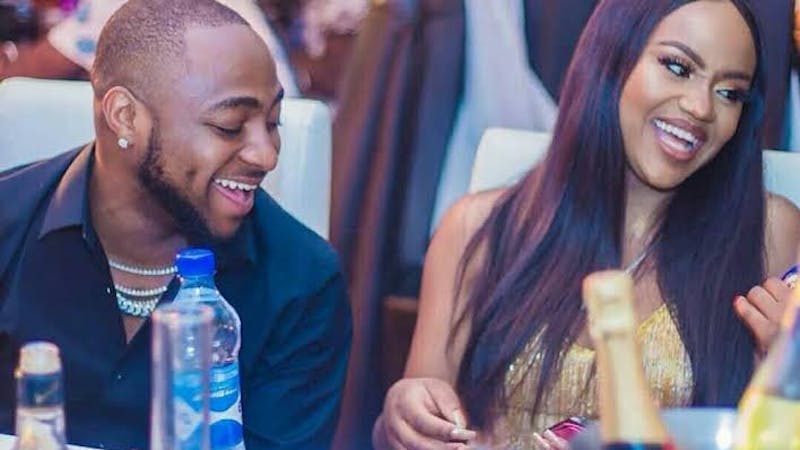 Nigerian billionaire heir David Adeleke and his estranged fiancee, Chioma Rowland have got the internet talking about a possible reunion. People still wonder if the elite duo, Davido, and Chioma are back together.
The fresh speculation about their rekindled romance follows recent events involving the estranged couple. For example, during Davido's O2 arena concert he flew Chioma and their son Ifeanyi to attend the show.
Also, Davido and Chioma who unfollowed themselves after their heartbreaking separation are now following each other on social media. Does this mean Davido and Chioma are back together?
The news of Chioma and Davido's being dating first went viral after his 2018 single 'Assurance'
For a song that had strong lyrical lines like: 'you're the one I want oh, before my liver start to fail, you're the one I need oh before cassava start to hail.
And if I ever leave oh, make water carry me dey go, far away, far away', it was a known deal that Davido was smitten by Chioma and thus that they were inseparable (or so, people thought).
Four years later down the line after much hype, a baby, and a wedding on the way, Davido and Chioma went their separate ways. The relationship fizzled out, and the same fans who thought the love was going to lead them to the altar, then started wondering what is going on. 
Davido and Chioma in happier times, during their engagement
How did Davido and Chioma start dating?
Chioma and Davido began their relationship in late 2017 and went exclusive the following year. 
Their bond of love was so strong that Chioma began to skip classes to be with the pop star on his various tours and shows around the world. Reciprocating his love for Chioma, Davido bought her a Porsche car as a gift on her birthday.
By 2018,  Davido had gone on one knee proposing to Chioma, days after their introduction. They welcomed their son, Ifeanyi, also in the same year. 
Davido and Chioma, according to alleged reports, had a family introduction in September 2019, in preparation for their wedding in 2020, but the pandemic, Coronavirus, put a lot of plans on hold.
The couple's marriage was postponed till further notice.
Davido and Chioma's current relationship status
Many people still wonder what is the relationship status of Davido and Chioma. What happened to the two former lovebirds?
In some interviews in 2020, Davido did tell the public that the marriage could happen the following year, but by that time rumors had begun to spread about the crisis in their relationship.
In December 2020, when Davido hosted an American model, Mya Yafai in Lagos. The model spent Christmas and New Year with Davido.
By now Davido and Chioma's relationship was already in the trenches. The rumour even intensified in February 2021, when Nigerians woke up to shocking photos of Davido spotted holding hands with Myai Yafai while stepping out of a club in the USA.
The beautiful Mya Yafaii who formerly dated American female rapper, Young Ma, was reported to have visited Davido the past December and even spent Christmas and New Year festivities together.
Chioma, Mya Yafaii and Davido
The romance between the pair (Davido and Myai Yafai) seemed to have picked momentum as they were seen spending loved-up moments together in Ghana. Finally, it became obvious that the Chioma and Davido ship had capsized.
 Both love birds even toured Accra Ghana, as part of their unforgettable rendezvous. Yafai even testified that she enjoyed herself as she wrote on Instagram: "I Love you, Africa".
This inevitably got Chioma angry, and she expressed it In a post on Instagram, as she wrote: "I can no longer offer my support, friendship, or loyalty where it is not returned".
And then she deleted all captions from photos in which she appeared with the singer. Among the deleted captions was the 'I love you' caption that accompanied the photo of her engagement ring. She also stopped wearing the ring.
The love lost between the fall singer, Davido and his third baby mama Chioma worsened. 
By May 2021, the sour romance between Chioma Rowland and Davido hit a new low, as she called the father of her son, 'Bro', while congratulating Davido over his decade in music and tweeted: "Congratulations bro, 10 years of great music, blessing and changing lives for the better. So happy for you ." 
Everything about Chioma's tweet was screaming about how bad their relationship had become. 
Before her tweet about his music anniversary, on Chioma's birthday, Davido had written "Congrats, Mama Ify". And Chioma responded by saying: 'Thank You'.
Davido and Chioma's relationship continued to deteriorate until Saturday, October 23, 2021, Davido reunited with Chioma Rowland to celebrate the second birthday of their son, Ifeanyi Adeleke.
That was the first time Davido and Chioma were seen together since the news of their separation emerged, early that year. They both posed for the cameras at their son's birthday party. 
Early 2022, Davido had another reunion with his estranged baby mama, Chioma Rowland at a family gathering.
In a video online, the singer and Chioma were spotted hanging out with some of Davido's family members, including his elder brother, Adewale, cousin B-Red, and personal lawyer, Bobo Ajudua, and their families. This got many fans wondering if Davido and Chioma had made up and were back together.
The singer also recently sang passionately to one of his old songs dedicated to Chioma, Assurance, and the lovely video emerged online. Davido sang the song at the after party of his hugely successful London O2 Arena show and fans could not stop talking about it, as they expressed their admiration for them.
In the light of their recent public appearances together, we can not help but wonder if the assurance ship is back on the sea.