Denrele speaks out after being dragged for babbling about an affair with Goldie Harvey
Denrele Edun and Goldie Harvey were popularly seen as platonic friends by the public.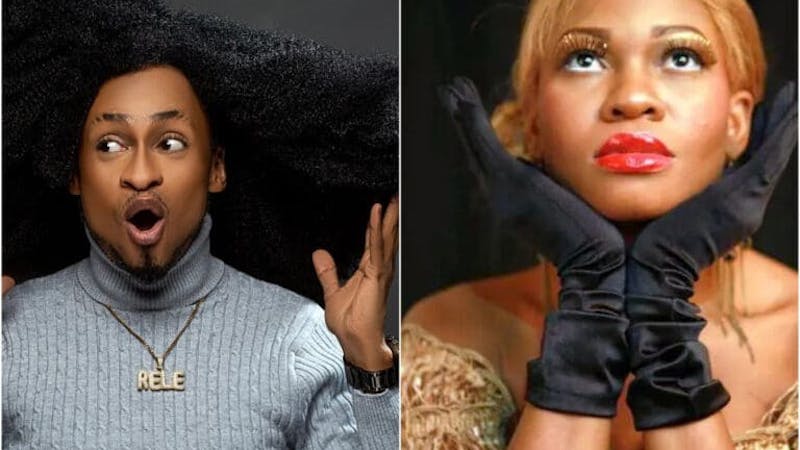 Famous Nigerian crossdresser Denrele Edun came under fire after shamelessly babbling about his sexual relationship with the late renowned entertainer, Susan Oluwabimpe Filani, popularly known as Goldie.
The media personality Denrele Edun has countered the narrative circulating on social media about his "alleged affair" with the late music star, Goldie.
Denrele said despite being aware of the late singer's marriage, they were intimate.
Today in a post shared via his Instagram Stories on Wednesday, March 23, 2022, the crossdresser said his comments were taken out of context.
According to Denrele Edun the word "intimacy" has been misinterpreted. 
"Why does everyone think intimacy connotes sex? What a horny frequency. Anyways in this context, intimacy means shared secrets and 'one corner' means even catching me in the corner with someone," he wrote.
The celebrity's reaction came after he received severe backlash on social media after his recent interview.
Denrele disclosed there were times when they (Denrele and Goldie Harvey) were caught up in the moment and had a few encounters despite knowing her marital status.
"A lot of people thought we were friends. We had a few intimate moments. I knew she was married, of course. We kept that a secret. We had a few.. (entered the corner)," he said.
The 40-year-old made this known during a recent chat with Neecee of Boss TV, where he also revealed that he was Goldie's driving force.
Since the interview went viral, the media personality has been hit with severe backlash on social media. Social media users dragged the cross dresser saying that if Goldie Harvey was truly his friend there was no need to divulge such information after 9years since her death.
Goldie Harvey was a controversial Nigerian singer and tv star
Who was Goldie?
Goldie was a controversial Nigerian singer and reality TV star.
After returning home to Nigeria from the 2013 Grammy Awards in Los Angeles, California, she complained of a headache and was rushed to hospital, where she was later pronounced dead.
According to reports Susan Oluwabimpe "Goldie" Harvey was married to Andrew Harvey, an engineer based in Malaysia, in 2005, though this fact was not widely known before she died.
Goldie Harvey was a recipient of African music awards, including; the Top Naija Music Award.
She also appeared on Big Brother Africa in 2012, which was her first TV appearance. She and Kenyan rapper Prezzo, BBA housemate, seemed to be an item.
During her lifetime, Goldie worked closely with Denrele Edun to produce her reality TV show "Tru Friend", but it never aired as Goldie's sudden death shocked everyone.
What was the cause of Goldie's death?
Although there was speculation she had died from severe drug-related issues, her husband, Andrew Harvey, debunked the claims.
According to an autopsy conducted by the Department of Pathology and Forensic Medicine of the Lagos State University Teaching Hospital, the Nigerian superstar died of 'hypertensive heart disease,' which triggered an "intracerebral haemorrhage.".Goldie, 31 years old at her death, was laid to rest at the Vaults and Gardens, Ikoyi, Lagos.
She was buried on the 25th of February, 2013, at the Vaults and Gardens Cemetery, Ikoyi, Lagos.
Based on reports, on 13 April 2013, press releases said that the properties of Goldie Harvey had been willed to a charity organisation.